These 8 Books Will Help You Head to Dreamland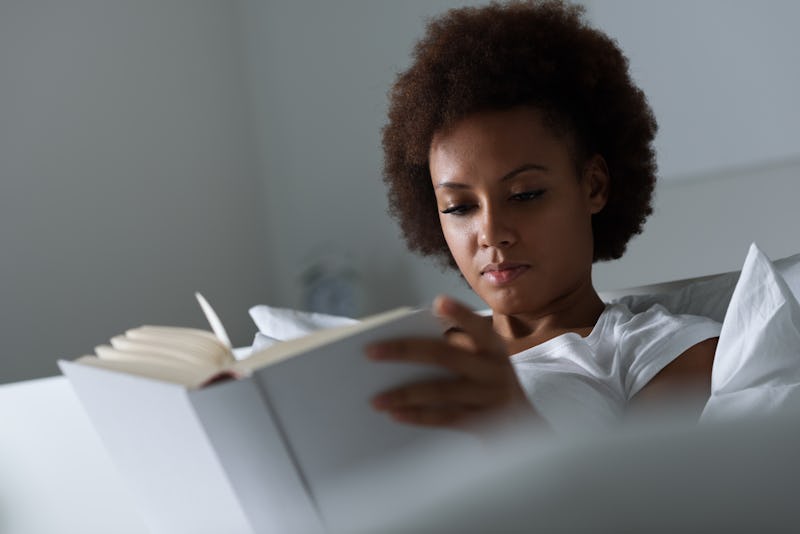 StockPhotoPro/Fotolia
I've never had an easy time falling asleep — I can't quite turn my brain off most nights, and I always need an activity to separate my day from my night, a little bit of relaxation to mark time. For me and for many others, reading a book is just the ticket to transition from jeans and shoes and Internet to comfies and tea and pillows.
People always seem to think that reading a boring book is the best shortcut to snooze-ville, but I disagree! Sure, it might not hold your interest, but I don't want to end my day (especially if it's a blah one) with something I don't like. I want to end my day comforted and moved by my favorite authors and characters. I don't want to be bored to sleep; I want to know that I can have that great end-of-day experience tomorrow. The promise of a good story—what could make you rest easier? (I've been reading short increments of the amazing American Wife, one of the books below, since June and reminding myself that I'll come back to it the next night is a delightful way to doze off.)
Here are some of the best books for falling asleep with — they're not boring (far from it!), but many are long or have passages that are quite self-contained: easy to return to every night, that is, and capable of being stretched out over a long period of time, which is the ideal kind of bedtime book.
Ondaatje's richly epic 1992 novel (later made into an Oscar-winning movie) follows four people whose lives are upended by World War II. The titular English patient — a burned soldier convalescing in an Italian villa — remembers his past life as he's read to by his doting nurse each day, and Odaatje's writing is evocative enough to make you revisit your memories as your drift off to sleep.
Based on the life of former First Lady Laura Bush — a likable former librarian who had a consistently higher approval rating than her husband – Sittenfeld's novel watches the fictional Alice Blackwell, a Democrat bookworm, as she becomes the wife of a frattish and politically conservative president. The book is gentle — the descriptions of family life and summer vacations are especially soothing — but super-engrossing, and you'll look forward to hopping into bed every night to catch up with Alice.
Smith's debut (written when she was only 23!) is witty, intricate and far reaching (in time, space, and theme). While it's not exactly the calmest book to end the day with, it's so good that you'll want to read it slowly and revisit select passages. Need to make sense of your frantic day before heading to bed? Smith, as she unravels the friendship and families of two Londoners, is the perfect author to help you with that.
Brontë's gothic novel — with ahead of its time commentary on class, race and feminism—is mysterious and slow; paired with the inherent spookiness of early 19th century England and the romance at the center of the book, Jane Eyre is a perfect night cap when you're cozy under the covers.
This 2008 short story collection is moving and powerful — there are tsunamis, deaths, devastating heartbreaks — but also nuanced and insightful: Lahiri's sense of detail is razor-sharp and her thoughts on family (our constructed ones and our biological ones) are poignant. Like in her other work, Lahiri constantly considers the idea of home, and as you wrap your day up with her stories (my favorites are "Hema and Kaushik" and "Hell-Heaven"), you'll be grateful to be safely tucked away inside yours.
Ross' childhood — she was raised poor in rural Vermont under the (not great) care of her distant mother — makes for a great story. All of her chapters are titled like instructional manuals ("How to Begin Again," "How to Eat Fresh Trout") and many are punctuated by actual instructions for crafting or adventuring. Though her upbringing was rough, Ross' memoir ends on hopeful notes (she is now a successful illustrator, mother and wife), and reading this book before bed is like ending the day with a phone call to a friend who helps you put everything in perspective.
Madeleine is a young French girl who falls into a coma-like sleep; her dreams are sensual and grotesque as she unconsciously travels around with a circus troupe. The book, like Madeleine's dream world, is puzzling but beautiful; the chapters are like short poems (one simply reads "Madeleine stirs in her sleep"), and it's hard to tell where her dreaming ends and the reality in which her mother and siblings inhabit begins. Read a few chapters of this wonderfully unique book, and you won't be able to tell if you're dreaming, either.
Former U.S. Poet Laureate Kooser's poems are quiet but wondrous observations of everyday life, and his appreciation for the universe's happenings — "At the other side / of the galaxy, a star thirty-five times / the size of our own sun exploded" as an old woman feeds her chickens — will make you appreciate the small wonders of your own day. If nothing else, his poem "Starlight" (containing just: "All night, this soft rain from the distant past. / No wonder I sometimes waken as a child") will surely act as a calming lullaby.