Remembering Robin Williams' 8 Best Performances & the Joy He Brought to the Masses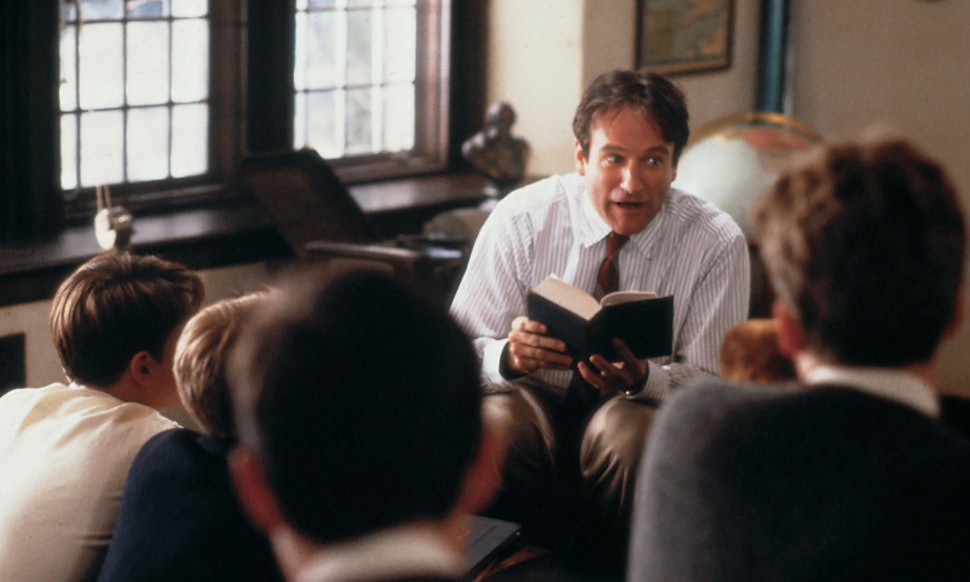 The world lost one of its most beloved, iconic actors this week. In the flurry of disbelief and grief following the news that Robin Williams was found dead of an apparent suicide, it's particularly striking to look back at the body of work that defined his decades-long career as one of Hollywood's brightest lights. Through a life of depression, his work brought a sort of unfettered joy to the masses — the kind unmatched by any of his contemporaries. In this time of grief, it is fitting to look back on the legacy he left behind.
'Dead Poet's Society'
Rarely was Williams as captivating as he was as John Keating in 1989's Dead Poet's Society. He was nominated for an Oscar for his performance, sure, but it was more than that: He embodied the soul of what teaching can be at its very best, and in the process he solidified his place as an actor who would influence multiple generations. O captain, my captain.
Image: Buena Vista Pictures
'Good Will Hunting'
His performance as Sean Maguire won him an Oscar in 1998, and for good reason — as with many of his performances, it's hard to watch this movie and not marvel at how he steals every scene.
Image: Miramax Films
'The Birdcage'
Williams' turn as a gay club owner alongside life partner Nathan Lane (his headlining act) is one of his most underrated performances.
Image: United Artists
'Aladdin'
You never even saw his face, but it's one of the most iconic performances an animated movie's ever seen.
Image: Disney
'Mrs. Doubtfire'
In a career as prolific as Williams', it's hard to say which performance had the biggest impact. But Mrs. Doubtfire was certainly one of the most iconic characters of this iconic man.
Image: 20th Century Fox
'Jumanji'
Another solid turn in Williams' long history of making kids movies that are rewatchable throughout every other era of your life.
Image: Tristar Pictures
'Good Morning Vietnam'
Here, Williams starred as a radio DJ for the Armed Forces, battling for the right to employ humor during wartime. The role was the source of another of his many Oscar nominations, and it fits beautifully into a lifetime filmography that proves that humor has a place alongside drama and nuance.
Image: Buena Vista Pictures
'Hook'
Who better to play an aged Peter Pan than Robin Williams? Hook was practically a perfect marriage: grand adventure, grand hilarity, grand drama. No one does Peter better than Robin.
Image: TriStar Pictures