Instagram's #MakeupTransformation Is Hilarious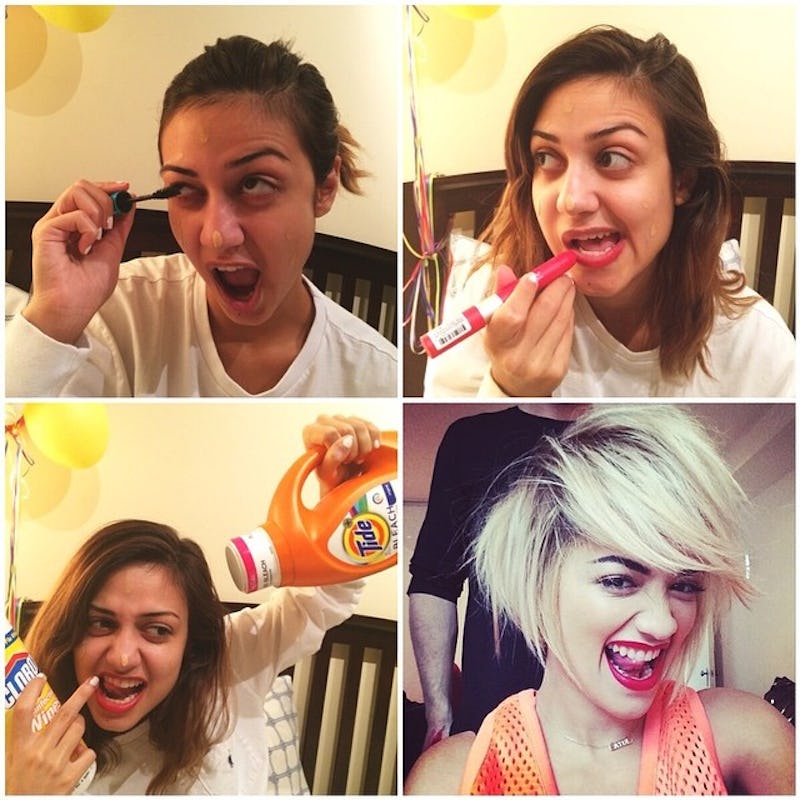 There's a new beauty hashtag that's going viral on social media — and it's not exactly what you think. The hashtag #MakeupTransformation may lead you to believe it's just another chance for the beauty-obsessed to post before and after selfies of their cosmetic prowess, but it's actually way more entertaining than that (because the Internet is a magical place where people get bored and come up with wonderfully ridiculous memes and trends). This time, women, men, and even babies are taking to Instagram and Twitter to share their beauty makeovers into celebrities and icons. The photo is divided into four quadrants, showing the step-by-step transformation.
This hilarious tag was inspired by all those beauty DIY photos we see floating around on Pinterest and Instagram showing us how to contour. As we've all learned, contouring is a seriously frightening thing. The shading and blending and bronzing can literally turn you into an entirely different-looking person. But as it turns out, in addition to being pretty horrific, contouring can be pretty hilarious, too, thanks to the "ingenuity" of the Internet. From Nicki Minaj to North West, here are 13 incredible #MakeupTransformations that will have you LOLing at your desk.
1. Nicki Minaj
2. Justin Bieber
3. Rita Ora
4. Iggy Azalea
5. Troy Palamalu
6. Kim Kardashian
7. Katt Williams
8. Wendy
9. Earl Sweatshirt
10. Beyoncé
11. Lil' Wayne
12. Lupita Nyong'o
13. North West
Images: Tia__Madison/Instagram, braidsbyvictoria/Instagram, iamdonle/Instagram, sraeseabrease__/Instagram, sarahjessicarabbit/Instagram, xiv0x/Instagram, essence.jarrell/Instagram, lxsts/Instagram , stunnagoddess/Instagram, shuncole/Instagram, simplynicoleee/Instagram, simplyjass/Instagram, missshari_r/Instagram