Snag Olivia Palermo's Chic Look For The Office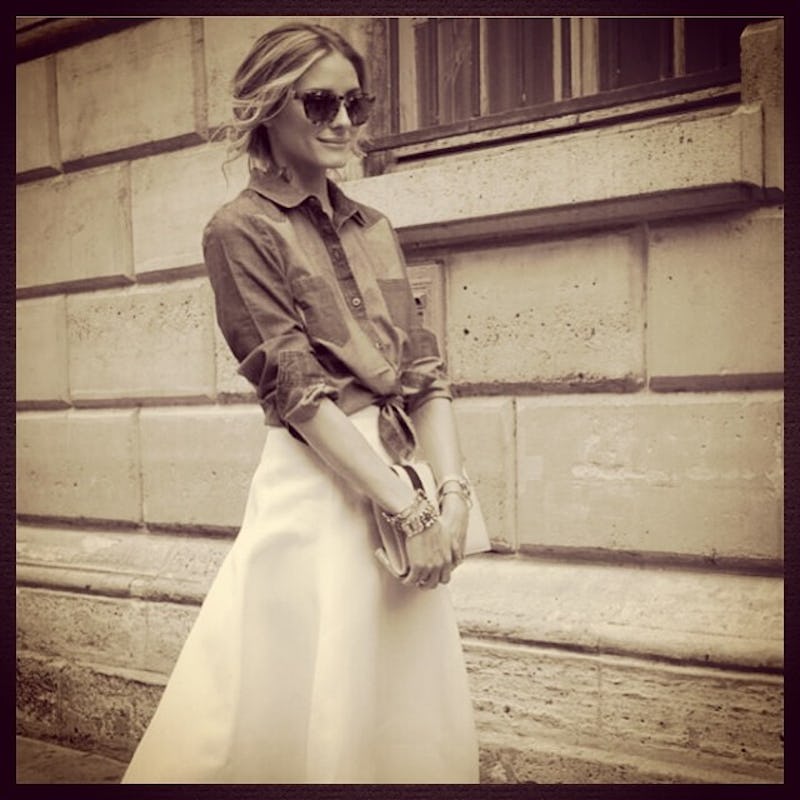 It should be expected that each of Olivia Palermo's ensembles is more elegant and distinctive than the last, but on occasion the blogger and entrepreneur debuts an outfit that simply must be replicated. Exactly such a situation occurred when Palermo posted a beautiful vintage-inspired high-low ensemble on her Instagram. Consisting of a faded breast-pocket chambray shirt tied primly at the waist, a white midi skirt, tortoiseshell sunglasses, and a fistful of bangles and bracelets, the look somehow fuses vintage spirit with an utterly modern update. With its collision of old and new, the look perfectly captures the essence of street style.
Best of all, it is a look that one could actually wear during daylight hours and outside the house. Often, the looks that are posted on top fashion blogs look like a cinch to pull off, but fall flat in reality due to their bizarre mashup of materials, silhouettes, and patterns. Not so with this versatile ensemble, which is just as appropriate for work as it would be for meeting the in-laws. So if you're in the market for an effortlessly chic look to take you anywhere and everywhere this August, read on for Palermo's four style essentials.
1. CHAMBRAY SHIRT
To achieve Olivia Palermo's modernized vintage look, start with a faded chambray shirt in a relaxed fit. Knot the bottom of the shirt at your waist and roll up the sleeves to add a more casual angle to your ensemble. Madewell's Oversized Button-Down Chambray Shirt offers a relaxed fit and a flattering light wash like Olivia's.
2. WHITE MIDI SKIRT
To balance out the laid-back effect of your shirt, add on a white midi skirt like Olivia's. The skirt should hit just below the knee and flair slightly for the most flattering effect. J.Crew Collection's Laser-Cut Poplin Midi Skirt features a subtle eyelet design which adds visual interest to the look.
3. GOLD STACKING BRACELETS
Add a few gold bangles onto your look for extra glamour. Kate Spade New York's Idiom Happily Ever After Bangle is perfect for a newlywed like Palermo, or simply anyone who believes in a happy ending.
4. TORTOISESHELL CAT EYE SUNGLASSES
Olivia loves her cat eye sunglasses, perhaps because of their flattering tone and vintage style. Stella McCartney's Butterfly Acetate Cat's-Eye Sunglasses are the perfect finishing touch to the ensemble, and will shield your peepers from the sun.
Images: therealoliviap/Instagram; Madewell Oversized Button-Down Chambray Shirt, $78, madewell.com; J.Crew Collection Laser-Cut Poplin Midi Skirt, $250, net-a-porter; Kate Spade New York Idiom - Happily Ever After Bangle, $58, shop.nordstrom.com; Stella McCartney Butterfly Acetate Cat's-Eye Sunglasses, $190, saksfifthavenue.com