Listen, Everybody Photoshops — Even Bloggers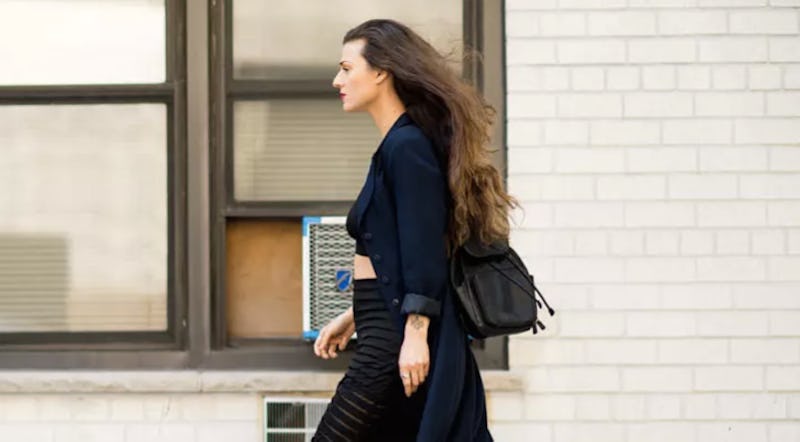 We all are smart enough to now know that basically every photo we see of a celebrity is Photoshopped to some extent. But what about our favorite style bloggers? I think part of the appeal (and intimidation factor) of browsing through "normal girls" personal style blogs and outfit photos is that they appear to be just like us — normal, real girls... who just happen to look kind of perfect in most/all of their photos. But blogger Dana Suchow of Do The Hot Pants is changing our perception of style bloggers, and bravely (and fabulously) admitting that even she Photoshops her outfit photos from time to time. You. Go. Girl.
Suchow isn't editing any of her outfit photos drastically. A flatter stomach here, an edited-zit there — pretty much the changes that most of us would (and probably do) make if we had any real grasp on the power of Photoshop. I mean, if you were being featured in a magazine or on a website, you would want the photo editors to do the same thing to photos of you, right? You want to look your very best. We all do. It's human nature. There is a reason they provide filters on Instagram.
As a style blogger myself, I don't blame Suchow for editing her photos every now and then. In a blogging community where more often or not, the thinner, more traditionally "attractive" bloggers tend to win popularity and readership, there's a lot of pressure to always look your best. I think we all follow bloggers' Instagram accounts and feel the need to somehow achieve that "girl next door who also happens to be flawless 24/7" vibe. It's unrealistic, but the fact that it's not a celebrity, but just an "average" girl like you who happens to have a style blog, makes the level of perfection seem somehow attainable. So we all try to achieve it in one way or another, whether we choose to admit it or not.
Suchow chose to admit to the editing, and in a bold and public way at that. In her post, "Photos I Wish I Didn't Photoshop," she reveals some of her before and after Photoshop photos, listing a few key reasons why she did so within the text of the post.
The purpose of this post is to remind you all that -
1. NOT EVERYTHING IS REAL.
2. DO NOT COMPARE YOURSELF TO OTHERS.
3. LOVE YOURSELF FOR WHO YOU ARE.
4. EVEN PEOPLE YOU LOOK UP TO ARE FLAWED.
AND
5. YOU ARE A UNIQUE GODDAMN SNOWFLAKE SO NEVER FORGET THAT!!!!!!!!!!
Not only do I love Suchow's unique sense of style, but I admire her empowering, vulnerable admission of imperfection. It's refreshing in the best possible way. If we really take a look at ourselves, we're all a little imperfect, a little too eager to look like that girl on our most-envied Instagram account, and guilty of comparing ourselves to others. Suchow's brave post proves that she is fabulous with and without editing, letting us all breathe a little sigh of relief that we're not the only one who is trying to achieve that level of "real girl perfection."
Images: Dana Suchow