Yes, Plus Size Women Can Wear Patterned Pants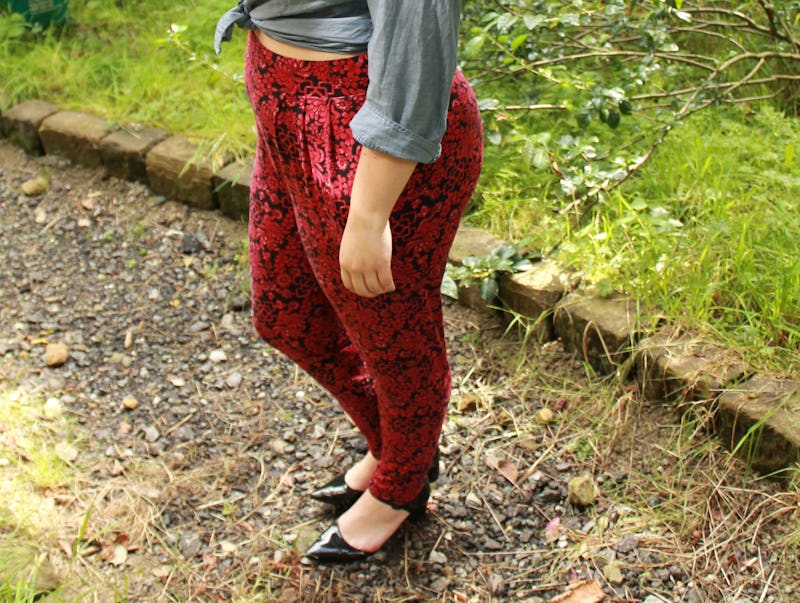 Though I have always been a dress lover and gravitated toward vintage cuts, full skirts and anything else that can make me feel like I'm starring in a Sofia Loren film circa 1960, I began branching out into jeans and pants this spring. I hadn't been avoiding them intentionally. Rather, I lumped them into the category of "not as comfy as dresses" and kept my distance. In retrospect, though, I wonder if my subconscious had always steered clear of trousers because they aren't considered as flattering on a fuller-figure as an A-line skirt. And for most of my life, finding clothes that were flattering and hid my body was at the top of my priorities.
In conversations with plus-size women, I've heard numerous times that pants of any kind, be they jeans or joggers, just won't do. They show off far too much of the derriere. They create a visible belly outline if they aren't high-waisted. They cling onto "thunder thighs" and reveal to the world that you don't have a thigh gap. Add a pattern to the equation, and you're extra screwed. Patterns are eye-catching and bring attention to areas of the body you may not want to be receiving attention at all.
The thing is, patterned pants (or dresses or tops or skirts) can serve as major statement pieces, and reveal a little glimmer of your personality to boot. Animal prints can be bold and fierce. Comic patterns or Star Wars prints show you possess a bit of wonderful nerdiness. Geometrics are awesome day-to-night transitional pieces and essential for any working gal. But instead of embracing all these possibilities, we so often shy away because patterned pants reveal the fact that we have thicker bodies.
When I saw blogger Gabi Gregg rocking these pink and black graphic joggers, I was sold. It totally made me re-think why I had steered away from patterned pants (and pants as a whole for that matter!). I think I'll always be more of a dress girl no matter what, because the eras of fashion that most inspire me were so dominated by them. But I love having a good pair of pants in my closet these days. Something you can just slip on and walk out the door with. And something that says you are curvaceous, and proud of it.
For me, adding a cropped (or tied) denim top completes the look. But the beauty of patterned pants (and leggings!) is that you have the freedom to experiment. Crop tops, t-shirts, button-down blouses, or some beautiful pattern-mixing will all do just fine!
SimplyBe
Jacquard Pants, $80, simplybe.com; Printed Palazzo Pants, $48, simplybe.com
ASOS Curve
Scuba Tube Trouser in Floral Print, $58, asos.com; Exclusive Peg Trouser in Baroque Floral Print, $42, asos.com
Boohoo
Maggie Paisley Print Trouser, $40, boohoo.com; Mel Floral Printed Trouser, $44, boohoo.com
ModCloth
Fresh Take Leggings in Sharks, $25, modcloth.com; Arboreal Twilight Leggings; $25, modcloth.com
City Chic
Sonic Harem Pant, $49, citychiconline.com; Aztec Harem Pant, $51, citychiconline.com
Natori
Josie Natori Printed Silk Pant, $275, natori.com; Josie Natori Printed Scuba Pant, $395, natori.com
Ralph Lauren Plus
Ralph Lauren Plus Full Length Pants, $39, bloomingdales.com; Ralph Lauren Plus Print Wide Leg Pants, $65, bloomingdales.com
Wet Seal
Boho Print Soft Pants, $27, wetseal.com; Neutral Tie-Waist Palazzo Pants, $27, wetseal.com
Eloquii
Printed Kady Pant, $78, eloquii.com