'Vanderpump Rules' Takes The Ice Bucket Challenge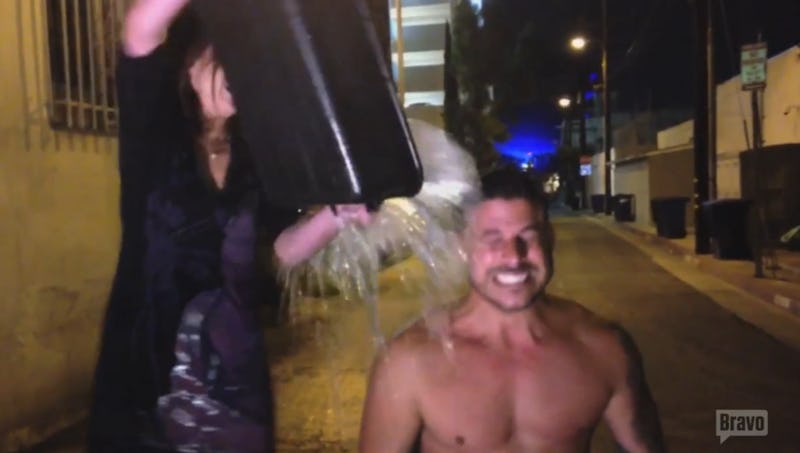 The Vanderpump Rules cast got iced! No, not that kind of Icing (though I'm sure all of them have taken many a knee and chugged many a Smirnoff Ice in their day): A few of the Vanderpump stars took the ALS Ice Bucket Challenge Thursday. Vanderpumpers Jax Taylor, Tom Sandoval, Ariana Madix, and Stassi Schroeder each accepted the Challenge, held their breath, and welcomed a deluge of ice water and cubes. And one of them didn't wear a shirt.
Where did Jax, Tom Sandoval, and Ariana take the Ice Bucket Challenge? Did they meet up at Beso? Nope. Lisa Vanderpump's backyard? Nope. SUR? DING DING DING DING! The SURvers got together in the alley behind their place of work and ice bucket'd away. Katie Maloney was also present for the Ice Bucket Challenge. Though she was not nominated, she had an important job: dump ice on Jax.
So, what was the chain of events that led to the SURvers to hang out behind SUR with multiple tubs of ice? Who set the wheels in motion?
King of the Bravo Kingdom Andy Cohen, of course.
Before Kim Zolciak poured a bucket of ice on Andy (who was nominated by Willy Geist) during Wednesday night's episode of Watch What Happens Live, Cohen nominated Vanderpumper Jax. And he requested that Jax do it shirtless.
Thursday night, Jax obliged. Jax knows as well as any of us do: You can't let the King of the Bravo Kingdom down. Begone, shirt!
Go for it, Katie:
Hnnnnnngh:
I'm living for the grin on Katie's face:
This photo may or may not be my new desktop wallpaper:
Jax then nominated Tom Sandoval:
And Tom Sandoval nominated Ariana:
Ariana nominated Ken Todd and Giggy, which OMG GIGGY IS FAR TOO DELICATE FOR THAT. I hope Giggy has some moolah lying around that he can pony up instead.
Stassi, aka my reality TV hero, did not do the Ice Bucket Challenge with her former (...or are they???) coworkers/costars, but she did do it poolside:
BUT WHAT HAPPENS NEXT? WE MAY NEVER KNOW!
JK, JK. Here's part two:
UGH I MISS YOU STASSI, YOU BEAUTIFUL ANGEL. PLEASE BE BACK FOR SEASON 3.
Images: Bravo (8)