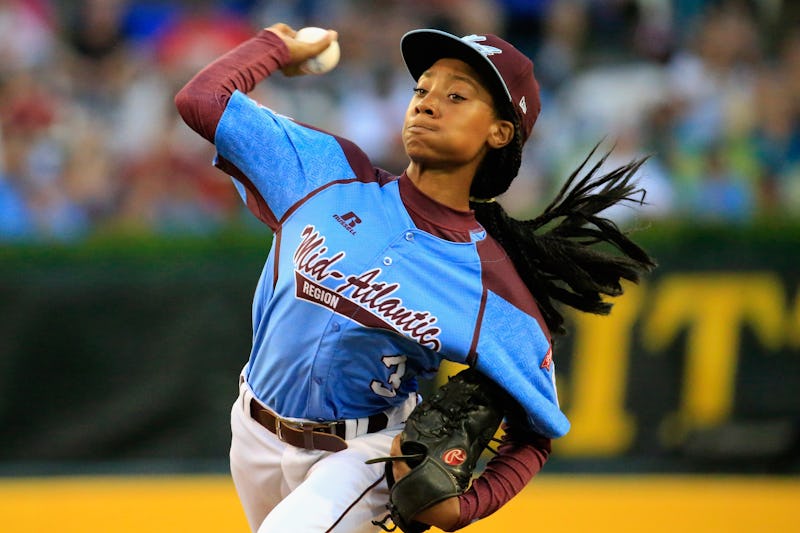 Rob Carr/Getty Images Sport/Getty Images
It might be called the Little League World Series, but there's nothing little about this milestone. On Friday, Philadelphia's Mo'Ne Davis became the first female pitcher to win a Little League World Series game, beating Nashville's team 4-0 with some serious fastball skills. And she hardly had to win the game to become a favorite during the series — as ESPN reports, Davis, who plays for Taney Dragons, was greeted with enthusiasm before the game even started, fielding applause "every time she stepped to the plate and after she struck out the final batter."
And that's the final batter, because Davis struck out quite a few who entered her strike zone — eight Nashville players, to be exact. The two-hitter was so impressive, everyone from the Blue Jays' Marcus Stroman to Pennsylvania Gov. Tom Corbett weighed in on her success. The latter noted:
She's played as well as any kid out there right now.
Well, dear Gov. Corbett, why shouldn't she have?
Though many might seem surprised by her success in the Little League World Series, others are only noticing how Davis' skills are paving the way for other young girls hoping to succeed in the high-profile series. Kathryn "Tubby" Johnston Massar, the first girl to ever play in the Little League World Series in 1950, noted that she's "very happy to see girls playing," while Davis herself sees a bright future ahead for female players like her:
Probably like a couple of years from now, there'll be a lot of girls here, and then it won't be just like all boys, so they'll have to build like another dorm for girls, so it'll be a huge impact if more girls start playing.
Davis is the 18th female player to take part in the Little League World Series, but thanks to her skills, and the prevalence of social media, she's perhaps the first to turn into a bona fide star. Perhaps thanks to quotes like, "I throw my curveball like Clayton Kershaw and my fastball like Mo'Ne Davis," and perhaps because she's just so damn good.
Next up for Davis? Facing off against the winner of Friday's Texas vs. Rhode Island game . . . and perhaps even a pitch-off against the Dodgers' Kershaw. And that kind of moxie convinces me she'll win.