Beauty Products to Make You Feel Better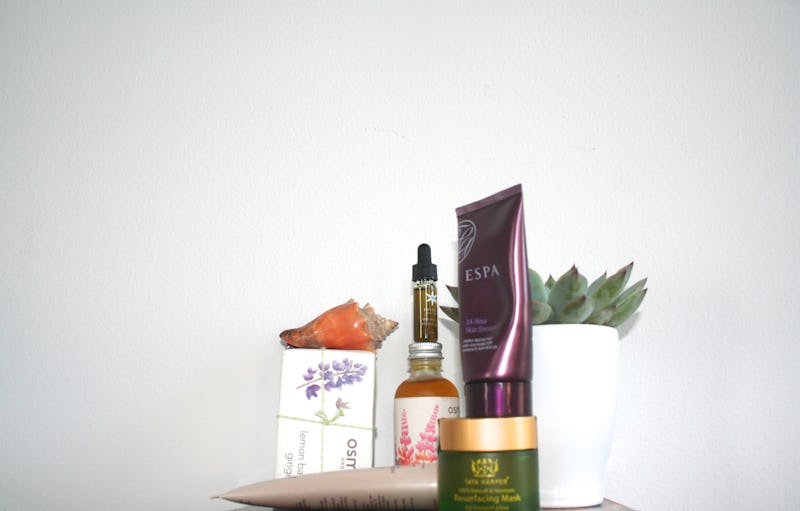 The last time I was sick, it was one of those lingering, awful, flu-ish, sinus-y colds that lasted for almost two weeks. (And yes, that is the technical, medical name for my illness.) I wasn't anywhere near death, but I was hellishly uncomfortable. As I struggled heroically through endless tissues, like one of George Washington's men at Valley Forge but without the bleeding feet, I found that some of the products that helped with my cold were already hanging out in my bathroom cabinet.
So, I asked a couple of awesome toiletry companies which products they'd recommend to make a sick day better. You know the type of sick day I'm talking about: head pounding, sinuses throbbing, eyes watering, skin extra-sensitive, constantly dehydrated. Please don't take this as professional medical advice or any sort of cure — this is simply designed to unstuff your poor sinuses, soothe your chapped nose, and calm your fevered brow. If you're struggling with one of those common cold-but-feels-like-death types of illnesses, consider this your Get Well Soon card.
Turn your shower into a medical spa
When I'm sick, I like to stay in bed forever, but getting in the shower never fails to make me feel better — or at least more functional. To clear out stubborn sinuses, get some essential oils into that steamed-up bathroom. Essio's aromatherapy diffuser comes with a "Breathe" blend designed to clear you out and wake you up. Peter Friis, the founder and CEO of Essio, told me how it works:
"Eucalyptus and Peppermint have been used for centuries to soothe colds and coughs. Indigenous folk-traditions reveal that early people in Australia, South Asia, and many parts of Europe knew that crushing and steeping the leaves of these plants, then inhaling the exhilarating fragrance, could unblock the nasal passages, as well as soothe the dull headache common to low-grade rhinoviruses. Today we know that, in addition to these expectorant and analgesic properties, these time-honored botanicals have even more to offer: both Eucalyptus and Peppermint are powerful natural antiseptics, slowing the proliferation of microbes which lead to colds."
If your head is pounding, try squeezing the area between your thumb and forefinger to slow it down — a handy accupressure trick I've used many times. Then reach for a facial wash to calm your head even further, before you pop an Advil. Jessica from Osmia Organics recommended their Lemon Basil Ginger soap, saying that both lemon and basil essential oils are useful for easing a headache. "Lather up, hold hands in front of the face, and breathe deep!" she instructs.
Be easy on yourself when it comes to putting on a face
Before slathering chemical-filled makeup all over your face, take a second to soothe your feverish, fussy skin with a mask. Everyone's favorite green brand, Tata Harper, just released a limited edition Soothing Apricot Resurfacing Mask with apricot stem cells to decrease irritation and redness, plus coconut water for added hydration. As you leave the mask on, fix yourself a cup of tea or just chug a glass of water. (Remember: Liquids. Always liquids.)
Skip the lavish makeup and keep things simple with a tinted moisturizer like Decléor's Hydra Floral Multi-Protection BB cream. It's a moisturizer, a sunscreen, and an Instagram filter all in one, so you can smooth it over your irritated complexion and be done with the whole thing. Skip the mascara if your sinuses are clogged and your eyes are watering (I'm partial to this no-eye makeup look myself for sick days where you still need to look polished).
Moisturize your nose all day long
Along with constantly chugging water, kombucha, coconut water, peppermint-ginger tea, more water, cucumber water, echinacea tea, and everything in Whole Foods marked "immune-boosting," take a soothing balm with you if you have to leave your house so that you don't crumple to the office floor in despair.
For lips and noses that are chapped beyond recognition due to allergies, colds, or sinus infections, slip Osmia Organic's Honey Myrrh Lip Repair into your purse. "Great for noses chapped from too much blowing," says Jessica. "Honey is healing, and myrrh has been used for ages to calm irritated, cracked skin."
Break out the heavy-duty skin therapy, if needed
Sickness can make your skin feel awful — dry, hot, achey, sore. Sure, most of the time the problem is on the inside, but illness can manifest itself on the body in numerous ways. If you're suffering through a breakout of rosacea, eczema, or psoriasis — or nicked yourself up a bit and want to speed up the heeling process—try Phyto-C's Superheal O-Live Gel, which is basically there for you when your skin isn't. (You can also use it for a laser, IPL or chemical peel treatment. It just wants to help.)
Post sickness, your skin may be feeling extra stressed out, so you should take it straight to a therapist. A skin therapist! Innovative Skincare's Hydra-Cool Serum is designed to help skin recover from stress and damage, according to their Clinical Director, Dr. Charlene DeHaven, who recommends it for "irritated skin occurring for any reason — from sunburn to the skin effects related to cancer therapies."
Use toiletries to put yourself to sleep
Just as your morning routine should involve essential oils that are stimulating and sinus-clearing, your night routine should involve products on the soothing, quieting side of things. If you've got a bathtub, draw a warm back (doesn't that phrase just sound healing?) and throw in Osmia Organics' Tea Bath. It's full of botanicals like roses, orange peel, and spearmint to clear your head, and Epsom salt to relax aching muscles.
After washing your face, I'm a particular fan of something called a 24-Hour Skin Saviour by ESPA. It's a lot heavier than your average nighttime moisturizer — it's a balm, not a cream — but it works wonders for sad, exhausted, sniffly skin. Meadowfoam, tamanu oil, evening primrose, manuka oil, and shea butter lock in moisture and basically cure your skin overnight.
Then right before bed, rub yourself down with Osmia's Night Body Oil. Jessica says it's designed to "calm a tired mind and body, encouraging a beautiful sleep," which is "just what the body needs most when fighting an infection."
Sweet dreams, drink water, and call me in the morning.
Images: Tori Telfer