Saluting the Pioneers of Denim-on-Denim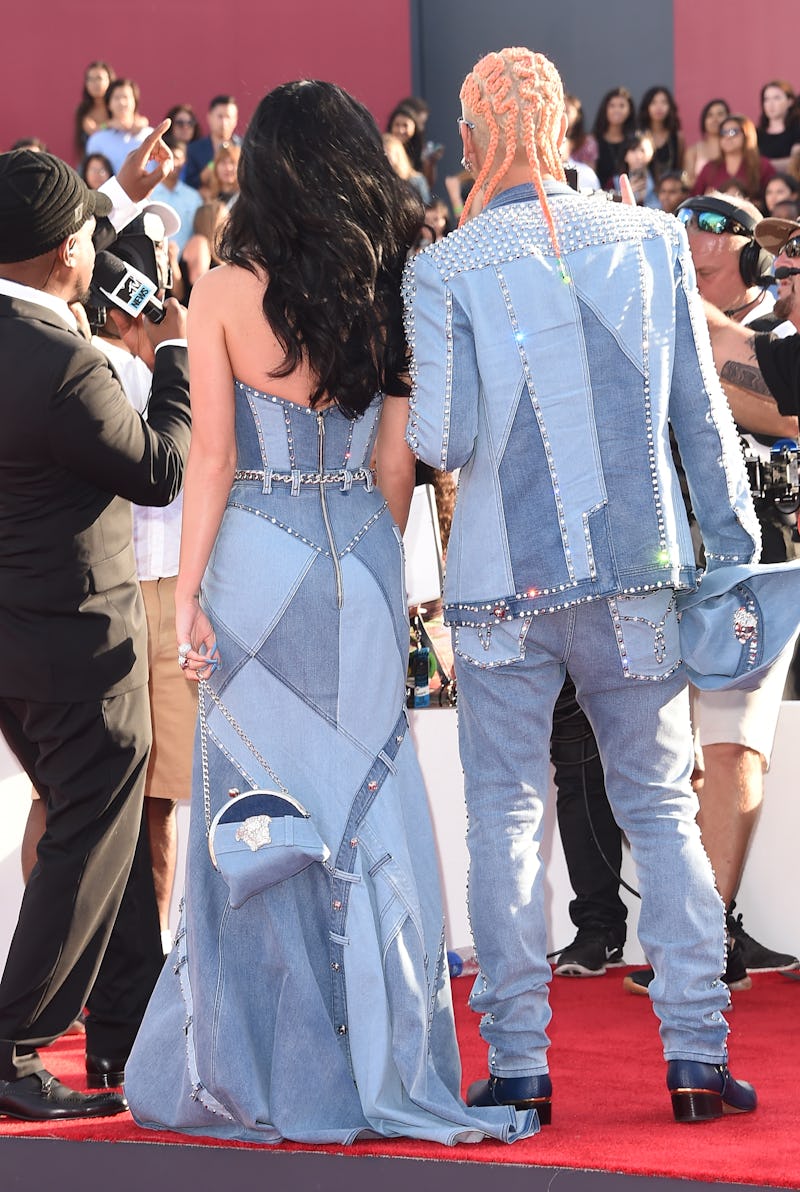 Jason Merritt/Getty Images Entertainment/Getty Images
There are few fashion rules I ever adhered to — I wore white after Labor Day, I constantly mixed navy and black into one ensemble, and I certainly rocked a denim jacket with my Levi's. For some of us, the Canadian tuxedo that peaked in the '80s never left our lives, even though it's well into 2014. Hardcore subcultures have sported denim-on-denim throughout the '90s and well into the present, staying true to their scene and of course, their Fred Perry jeans and Levi's.
But where exactly did the trend come from? Believe it or not, hardcore music didn't birth the Canadian Tuxedo. Legend has it (or at least, canadiantuxedo.com has it) that this two-piece casual attire was birthed (where else?!) in Winnipeg, Canada and the story is a bit of a love story: Randy, a groom, prepares to marry his true love and chooses his ideal attire — a favorite pair of blue jeans, a crisp denim shirt, and a denim jacket to pull it all together. Randy could not have known that his ever-so-kind bride had invited a group of French designers to their wedding that she had met previously while performing at hotel. The designers were completely taken aback by Randy's casual attire on his wedding day that they assumed this must be the Canadian version of a tuxedo. The Frenchmen traveled on to the States and word quickly spread in 1973. Of course, who knows exactly what sparked the first denim-on-denim explosion, but it's certainly fun to think of Randy and Stacie as humbled fashion gurus.
Somewhere in fashion land, when the Oi boys, Canadian transplants, and hip-hop lords weren't looking, the Canadian Tux gained a negative connotation. Overtime, fashionistas wouldn't be caught dead rockin' a denim vest with a denim skirt. Well, folks, the Fashion Gods have spoken: Denim-on-denim is back. We owe the first fashion explosion of the Canadian Tuxedo to Randy and Stacie, but let's reflect back on those who have stayed true to the most comfy tux known to (wo)mankind. These folks refused to retire the explosive ensemble, making sure the Canadian Tux lived on.
Britney Spears and Justin Timberlake
The denim-on-denim look wasn't toxic for everyone; Britney Spears rocked denim confidently throughout her career. Perhaps those Southern roots kept her in a Canadian Tux a little longer than her peers.
The Tea Party
Perhaps no one has held on to expired ideology longer than the Tea Party, so it's no wonder that a well-organized group of conservatives have a rite of passage into the denim-on-denim hall of fame.
Oi Boys
This subculture of music and politics never hung up their denim jackets; cuffed jeans, steel-toed boots, and a jean jacket represented their pride in working-class roots.
Johnny D, a.k.a Crybaby
Part of me believes that Johnny Depp came out of the womb in a Canadian Tuxedo, because no one has worn it as effortlessly and as sexily. There is never a time where I am not attracted to Crybaby, whether his tux is more grunge with a flannel and a ripped denim vest to pair with his jeans, or if he's sporting a denim shirt tucked into his denim jeans with a beautiful pompadour to top it off.
Queen Latifah
Q is all about a little denim U.N.I.T.Y in her fashion game. She's rocked denim dresses with denim jackets, denim vests with denim skirts, and managed to stay beautiful, dripped in denim even during the fall of the Canadian Tux.
Chuck Norris
America's beloved cowboy helped make the Canadian Tux a staple in the United States for rugged, handsome dudes who want to sport some seriously sexy attire.
The Hells Angels
It's not all about leather jackets for these angels. Denim jackets for the warmer months are common with a Hells Angels patch on the back, of course, to go with those classic blue jeans. These tough guys and gals have been wearing a denim-on-denim flag for decades.