Get Jenna Dewan-Tatum's Look In 4 Simple Steps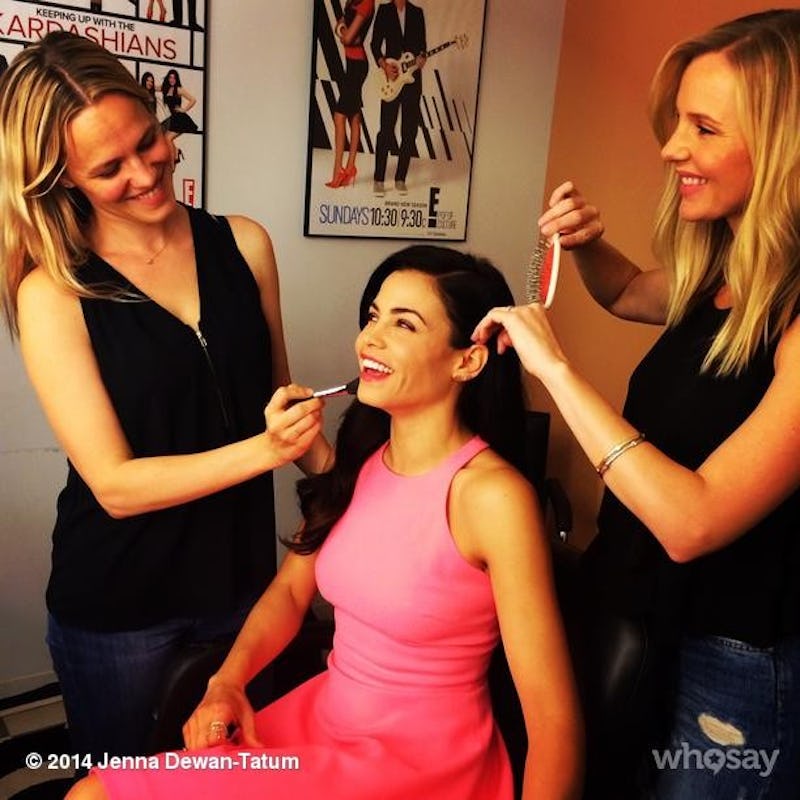 Ah, to be Mrs. Channing Tatum. If you've been keeping score, Jenna Dewan-Tatum has one of the most attractive husbands in show business, a baby whose dancing skills are destined for Broadway, and the popular television show The Witches of East End rounding its second season. This triple-threat combination would make for an impressive resume on its own, but Dewan Tatum also comes with a gorgeous wardrobe which shows off the performer's formidable sense of style, as well as her dancer's physique.
For a June appearance on E!, the actress chose to demonstrate her vibrant joie de vivre with a neon pink dress, nude stripy heels, and a few well-placed accessories for a look that appeared flamboyant but unfussy. Of course, the look necessitated fluttering eyelashes, healthily flushed cheeks, and Veronica Lake waves as well. Since summer isn't over just yet, Dewan's sweet Instagram ensemble may just be the ideal inspiration for those who aren't ready to move on to autumn's cozy, slouchy wares. Read on for the four items you'll need to capture Jenna Dewan-Tatum's eye-catching, summery outfit. Perhaps you'll be inspired to Step Up with some dance moves of your own in this flirty, flattering look.
1. NEON FLARED DRESS
Dewan-Tatum's dress hits every style essential you need for the ideal look: fit, color, and comfort. Get a similarly dance floor-ready look with Amanda Uprichard's Wallis Cutout Ponte Dress.
2. STRAPPY NUDE SANDALS
Any talented dancer knows that the key to a successful routine is a pair of jaw-dropping, comfortable kicks. Stuart Weitzman's Nudist Sandals offer all three in one sultry package.
3. DUAL BARREL CURLING IRON
Dewan Tatum's cascading curls are within reach when a dual barrel curling iron is involved. Try Remington's Wrap to Waves Styler Curling Iron for '40s film star waves.
4. ROSY BLUSH STICK
Add a pinch of color to your cheeks a la Dewan Tatum with Clinique's Chubby Stick Cheek Colour Balm in Plumped Up Peony.
Images: jennadewan/Instagram; Amanda Uprichard's Wallis Cutout Ponte Dress, $185, neimanmarcus.com; Stuart Weitzman's Nudist Sandals, $398, stuartweitzman.com; Remington Wrap to Waves Styler Curling Iron, $15.99, target.com; Clinique Chubby Stick Cheek Colour Balm in Plumped Up Peony, $21, neimanmarcus.com