Here's What Being In Ferguson Actually Looks Like — PHOTOS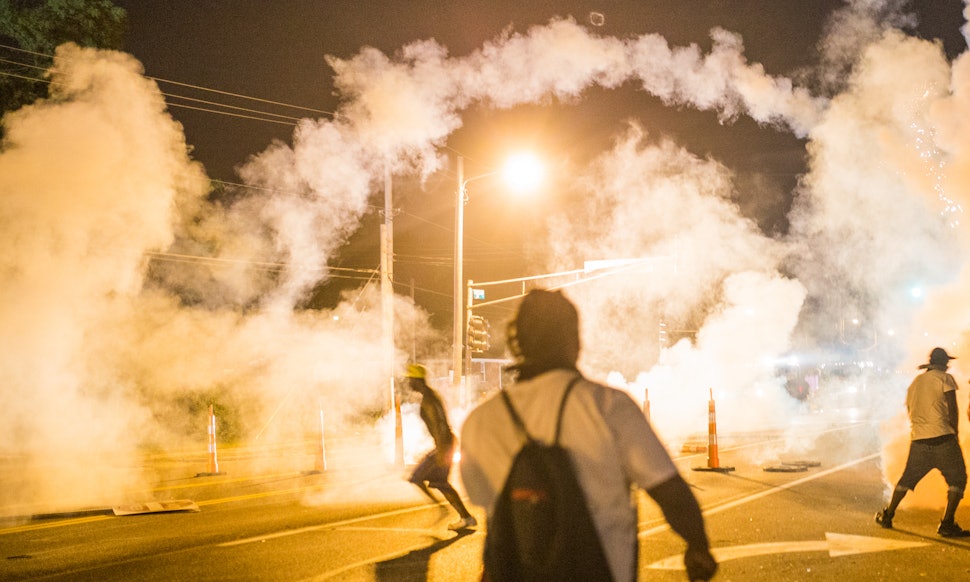 Yet another evening of violence and tear gas enveloped protestors in Ferguson on Monday night — and this time, I was there. Overnight, at least two protestors were shot, though not by law enforcement, and 31 were arrested, though the night started off calmly.
Nelly — yes, that Nelly — stopped by to talk to the crowd at 6 p.m. He wasn't exactly encouraging, telling protesters that they were "outnumbered, outmanned, and outgunned."
"We've got to understand that we have options and stop choosing the reaction option," he told the crowd. "Cause, at the end of the day we gonna pay: our brothers are gonna be the ones in jail."
Around 10 p.m., though the streets were empty and the protesters were largely standing quietly on sidewalks, law enforcement repeatedly blasted notice via megaphone that anyone standing in the streets would be "unlawfully gathering and subject to arrest."
You can guess what happened next.
With the streets now full of protesters, law enforcement fired flash-bang grenades and tear gas canisters. The tear gas wafted south with the wind, and eventually drove most of the protesters out of the streets along with several members of the media. I saw one photographer who was hit particularly hard, and ended up curled up on the sidewalk.
By midnight, the crowds had dispersed, though it seems all but certain that they'll be back Tuesday night.
Nelly
Nelly spoke to the crowd, asking them to keep the protest against the "stupid-ass cops" nonviolent.
"Stop killing us"
The protesters peacefully marched up and down Florissant Avenue, the main thoroughfare of Ferguson.
Assault rifles
Law enforcement were armed with rifles, helmets, and gas masks.
Law Enforcement Gathers
Dozens of law enforcement members were at the protest site on Monday, a far cry from the laid-back policing of last Thursday — the most peaceful night of the protests.
"Hands Up, Don't Shoot"
"Hands up, don't shoot" has been the standard refrain, though protesters began modifying it into "hands up, shoot back" as the protests enter their second week.
Military-Grade Weapons
Tear gas and flash-bang grenades were deployed by police after protesters entered the streets off the sidewalk.
A Photographer Hit
One photographer was particularly badly hit. Others tried to help him with antacid solution.
Arrested
The evening ended with the arrests of over 31 protesters.