'Pretty Little Liars': 8 Fashion Crimes Committed By the Cast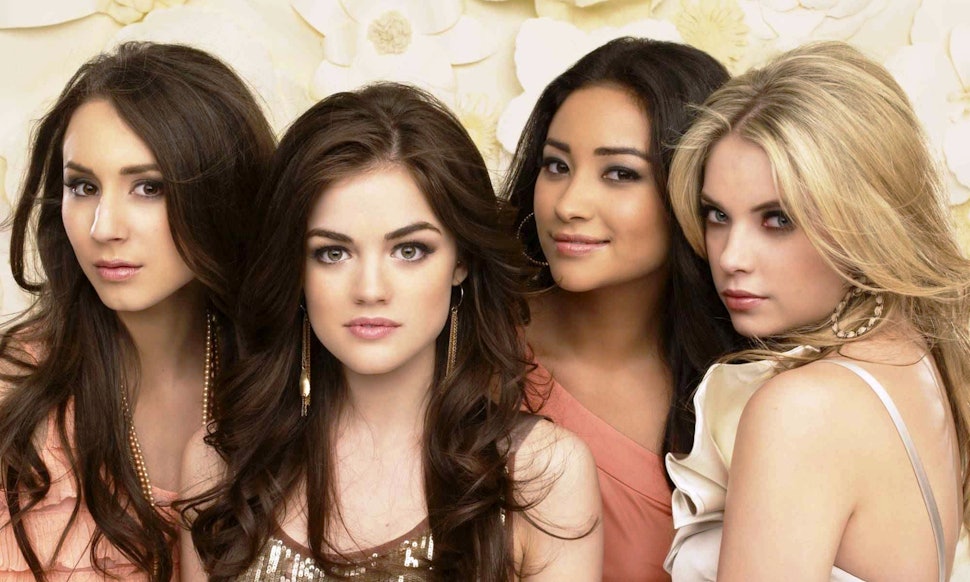 It's no secret that the characters on 'Pretty Little Liars' have some of the best clothing on television. (What I wouldn't give to raid Hanna's wardrobe, particularly before she stopped her shoplifting habit.) But that doesn't mean that the girls and their peers aren't without the occasional (and sometimes way too frequent) fashion faux pas. We give a rundown of what crimes these little liars have committed... in the name of fashion, of course. [Images: ABC Family]
Crimes of Fashion
It's no secret that the characters on 'Pretty Little Liars' have some of the best clothing on television. (What I wouldn't give to raid Hanna's wardrobe, particularly before she stopped her shoplifting habit.) But that doesn't mean that the girls and their peers aren't without the occasional (and sometimes way too frequent) fashion faux pas. We give a rundown of what crimes these little liars have committed... in the name of fashion, of course. [Images: ABC Family]
Aria Montgomery: Accessory Overkill
Aria's a pro at mixing and matching patterns without looking like she raided a Forever 21 and threw on whatever fit. Unfortunately, it's the accessories that weigh down our (literally) little liar Aria. The only time you should put a spider on your body is if Tyra Banks tells you to on 'America's Next Top Model.'
Emily Fields: Casuality of Casual Wear
Poor Em. Not only is A always trying to kill her, but she also has a fierce body that is constantly covered up in sweatshirts and button-downs. (Not that Emily doesn't look adorable in them.) But come on, Em... if you've got it, try flaunting it. I'm all for comfort over style, but that doesn't mean your entire wardrobe has to be so... blah. You have Hanna's closet to raid — borrow a sequined top or two.
Spencer Hastings: Mad Hatter
It's not that Spencer doesn't look cute in her hats. But you're seventeen. Maybe take a cue from your Rosewood classmates who don't dress like they're from the 1920's. Though after the new 'Gatsby' movie, perhaps this look will have more street cred.
Hanna Marin: Dresses to Impress... at Funerals
Hanna's up-to-the-minute-fashion obsession is great because she's usually so on the mark about the latest trends. Like how sheer is SO in right now. Her sheer maxi-dress with a cut-out top is definitely one of her best looks... but not quite appropriate for a funeral. Next time, stick to pencil skirts and fully-covered tops, 'kay Hanna?
Mona Vanderwaal: Evil Eye Makeup
We get it, you've gone over to the dark side. But where in the 'How to Be Evil' handbook does it say that you have to start doing your eye makeup like Taylor Momsen?
Jenna Marshall: Eyewear Indoors
When Jenna was blind, it made perfect sense for her to wear her sunglasses indoors. But she hasn't been blind for an entire season, making us think that her preference has less to do with eye safety and more to do with her desire to keep herself as mysterious as possible. What secrets do your eyes hold, Jenna?! Either way, sunglasses are for outdoor use only.
Red Coat: One-Color Fixation
For a person so cloaked in mystery (no pun intended) you'd think that the girl would experiment with a less eye-catching color. We bet if you started wearing more blues and greys that the little liars wouldn't constantly be on your trail.
Toby Cavanaugh: No Shoes, No Shirt...
Toby, one of the first rules of fashion is that you must, and I repeat, MUST, wear something to cover your torso. I know that you're not making much now that you're an independent contractor, but I'm sure Spencer would be happy to buy you a well-fitted tee shirt if you asked.