Exactly How The Ice Bucket Challenge Happened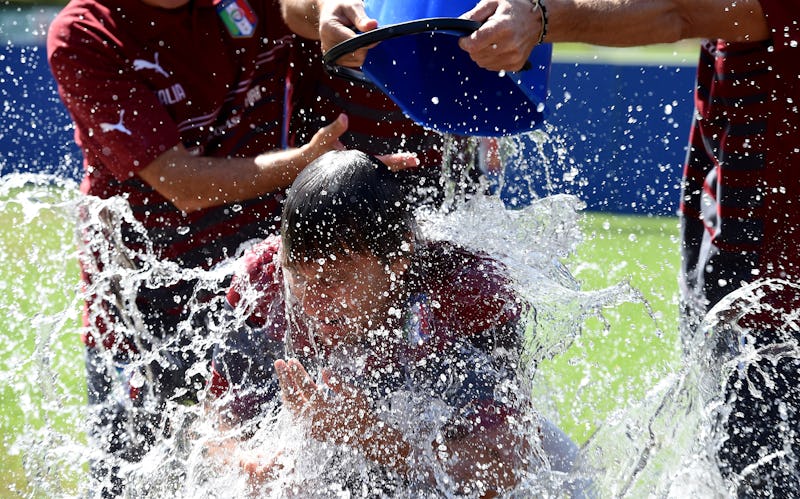 Claudio Villa/Getty Images Sport/Getty Images
Ah, the Ice Bucket Challenge. If you've been living under a rock, here's how it plays out: The person challenged dumps a bucket of icy water over his or her head, and nominates others to do the same within 24 hours. If you don't complete the challenge, you're asked to donate $100 to the ALS Association. But how did the Ice Bucket Challenge start, anyway?
The now-stunningly-viral challenge hasn't come without backlash. Some believe that there's zero connection between pouring ice water over your head and helping eradicate a devastating disease: ALS, most commonly known as "Lou Gehrig's Disease", attacks nerve cells in the spinal cord and brain. Regardless, to date, the ALS Association has received $15.6 million in donations between July 29 and August 18. By comparison, $1.8 million was donated during the same period of time last year, according to an ALSA press release.
"Cold Water Challenge" — April 26, 2014
The whole thing apparently began as a "Cold Water Challenge" in April. Amado Huizar can be seen in a YouTube video, jumping into a cold swimming pool with his son. Huizar says he was challenged by Ryan O'Neil.
In the video, Huizar challenges others to complete the challenge or donate to Sheaves for Christ, a fundraiser under the United Pentecostal Church International that is based in Missouri, within 48 hours.
There aren't any buckets of icy water involved, or criteria that require the nominees to donate to ALS. Regardless, it seems to be the earliest video that kicked off the Ice Bucket Challenge.
Cancer Society of New Zealand — July 7, 2014
In a media release, this Auckland Division of the Cancer Society of New Zealand applauded those taking part in the Ice Bucket/Cold Water Challenge, asks those participating to be safe, and announced a fundraising campaign through EveryDay Hero.
To date, $123,548.73 has been donated to the cause to support cancer patients and their families.
Ice Bucket Challenge for "Charity" — July 2014
In a video published on Instagram in July, pro golfer Brittany Linciocome accepts a challenge made by Rebecca Lee-Bentham, also a pro golfer, and nominates others to take part in the challenge. ALS isn't mentioned as the charity to donate to.
But her video had a ripple effect across the pro golfing world. Sandra Gal, Gary Player, Mo Martin also took part, one right after the other. James Whitmore, who trains golfers on improving performance, retweeted Gary Player's video on Twitter, and that prompted Jon Bullas, who owns The Jon Bullas Golf Academy in Florida, to complete the challenge, followed by Florida golfer Chris Kennedy, who calls for his nominees to donate to the ALS Foundation, wishing them luck.
Ice Bucket Challenge for ALS Tipping Point — July & August 2014
According to TIME, Kennedy's July 15 video sparked this challenge for ALS. At that time, the campaign wasn't for any particular charity; Kennedy chose ALS because one of his relatives is battling the disease. From there, Kennedy called on his wife's cousin, Jeanette Senerchia, to complete the challenge. Senerchia's husband, Anthony, is also battling ALS. Senerchia told TIME:
My cousin Chris sent me a message telling me to check my Facebook. He nominated me as a joke because we bust each other's chops. I was just going to donate money.
Senerchia published her own video of her completing the challenge on July 16. As Senerchia's video sparked others in the small town of Pelham, N.Y., to complete the challenge, it eventually reached Pat Quinn, a resident of Yonkers, N.Y. who is suffering from ALS.
Quinn's network of friends eventually led to the challenge reaching Pete Frates of Boston, a former Division 1 college athlete at Boston College who is battling ALS. Frates is very active within the ALS community, and posted his video on July 31 on Facebook.
ALS Association Sees Huge Increase In Donations
Frates' video was the tipping point. According to TIME, the ALS organization said there was a large increase in donations beginning on July 29. And so it began . . .