ISIS Executes American Journalist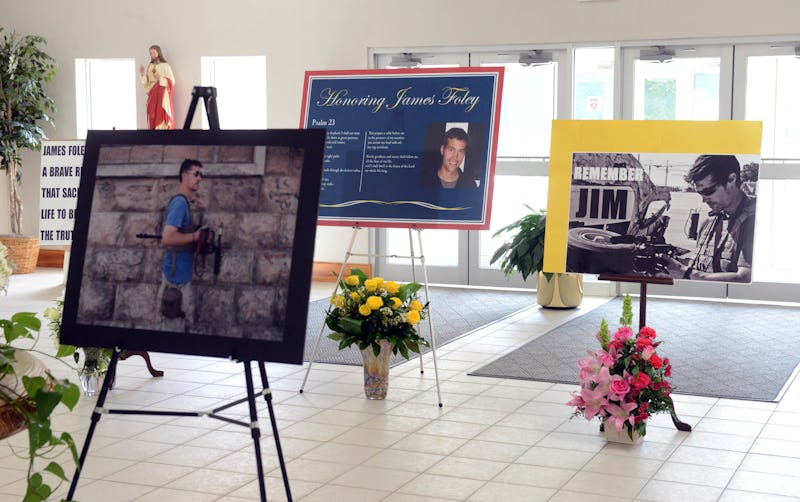 Darren McCollester/Getty Images News/Getty Images
In a gruesome warning to the United States to end intervention in Iraq, ISIS has apparently beheaded American photojournalist James Foley, who was captured in 2012. Video footage of Foley's execution uploaded to Youtube on Tuesday, and was removed after approximately 20 minutes. The footage also appears on one of the militant's Twitter profile.
According to the FBI:
On November 22, 2012, James Wright Foley, a freelance photo journalist, was taken by an organized gang after departing from an internet café in Binesh, Syria.
The Global Post, the publication to which Foley was contributing at the time of his capture, spent "many, many, many hundreds of thousands of dollars," according to WBUR, in attempts to recover him.
Foley had previously been captured and held by Gaddafi supporters in Libya, though he was only detained for six weeks. But after six weeks of silence following his abduction by ISIS, the Global Post decided that the best way to protect Foley may be to release the details of the situation, and revealed that "an unmarked car intercepted Foley" and that "men holding kalashnikovs shot into the air and forced Jim out of the car."
The report continues:
The witness said he noticed nothing that would indicate whether the aggressors were rebel fighters, individuals looking for a ransom, members of a pro-government militia, or a religious-based group with other motivations.
The four-minute video of Foley's death begins with Obama's authorization of U.S. airstrikes in Iraq, and is followed by a title screen reading "a message to America."
James Foley is then identified as an American citizen whose "real killers" are American leaders. The horrific video ends with a photo of Steven Sotloff, another journalist captured by ISIS, and a caption that reads, "The life of this American citizen, Obama, depends on your next decision."
Free James Foley, an organization established by Foley's family members and friends, has urged its Facebook followers to "be patient until we have more information," and to "keep the Foleys in your thoughts and prayers."
Rather than allowing the message of hate and violence to spread by continuing to share the video, Foley's remarkable contributions as a journalist should be remembered. Before beginning his work as a photojournalist, Foley, the oldest of five children, was a teacher and mentor who sought to "empower disadvantaged individuals."
Much of that same goal is evident through his photography, where he risked his life on numerous occasions to tell the stories of those without voices. He was described byGlobalPost CEO and Founder Philip S. Balboni in a statement last year as "a brave and dedicated reporter." A largely independent, freelance journalist, Foley made objectivity his chief pursuit in his five years of reporting in the Middle East.
Last year, his friend and fellow journalist Clare Morgana Gillis, wrote the following about Foley for Syria Deeply:
Jim sees the good in nearly everything and everyone. He is a master motivator. "You got this, dude!" he'll say. "That story's great, just file it already." ...
Everybody, everywhere, takes a liking to Jim as soon as they meet him.
James Foley's mother also posted a heartbreaking tribute on Facebook.
We have never been prouder of our son Jim. He gave his life trying to expose the world to the suffering of the Syrian people. We implore the kidnappers to spare the lives of the remaining hostages. Like Jim, they are innocents. They have no control over American government policy in Iraq, Syria or anywhere in the world.We thank Jim for all the joy he gave us. He was an extraordinary son, brother, journalist and person. Please respect our privacy in the days ahead as we mourn and cherish Jim.
Images: FindJamesFoley/Facebook