The 11 Stages Of Your First Hangover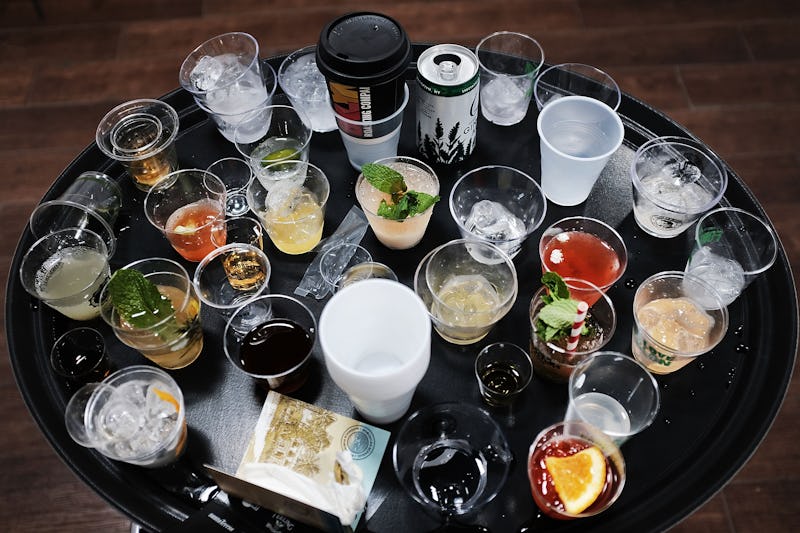 Spencer Platt/Getty Images News/Getty Images
If you are heading off to college for the first time this week, chances are that you have a lot of milestones ahead of you: your first college roommate, your first 8:00 a.m. class, your first time oversleeping and nearly missing an exam, your first college football game, your first frat party, and so on. However, with all of these fairly innocuous firsts comes one that's much less fun, but inevitable: your first hangover. Down a few too many Natty Lights one night, and this particular milestone will hit you like a ton of, well, stones, my friend.
(If you drink, that is! If that's not your thing, don't feel pressured to make choices you're not into. Full disclosure: I did not have my first hangover until my second year, mostly because I hardly drank enough to get that close. One drink at a party, or none at all, is A-OK.)
1. TURN DOWN FOR WHAT
There is a party tonight, and you know it is going to be the bomb-diggity. Let's envision it as my ideal party, which means it's Joss Whedon-themed. Your Buffy costume looks perfect (you might as well be the next Sarah Michelle Gellar). Someone has set up an illicit bar to make Mudder's Milk. A strobe light starts pulsing, and then that new Kesha song (which you secretly adore) comes on.
THIS IS GOING TO BE AWESOME.
2. RUM AND COKE BREAK
Well, no one can dance forever, can they? Now you're all sweaty and tired. Better hit up the ramshackle bar (which is probably someone's desk) so you can fan yourself a little and stop looking like you just crawled out of the ocean.
3. SHOTS O'CLOCK
This thing you're drinking? It's delicious. The people around you? Hilarious. And you know what would make it better? Shots. It's shots o'clock, everybody!
Suddenly, you realize that this is the most alcohol you've ever had in one sitting. As in, by a lot. Is it just you, or is it getting way harder to walk in a straight line?
4. THE DRUNKEN RAMBLINGS
By this point, you have probably cornered several people who are just as drunk as you. You may be debating political figures you have never heard of before, or climate change, or world peace. Maybe you are discussing Miley Cyrus' new haircut. Maybe you are telling everyone around you the story of your last relationship and they are all patting your shoulder with inebriated sympathy. Walking in a straight line is definitely not a thing right now. All the makeup you put on for your Buffy costume is probably gone.
You may not remember this part.
5. BEDTIME
You have reached the point of no return, and you are partied out. Try to make it to your own bed. That's all I'm sayin'.
6. THE ARRIVAL OF MORNING
You wake up in the morning, and contrary to Kesha, you definitely don't feel like P. Diddy. Actually, you feel like crap. Your head hurts. Every time you sit up, you feel like you might puke. Wait, are you sick? Are you dying? Your head has never pained you this much. Maybe you should call someone to come take you to the student health center?
7. THE MOMENT OF REVELATION
Hold up a minute. You know what's going on here. This is a hangover. Much like unicorns, you have heard a lot about them, but you have never experienced one yourself. This is not as cool as a unicorn, though.
You start trying to remember all the hangover cures you've heard from friends, older cousins, and the Internet. Should you drink some coffee now? Maybe water? Isn't greasy food supposed to make you feel better? (Except greasy food sounds absolutely impossible right now.)
8. THE REVERSE JESUS
Okay, you remember now. It's definitely water that you're supposed to drink. Hydration is key. Except all your cups are dirty. When did that happen?
You grab some wine glasses that are probably still lying around your room, pour out the dregs, and fill them up with some water. It's like Jesus, only backwards.
9. SWEARING OFF ALCOHOL FOREVER
Why have you done this awful thing to yourself? Do you hate your body this much? How come you couldn't even drink a glass of water before bed to stave part of this off?
You keep drinking water and occasionally moaning. The temperance movement had it right. Alcohol is the devil's drink. You swear to yourself that you will never do this again.
10. BRAVING THE SHOWER
You've finally reached the point where you can stand up now. If you're lucky, you haven't puked your guts out. Now it's time to wash off the vestiges of makeup that still cling to your face and get rid of the alcohol smell leaking from your pores.
You are starting to feel better now. Still, you might have to park your butt on the floor of the shower. Standing up is for wusses, anyway.
11. TOTAL RECOVERY
Around mid-afternoon, you realize you have pretty much returned to the land of the sober. Maybe you can choke down some food, or even contemplate doing some schoolwork (yikes). You are grateful for the lessons you have learned but never want to do this again, which is sort of like taking a physics class.
At next weekend's party, you will slow down on the shots a little.
Now that you've experienced your very first hangover, here are some classy cocktails you can make in your own dorm room.