Remember James Foley For His Life, Not His Death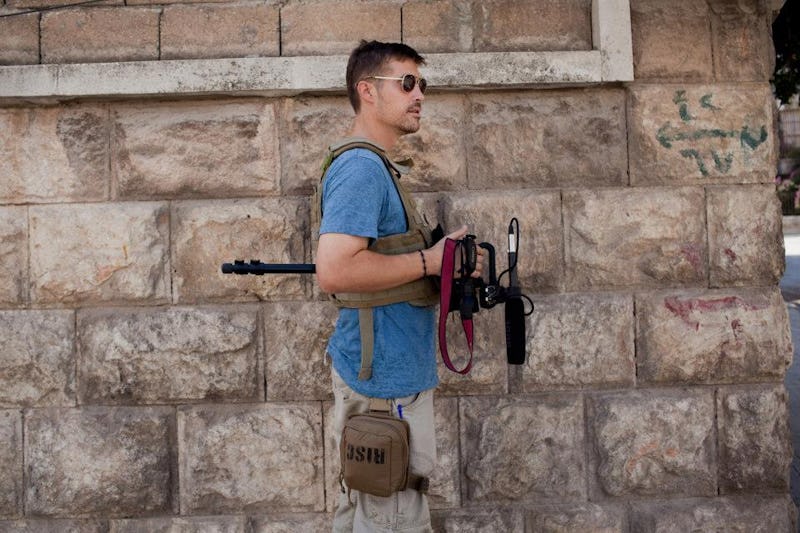 On Tuesday, a horrifying video was posted of ISIS executing American journalist James Foley. Foley hadn't been heard from since he was captured at gun point on Thanksgiving Day 2012 while reporting on the Syrian civil war. Now that family, friends, and supporters have learned of Foley's tragic fate, I can only hope that everybody will choose to remember Foley's life rather than his public, awful death.
The video was posted to YouTube Tuesday, then removed with 20 minutes. Still, it continues to circulating the Internet. U.S. intelligence, who confirmed the video's authenticity on Wednesday, believe that the narrator may be British. But while some have given in to morbid curiosity about Foley's execution, his family is choosing to focus on his life. A message from his mother, Diane Foley, was posted on the Free James Foley Facebook page:
We have never been prouder of our son Jim. He gave his life trying to expose the world to the suffering of the Syrian people. We implore the kidnappers to spare the lives of the remaining hostages. Like Jim, they are innocents. They have no control over American government policy in Iraq, Syria or anywhere in the world. We thank Jim for all the joy he gave us. He was an extraordinary son, brother, journalist and person. Please respect our privacy in the days ahead as we mourn and cherish Jim.
The Rochester, New Hampshire native had been reporting in dangerous war zones for nearly four years before he was captured in northern Syria. He'd previously worked as a freelancer in Iraq, Afghanistan, and Libya. In 2011 he was kidnapped while working in Libya, held in a Libyan jail, and released 44 days later. Even after that, the journalist headed to the place that the Committee to Protect Journalists named as the "most dangerous country in the world" for journalists.
Foley primarily reported for the Global Post, a Boston-based outlet, but also wrote his own blog, "A World of Troubles." He interviewed American soldiers in Afghanistan. He explored the psyche of a Gaddafi loyalist in Libya. He was celebrated by the people that he worked with for his unwavering dedication to covering conflict, but also for his generous spirit.
Even after his first capture in 2011, in which his colleague had been killed, he told the GlobalPost that there was some sense of humanity in one of his captors.
In short, Foley was a courageous journalist, but also a human. It is best to remember that if you're tempted to watch the barbaric way that he was killed.
Images: Facebook/Free James Foley (2)