Taylor Swift & Suri Cruise Hung Out & She's Not Even Her Youngest Friend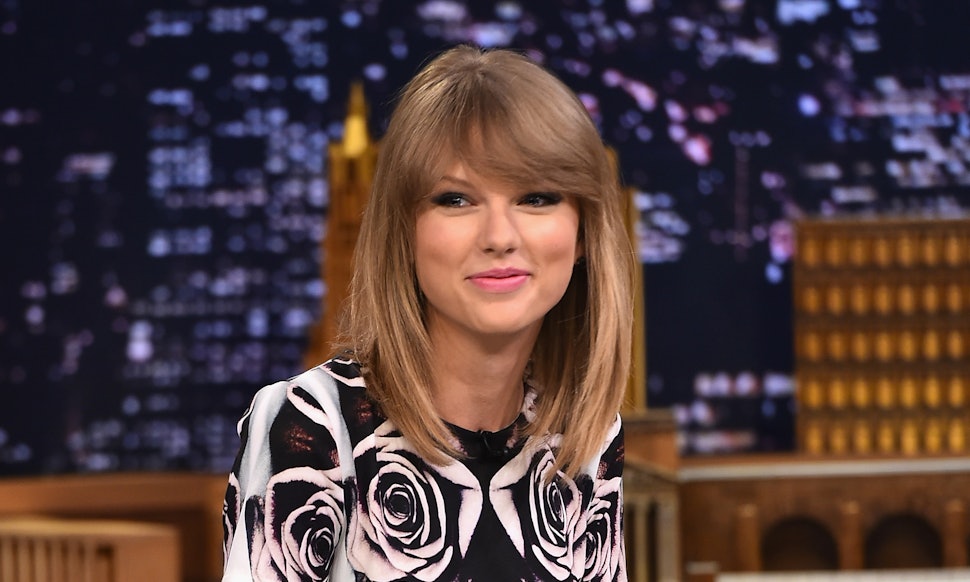 Theo Wargo/NBC/Getty Images Entertainment/Getty Images
When the press started hounding Taylor Swift back in 2012 for her dating habits, saying she entered too many relationships and dwelled too long on breakups, the singer had one response: ditch the boys, and start the friendships. In the last two years, Swift's focused solely on her female friends, buddying up to famous ladies ranging from Lena Dunham to Karlie Kloss. Now, there's another addition to the ever-growing list: Suri Cruise, who, according to Swift, joined the singer (along with Cruise's famous mother) for a "girls' day" that included sushi, manicures, and plenty of gossip.
As strange as the idea of Swift and Cruise becoming pals may seem at first, it actually makes a lot of sense; both of them are fashionable, famous New Yorkers with a shared love for classy looks and occasional snark. Even the age difference between the two — a whopping 16 years — isn't that odd, considering Swift's current roster of all-age friends. When it comes to her female pals, the singer seems to love branching out of her age group, and sometimes, even her generation. Here's how Swift's friendships stack up in age.
Olivia Benson (Age: Young Kitten)
In June, Swift announced that she'd gotten a new kitten, named after the SVU heroine Olivia Benson. It's unknown what age Olivia was at the time, but judging from her small size, she couldn't have been more than a month or two old.
Image: TaylorSwift/Instagram
Meredith Grey (Age: Old Kitten)
Meredith, bought by Swift in 2011 and named after the star of Grey's Anatomy, is approximately three years old. She is older and wiser than Olivia, but still quite young.
Image: TaylorSwift/Instagram
Suri Cruise (Age: 8)
Suri, daughter of Tom Cruise and Katie Holmes (left, with Swift) may be the youngest of Swift's human friends, but she's mature far beyond her years — or, at least, her Suri's Burn Book persona is, and I'm choosing to believe that that snarky, elitist attitude displayed on the blog is totally representative of her actual personality.
Image: Getty Images
Lorde, Hailee Steinfeld, Odeya Rush (Age: 17)
If you want to be one of Taylor Swift's best friends, try being 17; at least three of the singer's closest pals are all still in their teens. Swift bonded with Lorde over music and Shake Shack, Steinfeld over Christmas cookies, and Rush over roles in The Giver.
Image: Getty Images
Selena Gomez, Karlie Kloss, Cara Delevigne (Age: 22)
Sarah Hyland, Ed Sheeran (Age: 23)
Just a year younger than Swift, both Hyland and Sheeran are close friends, attending parties at her house and bonding with her cats.
Image: TaylorSwift/Instagram
Abigail Anderson (Age: 24)
One of the only friends Swift has that's actually her own age, Abigail was the subject of "Fifteen" ("she gave everything she had…") and has stayed close to the singer over the years.
Image: TaylorSwift/Instagram
Emma Stone (Age: 25)
For awhile, it seemed like Swift and Stone had lost touch, but photos of them hanging out over Fourth of July weekend proved that the two are closer than ever.
Image: Getty Images
Lena Dunham, Dianna Agron (Age: 28)
Four years older than Swift, both Dunham and Agron probably give the singer some life advice in addition to their friendship.
Image: Getty Images
Jessica Szohr (Age: 29)
Szhor was featured in Swift's "22" music video, despite being 27 at the time.
Jaime King (Age: 35)
A nine-year age difference doesn't seem to be a barrier between Swift and King, who've apparently become quite close over the last several months.
Image: Getty Images
Gwyneth Paltrow (Age: 41)
In 2013, it was reported that Swift and Paltrow hung out in London, quickly becoming good pals despite their age difference. Tall, blonde, music-loving rich women becoming friends? Not exactly a huge surprise.
Image: Getty Images
Ellen DeGeneres (Age: 56)
And neither does a 33-year one, either. Swift has appeared on DeGeneres' show numerous occasions, including that time where the TV host scared her so badly that she fell on the bathroom floor.
Image: TaylorSwift/Instagram
Jeff Bridges (Age: 64)
According to Bridges, he and the singer "jammed" together on the set of The Giver, and Swift has said that hanging out with the legendary actor gives off "father/daughter vibes."
Image: TaylorSwift/Instagram
Ina Garten (Age: 66)
At 66, Garten is Swift's oldest friend — at least that we know of. The Food Network host and the Grammy winner have cooked together, leading Swift to call Garten her "hero."