Eva Chen's Adorable Instagram Announcement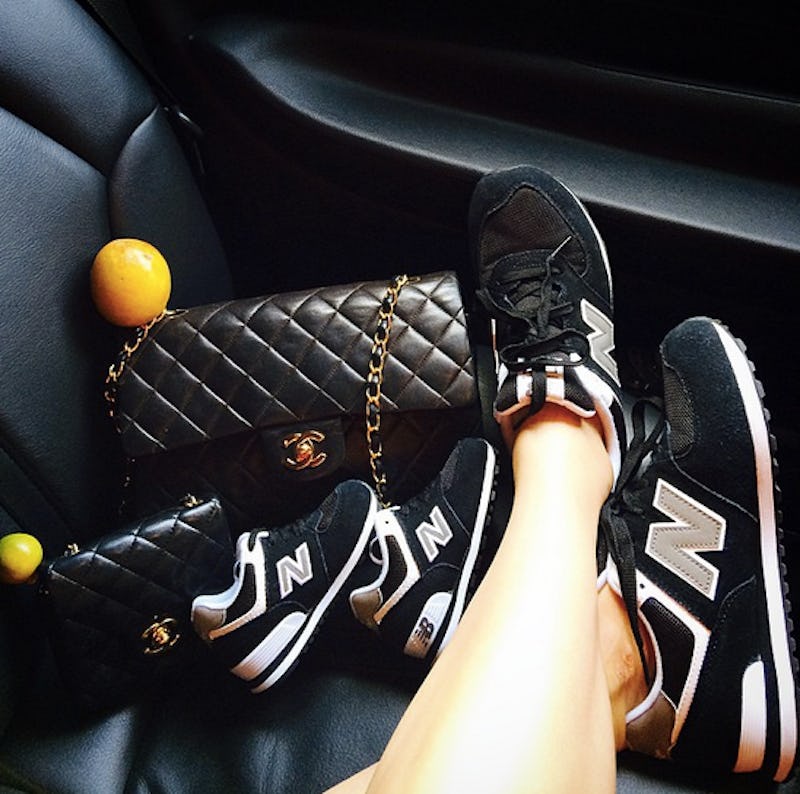 Leave it to Lucky's fearless leader to make the world's most adorable pregnancy announcement. In case you missed it on your feed Wednesday morning, Eva Chen is pregnant! Staying true to her now famous #evachenpose, the creative and social media-savvy Editor-in-Chief took to her Instagram account to share the wonderful news.
Nearly every day for the last year, Eva Chen has posted a photo of her chosen footwear, accessories and snacks of the day. Her thousands of followers, myself included, look forward to seeing whether the lovable EIC has opted for heels or sneakers, apples or oranges, and Chanel or Mansur Gavriel. This morning's #evachenpose was completely unexpected, but in the most precious way possible. Right beside Chen's New Balance 420s and quilted Chanel was a miniature set — the same exact pair of shoes and Chanel purse in baby form. The caption read: "#evachenpose: like mother, like future (winter 2015!) daughter edition." How cute is that?!
There's absolutely no doubt that little Chen will be the best dressed and on-trend baby out there (no offense, North West!). I'm sure Lucky's lucky baby is already receiving gifts from designers all around the world, but because matching her super stylish mom is the cutest thing ever, here are 5 other mother/daughter combinations the upcoming duo will need to shop.
1. Acacia Swimsuits (for next summer!)
Acacia Island Orchid Andy Triangle Bikini and Bottom, $141 each, avenue32.com; Acacia Kids Bordeaux Honey One Piece, $96.80, bikinilush.com
2. JCREW Sweaters
Merino Wool Silk Sweater in Cove Floral, $118, jcrew.com; Girls' cove floral baseball sweatshirt, $52.99, jcrew.com
3. Lilly Pulitzer Dresses
Angel Halter Maxi Dress, $258, lillypulitzer.com; Girls Little Charlene Shift Dress, $48, lillypulitzer.com
4. Birkenstocks
Arizona Birkenstocks in Taupe, $120, zappos.com; Kids Arizona Birkenstocks in Taupe, $69.95, zappos.com
5. Ray-Ban Aviators
Ray-Ban Aviator, $199, glasses.com, Ray-Ban Gold Aviator for Kids, $76.50, usa.alexandalexa.com
Images: Evachen212/Instagram