What To Wear To A Reggae Show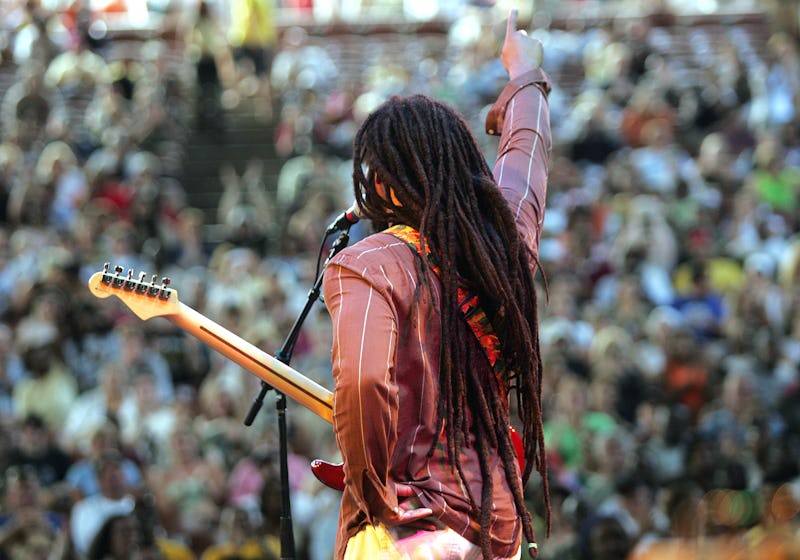 Frank Micelotta/Getty Images Entertainment/Getty Images
There are only a few instances that I willingly have a shift covered at the restaurant I work in or put off a personal deadline that I set for myself. They range from being as serious as being obnoxiously sick or having a funeral to attend to as superficial as having an old flame in town. I weigh my options carefully "Am I sick because I am hungover? If so, I don't deserve a break," or I do some serious detective work on social media to find out if my old flame is still a sure thing or if he's otherwise engaged. The one thing that requires little to no thought at all is going to a show. It doesn't matter if it's a 2014 Descendants tour that I have been waiting my whole life to see, a friend's band that I've seen play at least 25 times, or if it's a band I've never heard of but someone said "You'd like them" — I'm going. Sorry, custies, you'll need to make your own pizza tonight.
Now that I've gotten a Saturday night free, my day begins early with a full exfoliation of the bod from my lips, to my legs, and of course my face. Not touching my hair, because I clearly had the foresight to prepare some serious length retention to get a nice fluffed out afro for the event the night before. Then it dawned on me, I couldn't very well go to the show naked, so what the F is this bonafide punk gal supposed to wear to a reggae show??
I have over 10 years of experience going to Destroy Babylon shows (DB for short). Picking an outfit is always tricky, although this is the best kind of reggae in my opinion because they're heavily influenced by old-school reggae and punk rock. Since they're so diverse I never know what my outfit of choice should be: They could be playing with a NYC hip-hop crew like DXA or an old-school reggae act like Steel Pulse. On Saturday, I would be dressing for a true reggae concert because the closer was 10 Foot Ganja Plant — the name says it all.
"Not Official Tour Bus"
Of course, one of the best parts about being amongst a reggae-lovin', ganja-smokin', and free-lovin' crowd is that you will have the luxury of being around the least snobbiest of show-goers — typically. No scene is without its own list of Dos and Don'ts at concerts though. You still don't want to be caught rockin' a Destroy Babylon t-shirt on a Destroy Babylon tour, unless you eagerly purchased some merch' after the show and could not WAIT to slip out of your now sweaty tee into a crisp DB shirt. Here are some Dos and Don'ts to follow at your next Dub night, reggae show, or ska fest.
Do Wear a Hat
This is the place to showcase your hat preference: Fedoras are going to be a nice go-to for all genders and hair styles. You'll be amongst some professional hat-wearers. A boaters hat? Yes. Please do. Got an old newsboy cap that you put away in 1999 and thought you would never have use for? This is going to be your chance to bring it back.
Don't Wear Faux Dreads... or any head piece for that matter
Hey so, just so you know, there is literally never an OK time to wear a Jamaican Rasta hat with dreadlocks. I really hate saying never, but I got to be honest, I look at this head piece as a somehow socially acceptable form of black face. The intention to poke fun is still there.
Do Bring Hemp Back
Sativa Hemp Medium City Backpack, $57, Arrogance
Oh haiiii hemp necklace that I made in high school, looks like tonight is your lucky night! Hemp is the shit, whether you are putting the essential oil on old acne scars, sippin' on some hemp milk in your coffee, or if you are rocking a seriously cute Sativa bag made out of hemp. Trust me, this is the crowd that is going to fully appreciate how awesome hemp is.
Do Not Bring Marijuana Tees Back
True, it is highly likely that at any DB show, you are going to at some point be in a sea of marijuana smoke. Personally, I roll my eyes and think "Get a vape, man, I'm not trying to have my 'fro smelling like weed!" However, when I'm feeling those sweet keyboard solos that have me time-traveling to a time where rude boys and gals were all fighting for unity and equality, I can't say I care about anything. Which is exactly why you should not wear a marijuana t-shirt when you are puffin' — that's like robbing a bank after you bought a vanity plate that says "Bank Robber".
Do Wear Chuck Taylors
Now, more likely than not, you aren't going to be pulling out anything similar to Beyonce's dance moves at a reggae show, but you should feel free to do some slow skankin' and put your hands in a prayer like position to raise to Jah as you sway along with the crowd. Chucks can be your reggae bestie.
Do Not Wear High Heels
Ladies, this is not the time to pull out a pair of platform heels even if they have checkers on them; this isn't your ska-influenced wedding and you don't want them to get ruined. Check the heels at the door for the comfort of yourself and those around you. No one is expecting a stiletto heel to crush their toes at a reggae show.
Do Wear Your Afros Out
There are some events that an afro is just going to get in the way — this is not one of them. If I'm going to the movies, I always put myself in a neat crown braid or a low poof so people can see over me and even at some concerts. I always look around me to make sure that people aren't pissed that they can't see over my afro and vengefully putting things in it. This is the time to wear that 'fro out with some serious pride: It will be respected, coveted, and the envy of the reggae ball!
Image: Kristin Collins Jackson