Get Kate Upton's Autumn-Ready Ensemble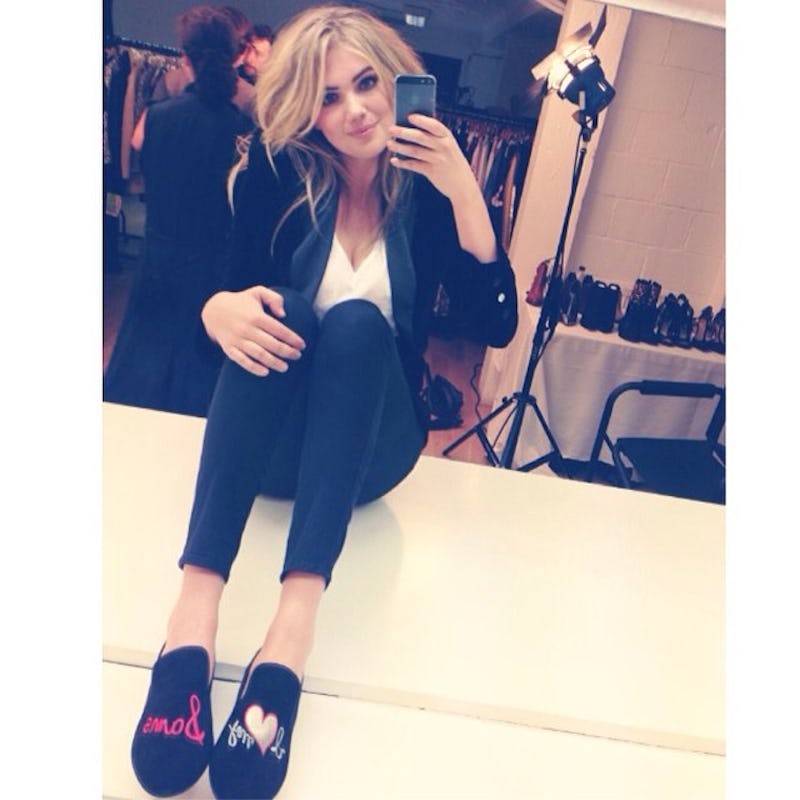 What better way to ring in the joy of Fall Fashion Week and the ensuing parade of chic ensembles than with the first celebrity Instagram of a cozy, crisp weather-appropriate outfit? One of Kate Upton's latest Instagram snaps is a decidedly fall-centric one, and the look is so enchanting I'm not even crestfallen that it marks the end of sundress season. Upton snapped a selfie clad in a fitted, velvet smoking jacket, skinny black jeans, a white tee, and a pair of cheeky smoking slippers, captioning the picture:
Mirror, mirror on the wall, who loves their @sam_edelman's most of all? I do! #samedelman
While there are still several weeks left to wear warm weather wardrobe favorites, Upton's selfie somehow makes the transition into more buttoned-up gear into an exciting adventure instead of a sartorial drag. And because the ensemble fits the model so perfectly, the look reads modern and fashion savvy instead of stale and dry. Add on mussed locks like Upton's and you're left with one very chic outfit. So if you're clinging desperately to your cutoffs, bohemian maxi dresses, and white eyelet skirts, read on for one ensemble you can look forward to plunging into this fall. You may not have Kate Upton's modeling contracts, but you can replicate her trendy look.
1. WHITE V-NECK TEE
A simple white v-neck tee with a fitted silhouette is your basis for Upton's dapper ensemble. Gap's Pure Body V-Neck Tee is both affordable and universally flattering, no matter what your body type.
2. FITTED BLACK VELVET JACKET
For an awe-inducing statement like Upton's, throw on a black velvet blazer over your white tee. J. Crew's Schoolboy Blazer in Velvet is much more intriguing than your average wool or silk version, and it can be dressed up or down.
3. BLACK SKINNY JEANS
Snap up a pair of cropped skinny jeans to modernize your velvet jacket. Denim & Supply's Black Super-Skinny Jeans have a streamlined cut and color for a complimentary look.
4. EMBROIDERED SMOKING SLIPPERS
If you're wearing smoking slippers, you may as well embrace stereotype and purchase a pair with some sort of royal crest. Stubb and Wootton's Loyal Black Slippers channel the menswear spirit of Kate Upton's ensemble. Plus, the lion and crown embroidery looks like it was made for velvet slippers.
Images: kateupton/Instagram; Gap Pure Body V-Neck Tee, $16.95, gap.com; J. Crew's Schoolboy Blazer in Velvet, $178, jcrew.com; Denim & Supply Black Super-Skinny Jeans, $89.50, ralphlauren.com; Stubbs and Wootton Loyal Black Slippers, $450, stubbsandwootton.com