First Look at 'Brooklyn Nine-Nine' Season 2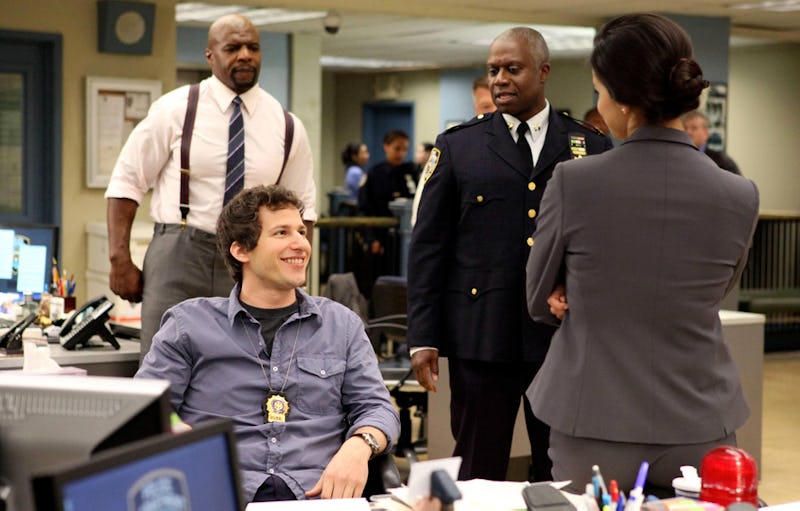 The end of summer is fast whisking us towards a brand new season of network television. Can you feel it? Can you feel the stalled love stories and stunt guest appearances? Can you feel the genuine hilarity and the quality time with Andy Samberg? This first look at Brooklyn Nine-Nine 's Season 2 is heavy on the latter.
The first season of Brooklyn Nine-Nine marked it as one of the best new shows of 2013, so there are high hopes going into Season 2. The show brought home two Golden Globes for it's first season: one for Andy Samberg for Best Actor — Television Series Musical or Comedy, and one for Best Television Series. And on top of that, Andre Braugher, who plays Captain Ray Holt, is up for an Emmy for Outstanding Supporting Actor come Aug 25.
As for this new season, this first look promises lots of laughs (obvi), as well as a change of hairstyle for Samberg, and a follow-up to that hook-up between Gina and Charles. "I think it's common knowledge that Charles struggles with a secret of any kind," Chelsea Peretti says in the clip.
TV critic Alan Sepinwall noted in his review of the finale that Brooklyn Nine-Nine "has fast become one of [his] favorite shows on TV." Everything's lining up for this to be a season that makes this a lot of people's favorite shows.
Image: Fox