The Real Struggle Of Finding This Perfect Lipstick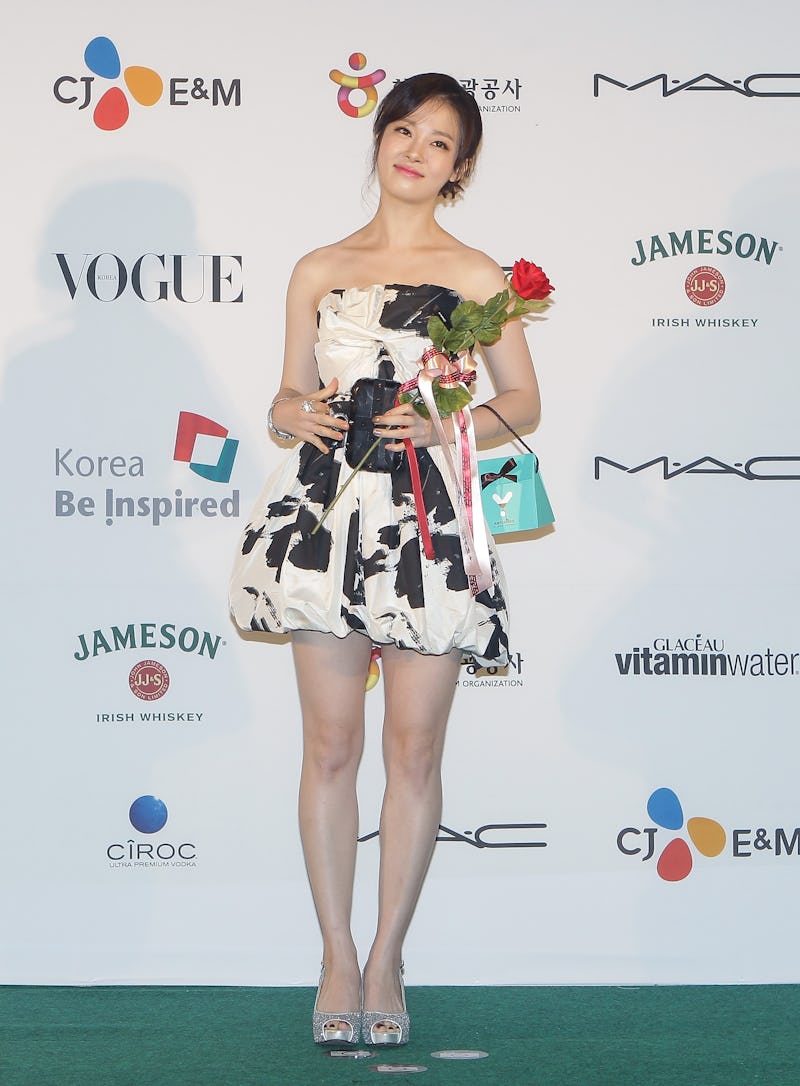 Chung Sung-Jun/Getty Images Entertainment/Getty Images
What's the longest you've ever searched for a single shade of lipstick?
Days? Weeks? Months? Years?
Okay, I haven't gone years, but I have gone months. Months of dedicated swatching (you'd see me coming out of Sephora with my hand looking like some kind of pink-only painter's palette). Months of scouring beauty blogs for dupes. Months of going into department stores hopeful and coming out disappointed.
My obsession started this spring, when all of my favorite beauty blogs started writing about the "international phenomena" that was the ultra-popular Korean Drama, My Love From Another Star. Jun Ji Hyun (who is also known as Gianna Jun) stars as Cheon Song Yi, the glamorous actress who falls in love with an alien and, more importantly (for this post, anyway), whose fashion and beauty game is kind of off the charts. Anyway, she got the entirety of the World Wide Web a-buzzin': Charlotte Cho (of Soko Glam and xoVain) wrote a whole piece on emulating her enviable accessory look, and Candice Chen (of the Makeup Box) wrote multiple tutorials on how to get her lip look.
It was the kind of deal where lipsticks she was only rumored to have worn were out of stock everywhere and being sold for ridiculous mark-ups on eBay. I mean, her makeup was perfection (and her selfie game was even better):
Suffice it to say, I was completely in her thrall, and would stop at nothing until I got her lipstick (or at least, a close approximation).
I set out on my quest, starting with the web. Apparently, with the exception of Yves Saint Laurent Rouge Pur Couture in 52 Rosy Coral (which was, at the time, completely sold out everywhere), they were all from mid-to-high range Korean beauty lines. As I've always had an aversion to ordering non-refundable items online, I vowed to find an easily accessible dupe.
Yves Saint Laurent Rouge Pur Couture In 52 Rosy Coral, $37, Sephora
Careful research of swatches told me Milani Color Statement Lipstick in Flamingo Pose might be a good bet. It was perfect color-wise, but left my lips too patchy and flaky to warrant regular use.
MILANI Color Statement Lipstick In Flamingo Pose, $13, Amazon
Next, I went for a one-two punch with Maybelline Vivids in Vivid Rose and Shocking Coral, both of which were very close to success. Vivid Rose was a touch too cool, while Shocking Coral was a touch too pale (at least on me).
Maybelline Color Sensational Vivids Lipcolor In Vivid Rose, $6, Amazon; Maybelline Color Sensational Vivids Lipcolor In Shocking Coral, $8, Amazon
It wasn't a total wash, though: While they weren't quite the colors I was looking for, the formula lived up to its vivid name, and I wear them both (Vivid Rose in particular) quite often.
Then, I figured it was time to go high-end: I tried some Lancome and some of those new-fangled Lovemarc Lip Gels. The Lancome formula was a dream, but the shade made my skin look gray, and the Lovemarc Lip Gels, while gorgeous (I tried Roll the Dice and Happy Ending), were a little cooler-toned and sheerer than what I was looking for.
I had all but thrown in the towel, when I wandered into Sephora one day on a whim, and found that the Too Faced Melted Lipsticks (which I'm already a fan of) had added new shades. Melted Candy looked especially lovely, so I decided to give it a whirl. And, lo and behold — it was the color I'd been searching for!
Too Faced Melted Liquified Long Wear Lipstick, $21, Sephora
While not an exact dupe of Jun Ji Hyun's shade, it was a perfect balance of warm and cool, it's super, super opaque, and it boasted quite the formula: it wore admirably through a boba, several (dozen) handfuls of cheesy Chex Mix, and a chocolate chip cookie (I'm very healthy, in case you didn't know). Half of a very greasy Korean donut gave it some pause, but it eventually faded gracefully into a lovely stain.
Before donut:
I liked it so much that I tried to get my dog to take a commemorative photo with me (please excuse the selfie-arm)! After donut:
She did not particularly enjoy the experience.
Images: My Love Who Came From the Stars/Hulu; ychns/Tumblr; Giphy (5); Rosie Narasaki (2)