She's Not Divorced Yet, But She's Still Moving On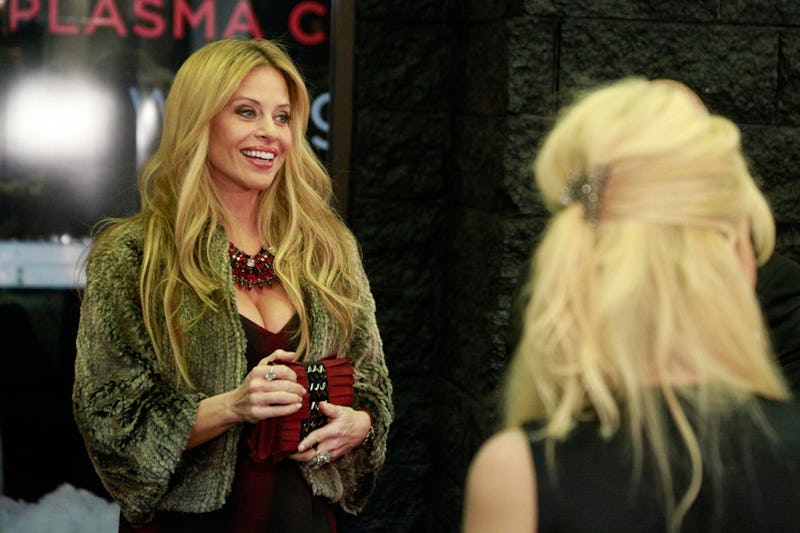 Reality TV show stars have their fair share of marital problems just like normal couples. The ladies of the Real Housewives franchise are no exception. One of the more recent Housewives to have her marital drama play out in front of the cameras is Real Housewives of New Jersey 's Dina Manzo, who returned to Season 6 of the series after a four-year absence. And boy, did she have A LOT to share with us upon her return. Not only was she still estranged from her sister and fellow RHONJ cast member Caroline Manzo, but her daughter Lexi was getting ready to go off to college, and the biggest shocker of them all, Dina had separated from her husband Tommy after seven years of marriage.
Dina first announced her split on Twitter in February of last year, although she and Tommy have been separated since October of 2012. From Dina's appearance on RHONJ, we learned that she and Tommy still live together in the same house, so it's no wonder Dina is having a hard time signing the divorce papers and letting Tommy go once and for all. So where do things stand with the couple these days?
Well, it looks like the pair haven't made much progress in the way of officially parting. As of last month, Dina and Tommy were still separated, according to one of her blog posts on Bravo's website published in July. "Tommy was the love of my life and I am still going through all the emotions that come with a separation," Dina wrote in her blog post. "One thing is for sure, we will always love each other and will remain in each other's lives forever." There's no telling when Dina and Tommy will actually sign their divorce papers, but when they do, I'm sure we'll hear about it.
However, just because Dina isn't legally divorced from her husband yet doesn't mean she hasn't been dating. As we saw on RHONJ a couple of weeks ago, Dina went on a date with Matt, who Nicole set her up wtih at the disastrous First Responders Party. The date was awkward for them and especially uncomfortable for us at home to watch. It was so bad in fact that Dina and Matt have not pursued a romantic relationship beyond that date. "I think both of us are at the stage where it's not the biggest thing in our life that we're focused on because I think she's still kind of also uncomfortable in her situation where she lives with her ex-husband or whatever they call themselves now," Matt told RadarOnline. "It kind of threw me for a little bit of a surprise."
Still, there have been rumors that Dina may have a new man in her life. A source told Reality Tea that Dina is currently dating Kenny Arena, a DJ and writer who was part of the crew on Dina's HGTV show Dina's Party. On his website, Kenny has listed Dina as one of his "friends, favorite things, people I admire, bands I love or all of the above."
Kenny certainly is in a lot of photos and videos with Dina and even her daughter Lexi on Instagram. If nothing else, the two seem to be very close. However, Dina has only referred to Kenny as her BFF.
So it doesn't look like much has changed for Dina in the love department. However, with all of her new-age practices and zen outlook on life, I'm confident she'll soon get her groove back.
Images: Heidi Gutman/Bravo; bricesander/Tumblr (2)