These Pencils Got Me Back On The Lip Liner Train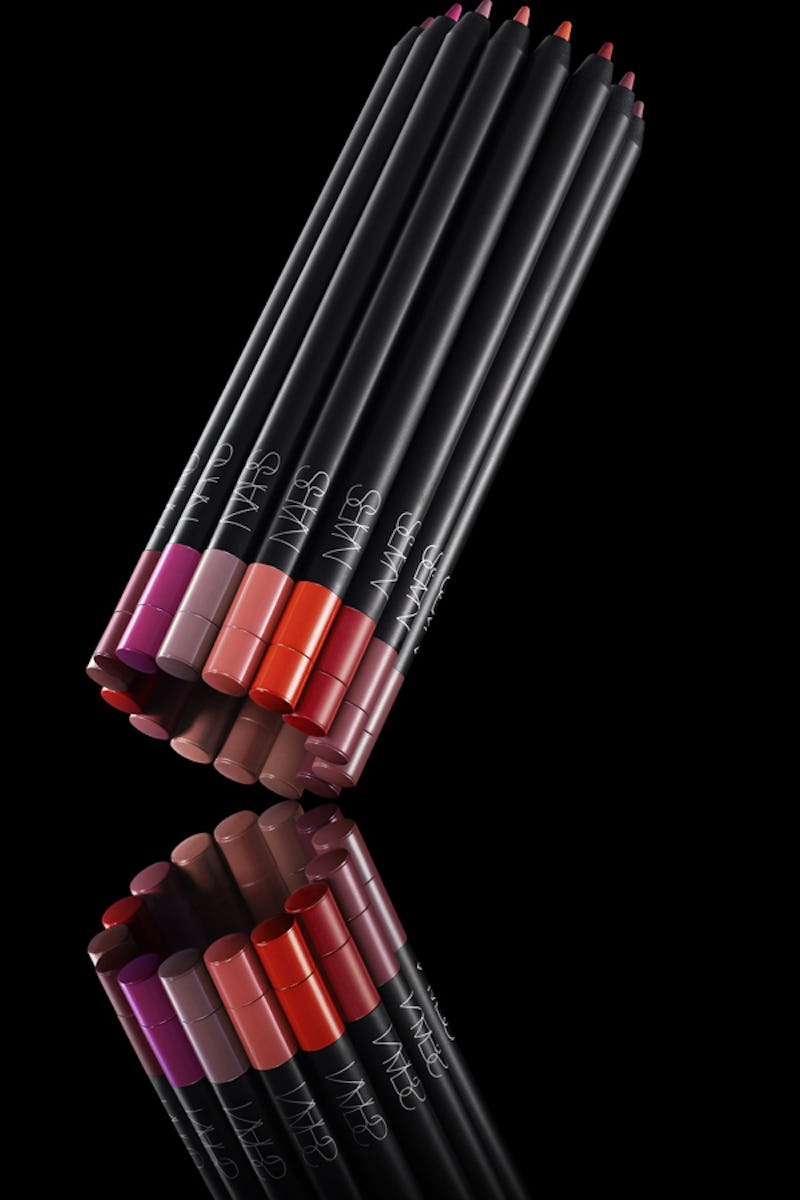 I have a love-hate relationship with lip liner. I am only really into it when I want a precise, perfect lipstick look with a matte texture or because I need staying power because I am in a wedding or something. I cringe and slowly back away from liner when I think of the high contrast, dark liner and light lipstick look, a la Eminem's ex-wife Kim Mathers. That's a common makeup mistake that has tainted my perception of the product. Well, I am proud to report that I am officially back on the lip liner train and falling back in line, so to speak, thanks to the recently updated NARS Velvet Lip Liner.
NARS Velvet Lip Liner, $24, Sephora
For a while, the only liner I used was Du Wop's clear Reverse Lip Liner, which was essentially a base for gloss (my preferred lip product) to cling to and didn't change the hue. When I do venture out with a colored lip liner, I lightly trace the shape of my lips and then fill in the rest, so that lipstick or gloss has something to adhere to. I use my finger to dab and blot the liner so that it's not so concentrated and then apply two coats of lipstick over top. I use liner to increase staying power moreso than I use it define my lip shape.
DuWop Cosmetics Reverse Lip Liner In Nude, $18, Amazon
At times, a velvet-y liner can also make your mouth and your pucker dry, so sometimes, I dab on some balm and then apply liner, keeping it moist and changing the texture a bit, ultimately and entirely defeating the purpose.
I also wear liner under a clear gloss, usually MAC's clear Lipglass, and it's like a turnt up, customized color, since it's a combo of my naturally pink lips, the liner, and the gloss.
MAC Clear Lipglass, $16, Nordstrom
Thankfully, the NARS Velvets aren't nearly as dry as other color liners and they've lured me back to the liner lair for simple reasons, really.
With fall right around the corner, and deeper, more dramatic lip looks on the horizon, I'm playing with liner and including a pencil in my makeup bag at all times. On cold windy days, I'd like to go with a soft, defined, and matte lip and the NARS Velvet Lip Liners are an essential tool for such pursuits.
The texture of NARS Velvet Lip Liner hasn't changed and the product glides on your lips in smooth, rich fashion, like its name suggests. The formula remains smooth like buttah, but the new design is aces.
It has a propel/repel shell, which means you can twist the tip up or down and it self sharpens, which leads to more control when deciding which lip look you want to achieve for the day.
There are two universally flattering shades in the range.
NARS Velvet Lip Liner In Karekare, $24, Sephora
Karekare is a blush, mauve-y neutral that will work with any soft or rosy or even berry-toned pink lipsticks in your collection.
NARS Velvet Lip Liner In Pantong Beach, $24, Sephora
Pantong Beach is a bit dustier and is best used with pink and pinky nudes. The best thing about these liners is their texture, so they feel like a lipstick layer. You can even use it as a lipstick, if you're feeling wild. You will have to stay on top of your application process, though. The liner can dry out in the middle of your lips, leaving you with the dreaded dark ring, so it's on you to line responsibly.
The liners are available at NARS boutiques and online now. They will hit Sephora and specialty stores on September 1.
I can't wait to leave a little trace of these babies behind on my green tea latte Starbucks cups on days that I can't leave the house without a jacket.
Images: Giphy (1); NARS Cosmetics (3)