Here's How To Snatch Up Beyonce's Hot Look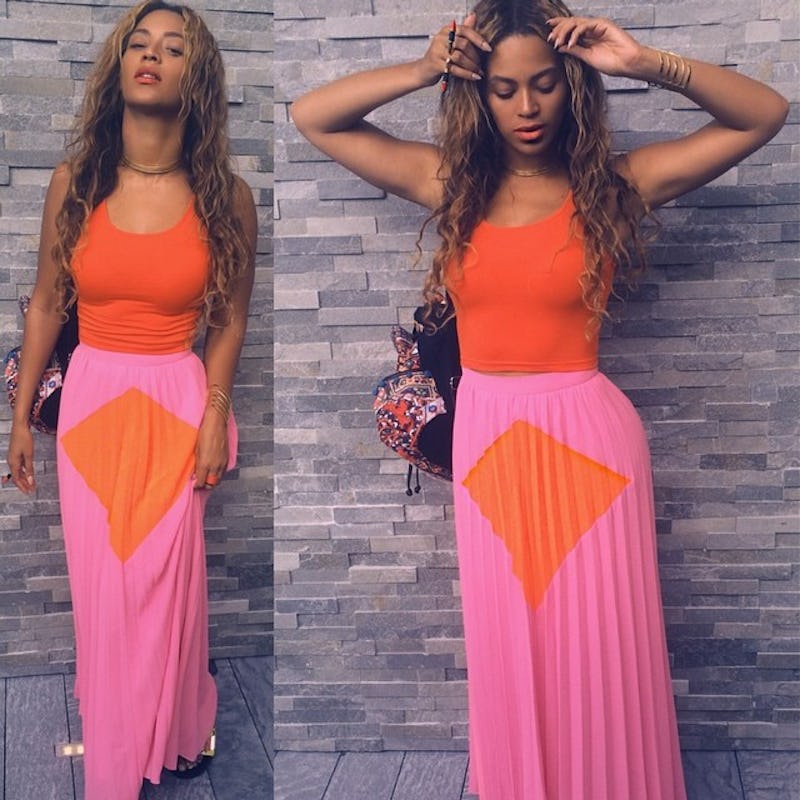 Some stars have the ability to weather paparazzi and fan criticism with elegance, and Beyonce happens to be one of those celebrities. Amidst cries that she and hubby Jay-Z are in the midst of an acrimonious divorce, their once-perfect marriage is on the rocks, and their formidable compilation of record deals and businesses will be split down the middle in no time, Beyonce is looking as glamorous and carefree as ever.
This week singer posted a chic selfie to her Instagram depicting an ensemble which would put any ho-hum summer beach look to shame. Consisting of an electric orange crop top, an orange and neon pink pleated maxi skirt, a bucket bag, a multi-band gold bracelet, and beachy, wavy locks, the ensemble clearly states: "I'm looking fabulous no matter what anyone says about me or my marriage." Not too shabby for a star who is supposedly moments away from a very public split. So if you're looking to make a confident sartorial statement of your very own, here are the four key pieces Queen Bey used to put rumors to rest. Of course, a dose of that signature Sasha Fierce attitude won't hurt your look either.
1. FITTED CROP TOP
Assert your diva side and flaunt your abs a la Beyonce with a fitted crop top like Clover Canyon's James Joyce Neoprene Crop Top.
2. BRIGHT PLEATED MAXI SKIRT
To capture the bohemian air of Beyonce's ensemble, try a pink or berry-toned pleated maxi skirt in chiffon or polyester. ASOS's Pleated Maxi Skirt is ideal for a night on the dance floor or a lazy day by the beach.
3. GOLD CUFF BRACELET
Beyonce shows off her innate ability to accessorize with a multi-band gold cuff bracelet. Try Jennifer Zeuner's Yvette Cuff for a similar look.
4. DRAWSTRING BAG
.
Beyonce carries all of her necessities in a black drawstring backpack. To amp up the look, choose a lightly worn leather bucket bag like Sole Society's Montana Bucket Bag
Images: beyonce/Instagram; Clover Canyon James Joyce Neoprene Crop Top, $184, revolveclothing.com; ASOS Pleated Maxi Skirt, $67.71, us.asos.com; Jennifer Zeuner Yvette Cuff, $374, jenniferzeuner.com; Sole Society Montana Bucket Bag, $89.95, solesociety.com