Etsy Is An Emotional Roller Coaster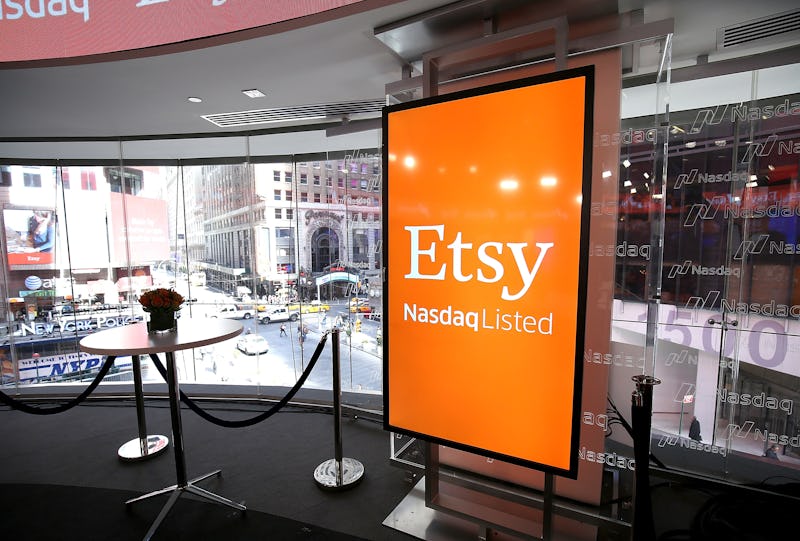 Paul Zimmerman/Getty Images Entertainment/Getty Images
Shopping online can be an emotional experience. If you have tons of time on your hands and a hunger for options, the internet becomes a uninhibited shopping mall. Filling that pretend shopping cart online is like an addiction, but most of us have become pros with process of elimination after said cart is filled to the brim — mostly to avoid the hassle of actually returning any of these un-tried on items. Though I'm guilty of over-buying everywhere once in a while, the one site that always gets be is flustered is Etsy. Regardless of what you are on the hunt for when you visit Etsy, emotions are bound to fluctuate during your virtual time in this potential sensory overload of an online store.
I like to tell myself it's OK — everyone falls victim to Etsy's charms. They make it way too easy to spend countless hours scrolling through items that you would never have thought to purchase prior to the app that now controls your life. Shopping on Esty is like falling into the abyss and it happens so quickly. You hop on looking for knitted mitts and somehow walk away with an order for paper mache heels that you are almost positive will be unwearable, but damn they look cool in the photos.
These things happen to the best of us. Below, the 8 emotions you will inevitably experience when shopping on Etsy.
1. I WANT THIS... NOW
The thing about Esty, you see, is that sellers come from all over the world which means the possibility of longer-than-usual wait times for items to arrive. While searching for one item on Esty, you may come across another amazing item that you want right now. Unless you are willing to contact the seller and pay extra charges to get it to you faster, it is just not going to happen. Being patient is key to successful Etsy shopping.
2. IF SHE CAN DO IT, I CAN DO IT
It can become very easy to get a big head while shopping on Etsy. The majority of the items are handmade which all of a sudden makes you realize that instead of paying for someone else work, you can make it yourself and likely for half the price they're charging. When the reality sets in that you can't — or are not actually willing to do the work — you hop back into to Etsy and order the item. And then feel ashamed.
3. OBNOXIOUS BURSTS OF EXCITEMENT
"A NECKLACE WITH SHAILENE WOODLEY'S FACE ON IT? OMG I HAVE TO HAVE THIS!!!" It's just too easy to get overly excited about the most ridiculous of things that had you never seen before going to Etsy.
4. WHAT WAS I SEARCHING FOR AGAIN?
One click leads to another click that highlights another item that you click on and then you get distracted by this other link which reminds you of the bracelet you wanted years ago so you search that which pulls up earrings you like too and somehow, somewhere you become completely overwhelmed by your choices and have forgotten why the hell you began searching here in the first place.
5. YOU WANT HOW MUCH FOR THAT?
That Shailene Woodley necklace you got all excited over is really just a plastic pendant with a sticker of her face plastered onto it all for the price of... $50?! Next please!
6. FINAL COMMITMENT
After so much time searching for things you don't need, you empty your cart to less than half and commit the items you actually need or simple cannot give up. It can be a tough stage to pass, but it is possible with hard work and determination.
7. WAIT, HOW MANY HOURS HAVE GONE BY?
Three of them. And now you are feeling sleepy.
8. WAITING, WAITING, WAITING
Once the payment is complete and the confirmation email comes through, the emotional Etsy roller coaster is nearly complete. All that is left is the stress of waiting weeks or months on end for your item to arrive. Then you can start the process all over again.
Images: Getty Images (1); Giphy (8)