Everything We Know About Her VMAs Date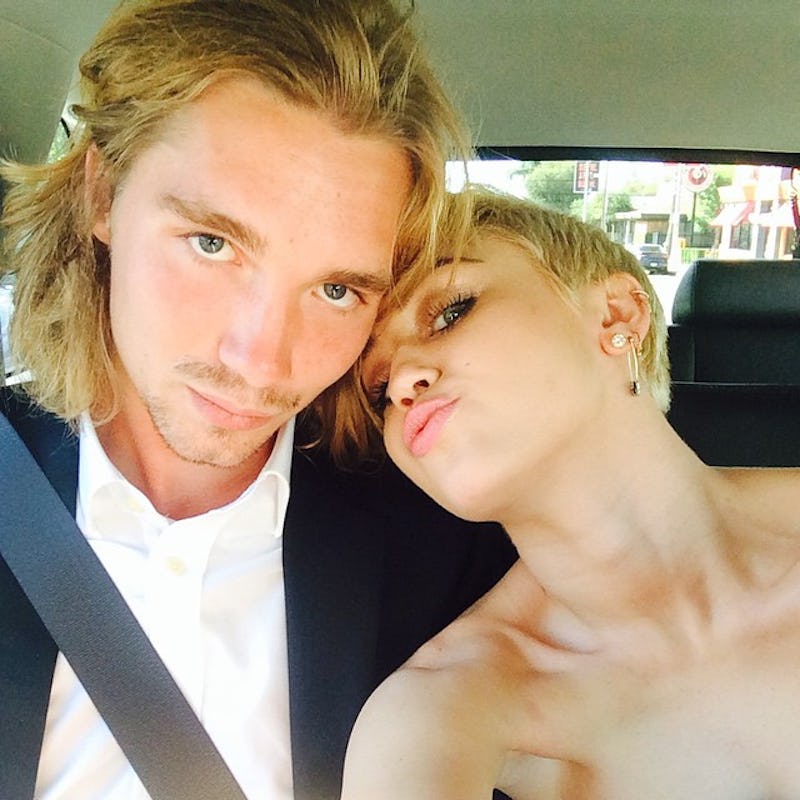 If it hadn't been for Beyoncé's performance at the 2014 VMAs, then Miley Cyrus certainly would have stolen the show for the second year in a row. In a complete turn around from last year when Cyrus infamously twerked on Robin Thicke during the 2013 MTV Video Music Awards, instead of accepting her moonman herself, Cyrus sent her mystery date, Jesse, to accept her award for her. As it turns out, Cyrus' date Jesse is a homeless youth and Cyrus was teary-eyed as she conceded her place on the stage to him to allow him to shine the spotlight on the charity work she has been doing. So who was Cyrus' mystery date? A lot of that is still a mystery.
According to The New York Times, Jesse is originally from Oregon but ended up on the streets in Los Angeles. Now he's accepting awards on behalf of Cyrus at the MTV VMAs and giving promotion to My Friends Place, an organization that helps the homeless build self-sufficient lives. Although Jesse's surname is unavailable by his own request — which is understandable considering how nervous the young man was being on stage to begin with — Cyrus' representative said that the singer's decision to bring Jesse with her to the VMAs was modeled after "Marlon Brando's decision to have a woman named Sacheen Littlefeather accept his Best Actor Oscar for The Godfather in 1973 as a protest against the movie industry's treatment of Native Americans".
Naturally, a celebrity can't do good work without generating some controversy and people are already talking about how Cyrus' tears seemed overdramatic. Some are even accusing her of putting on crocodile tears in order to seem more sympathetic. While it's true that Cyrus was in tears during Jesse's speech and during the interviews she gave afterward, that doesn't take away from the fact that she did something selfless and earnest at the VMAs Sunday night. Whether you agree with how she did it, the fact still remains that Cyrus is bringing more attention to a good cause than it would have had otherwise.
In fact, Cyrus is even sponsoring a Prizeo fund-raising campaign to encourage her fans to support the charity, giving them the opportunity to "win a VIP concert experience in Rio" with her. And after the show, she and Jesse went to In-N-Out Burger to celebrate a philanthropic job well done with burgers and selfies. Say what you want about Cyrus, but Sunday night was a victory for her, especially when compared to the last stunt she pulled at a Video Music Awards ceremony.
Check out the photo below.
Image: mileycyrus/Instagram (3)