She'll Get You, My Pretty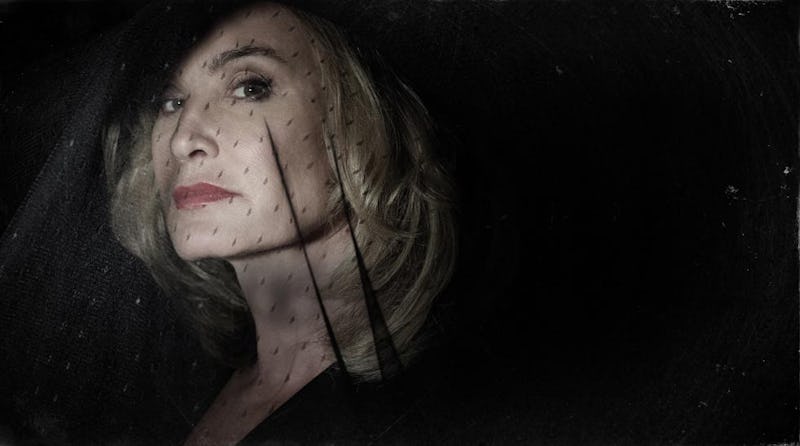 Jessica Lange has had quite a bit of success with Ryan Murphy recently. The veteran actress appears in every season of Murphy's hit series American Horror Story and Lange has been recognized by the Emmys every single year because of it. This year is no different as Lange has another Emmy nomination for Lead actress in a Miniseries/TV Movie for her role in American Horror Story: Coven and it stands to reason that she could very well take home the gold. She's a definite front-runner among the likes of Helena Bonham Carter, Kristen Wiig, Cicely Tyson, Minnie Driver, and Lange's Coven co-star and AHS regular Sarah Paulson. But what about Season 4? What character will earn Lange and American Horror Story: Freak Show more Emmys glore?
Here's what we know so far: Season 4 will take place in Jupiter, Florida, in the early 1950s where one of the last freak shows comes to town to scrounge up some business. Lange plays a German ex-patriate named Elsa Mars who will do anything to keep her freak show business afloat. She must face competition from Denis O'Hare's so-far unnamed character who is described as a "collector of freaks." He'll be at odds with Lange's Mars. Joining Lange in the Freak Show cast are AHS regulars Evan Peters, Sarah Paulson, and Frances Conroy, as well as Coven stars Angela Bassett, Kathy Bates and Emma Roberts. Michael Chiklis and Matt Bomer will also appear in Freak Show .
But let's zero in on Lange's character. It won't be a surprise if her character is just as ruthless as we've seen in previous iterations of AHS, but will she really be a good person this year? Even the best people become monsters on AHS, so there's no point in wishing for good characters over the evil ones. Plus, Lange just seems to have more fun playing bad. If we can glean anything from previous seasons, we can guess that her rivalry with O'Hare's freak collector could be a major plot point this season, especially considering that Elsa's freak show is supposed to be one of the last of its kind. Could O'Hare's character try and steal some of Elsa's troupe members out from under her nose or decide that if he can't have them, no one can?
We also know that Freak Show will feature a killer clown that Ryan Murphy declared would be the scariest clown ever. So that's comforting.
The problem with AHS is that it is almost impossible to guess how the storyline will turn out so far in advance. But what I can always bet on is Lange displaying some badassery onscreen no matter where American Horror Story's twisted plots take us. There's no way that will change in Freak Show.
Images: FX