'Below Deck's Kat, Kate, & Ben = Love Triangle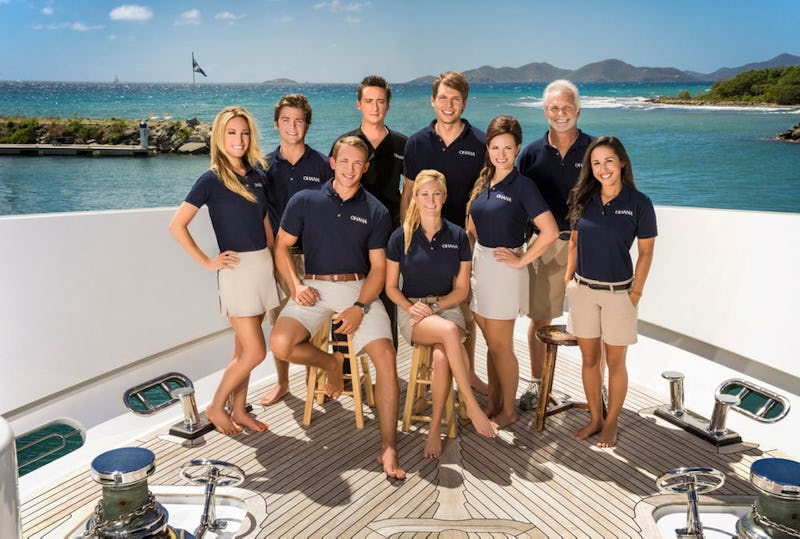 I think we all saw this coming, didn't we, Below Deck fans? It seems like there might be a bit of a love triangle brewing between Ben, Kat, and Kate this season on BD. Even though there have only been two episodes so far, it's pretty obvious that Chef Ben kind of has the hots for Chief Stew Kate. It totally seemed like the two of them were going to have a fling of some sort, but then last week we saw that something is likely going to happen between Ben and Stewardess Kat, who hooked up last season. But now, in an interview with both Kat and Kate, it seems like maybe Ben winds up getting it on with both ladies this season. Separately, you dirty bird, you.
When asked about Ben by the Miami New Times, Kate had this to say:
It's funny because when I watched season one, I think I was the only woman in America who didn't have a crush on Ben. I'm used to working with varying nationalities so his accent isn't a charming novelty to me. In fact, I didn't really care for his personality on TV at all...until I met him.
Kate goes on to talk about how "intelligent" and "funny" Ben is, which she deems a "dangerous combination. But then when Kat is asked the same question, she gives an equally cagey answer, saying:
It's still early in the season to say too much, so you'll have to watch to find out more. However, what I can share with you is that Kate and Ben are my two favorite crew members from this season, and the three of us always have a good time together.
Hmm... the ol' "early in the seaon" argument, eh? My money is definitely on Ben hooking up with both ladies, Kat getting jealous, and then everyone getting drunk together and making up. Bookmark this page, people! When my prediction comes to fruition, I wanna be able to say, "I told you so!"