Billy Eichner Adds Some Excitement to the Emmys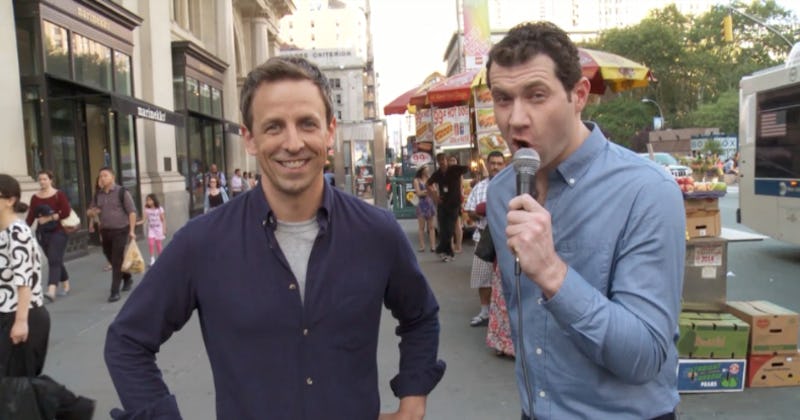 If you don't watch Parks and Recreation, or don't religiously follow Funny or Die, you might be wondering why there was a manic man on the Emmys running around the streets of Los Angeles with host Seth Meyers and asking people if they "feel it" (what "it" is will forever be a mystery). Billy Eichner, who hosts the webseries "Billy on the Street" — and who may be be familiar to you as the Parks and Rec hot head Craig (from Eagleton... yuck) — was invited up on stage to present his newest Emmy edition of "Billy on the Street" where he and Meyers stopped unsuspecting pedestrians and asked if they were upset that The Mindy Project was snubbed (quick answer: HELL YES). Warning to all: brush up on your pop culture just in case you are stopped by a screaming man asking if you think "Maggie Smith doesn't give a shit about the awards."
"Billy on the Street" is actually on its third season. If you aren't familiar with it, go watch every episode on Funny or Die NOW, you will not regret it. Eichner hosts a bevy of stars on the show, usually putting them in ridiculously fast-paced situations that always have me rolling on the floor. In case you missed his Emmy edition of "Billy on the Street" you can watch it here over, and over again.
And I am not the only fan of Eichner's segment. Stars like Zachary Quinto and Anna Kendrick loved it too, and if Spock and everyone's dream BFF Kendrick think it's hilarious and worth watching, then there should be no doubt in your mind that it is hilarious and worth watching.
Images: Funny or Die; Giphy