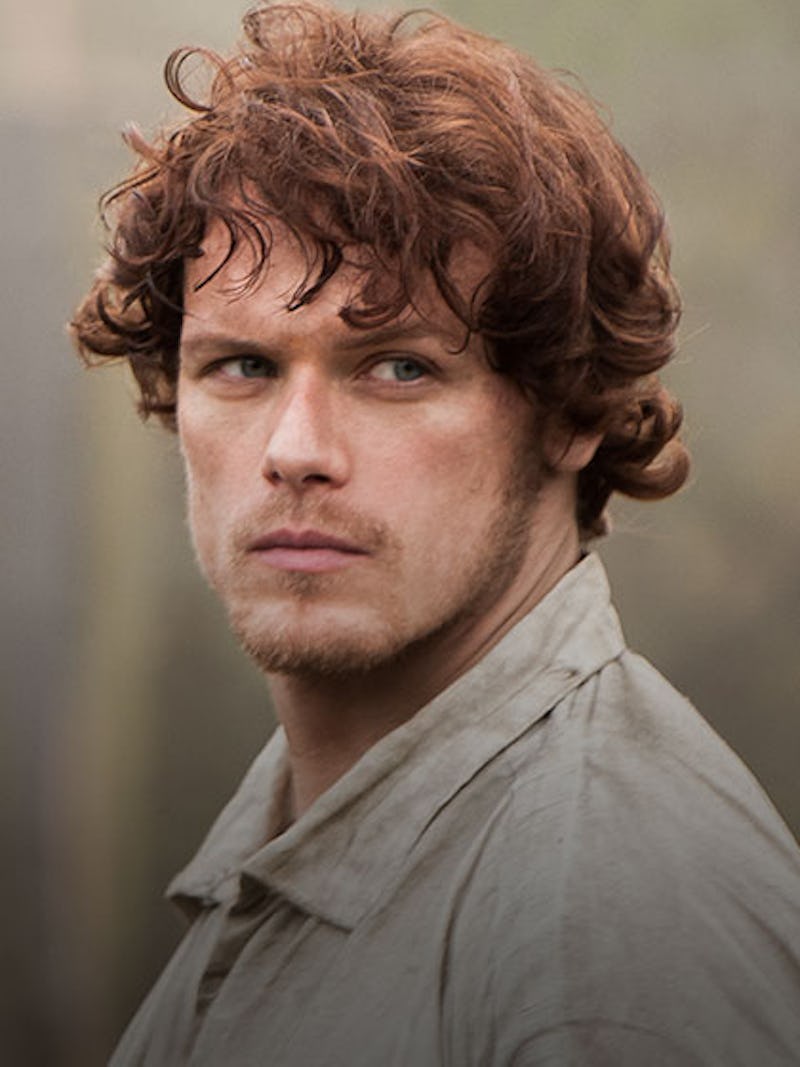 Who ever thought you'd be calling up your cable provider and asking them to add Starz to your premium channels? I didn't, but alas, Jamie Fraser came along and I am honestly obsessing over him right now (so everyone else can back off). The first season of Outlander premiered on Starz a few weeks ago, and everyone is already talking about it. I mean, shows about hot foreign guys at war is kind of trending right now and I am not complaining. Also, have you noticed that hot redheads are trending too? Cue Outlander star Sam Heughan, aka Jamie Fraser.
Basically what you need to know about Outlander is that it's Starz' response to HBO's Game of Thrones. No, it's not as amazing (what could be?), but we have to get our fix while we wait for GoT Season 5 to begin. That's why Outlander is so great for the moment. It's here to fill a void. The story follows a girl named Claire Randall who has traveled back in time (ah-mazing, already sounds like a Lifetime Movie plot) only to find herself stuck in Scotland in 1743. She is forced to marry Jamie Fraser, and drama pursues (obviously). I am not too sure why this girl would want to go back to her life as a nurse in 1945 because honestly, I'd pick Jamie Fraser over Hitler's Germany.
So, who is Jamie Fraser?
His full name is James Alexander Malcolm MacKenzie Fraser. That's a lot of names — names I wouldn't even have time to remember — but he sounds super important doesn't he? That's because he is. On Outcaster, he's a Laird, which is the English equivalent to a Lord. Also, He's a Scottish soldier and can speak multiple languages.
Jamie Fraser is a genuinely nice guy (at least so far) and marries Claire to save her life because he's a straight up gentleman. He doesn't want to be strong and perfect, that just comes naturally because he's also humble and romantic. He's pretty much the most fictional man ever, but I'll take it.
Now that you know a bit about his character, here are a few things you should know about the actor Sam Heughan:
He's a Handsome Blonde.
Sam Heughan, 34, is a born and raised Scot, just like Jamie. Although he plays a redhead on the show, he is naturally blond, which is pretty hot too.
He's Single.
For now. So, while there's still time: what's up, Sam?
He auditioned for Game of Thrones.
He told Vulture, "I auditioned for Game of Thrones seven times! Loads of times. I auditioned for Renly, Loras, some of the members of the Night's Watch. And I'd always get so close! I'd be like, 'Guys, just give me a sword!'"
His first celeb crush was Jessica Rabbit.
"I know this is a common answer," he revealed to Entertainment Weekly, "But Jessica Rabbit. I know she's animation, but oh my god."
He's super into triathlons...
...OK, maybe not triathlons exclusively, but exercise and being outdoors. That's what Sam Heughan is all about. No wonder he's such a hunk.
Images: Starz (3); Instagram/SamHeughan; Getty Images