There's Something Horribly Wrong With This Shirt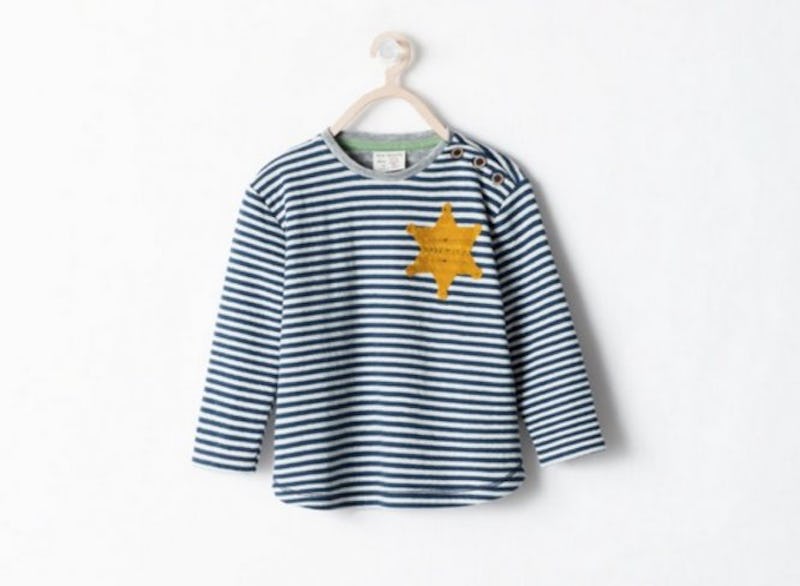 Zara is in trouble and, no, it's not for ripping off Balmain this time. Zara pulled a baby shirt from shelves after customers complained it closely resembled the concentration camp uniforms Jewish prisoners were forced to wear during WWII. Yikes!
The shirt is a striped toddler's pajama top featuring a yellow six-pointed star on the lapel and was supposedly inspired by classic Western films, not the Holocaust. Still, many angry customers took to social media to express discomfort over the (rather obvious) similarities between the pajama shirt and the concentration camp uniforms. I mean, stripes?! Come on, Zara. You should know better.
According to Time:
The company described the design as "sheriff" themed, but the word "sheriff" was barely legible within the star, and to many outraged critics on social media the shirt was far more evocative of one of the darkest chapters of World War II history.
This is obviously a huge gaff on Zara's part. In the company's favor, they issued a swift apology, immediately yanked the item from Zara stores and Zara.com, and have taken time out to apologize individually via Twitter to angry commenters. A spokesperson for the company said "The garment was inspired by the classic Western films, but we now recognize that the design could be seen as insensitive and apologize sincerely for any offence caused to our customers."
But I mean... it looks NOTHING like a sheriffs uniform. How this shirt was allowed to go into production is beyond me. As one Twitter user pointed out, striped t-shirts aren't exactly a common costume choice in Westerns.
The Holocaust is, rightfully so, one chapter in history that you do not mess with. It hits close to home for countless individuals and there will never be a time that isn't "too soon" for mistakes like this one. With social media so widespread, it is now almost impossible for such controversies to fly under the radar. Just last week, lingerie designer Ann Summers came under fire for releasing a range called "Isis." Although the brand apologized, they refused to pull the line from shelves, claiming it was named after the Egyptian goddess of fertility. At least we can be thankful Zara had the decency to stop selling the offending t-shirt.
Image: Zara