You Can Finally Hang at Central Perk!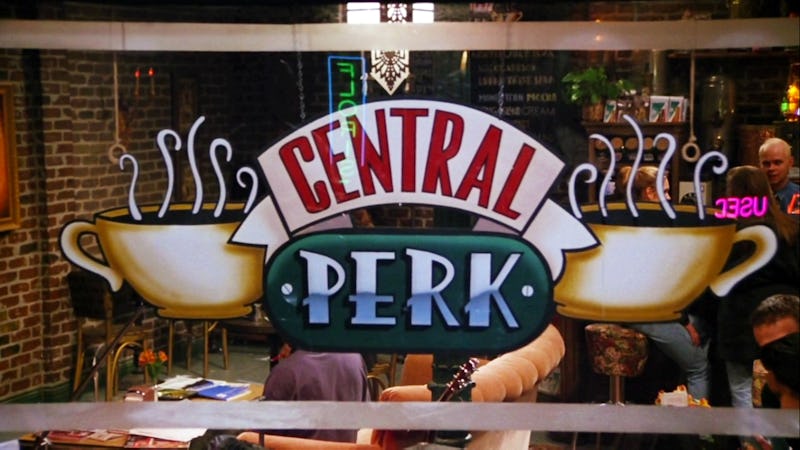 There are a few things diehard Friends fans must do in their lifetime: rewatch the series, over and over again until every line is memorized. Determine which "Friend" you are (spoiler alert: we're all Chandler). Play "I'll Be There for You" during every celebration of friendship. And, of course, visit the Central Perk set if you're ever in L.A. Taking a photo on that famous orange couch has long been a staple of Warner Brothers' studio tour, but now, fans can take the obsession to a whole new level by visiting the Friends ' Central Perk cafe opening in New York this fall. Yes, you read that right: the Central Perk. In Manhattan. This fall. !!!
Thanks to Warner Bros. and Eight O'Clock Coffee, the iconic coffeehouse will have a pop-up Manhattan location for one month, from September 17 to October 18. Featuring Friends props (including that couch), trivia, and giveaways, along with weekly musical performances to songs like "Smelly Cat" and a special Friends-themed coffee blend, Central Perk should be a huge treat for anyone who's still deep in discussion over whether or not Rachel and Ross were on a break.
And the best part? Gunther himself, James Michael Tyler, will make appearances from time to time, because obviously, it's not the real Central Perk if Gunther isn't working behind the counter. He's not the only coffeehouse necessity, though; here are five more things the pop-up shop must include if it wants die-hard Friends fans to be pleased:
Terrible, Inattentive Employees
No sweet "how's everything so far?" or concerned "can I get you anything else?" here, please. Central Perk employees must mix up orders, spill hot coffee, and, on occasion, forget they even have a job.
An Always Empty Couch
One of the best recurring jokes in the series was how the Perk's orange couch was always free when the gang arrived. It made no sense — why would a comfy, big couch in a busy coffeehouse be totally empty? — but it was always the case, save for a few episodes where the writers poked fun at the tradition. At this Central Perk, the couch must not only be present, but empty at all the most opportune times.
The World's Best Coffee
Look, I know Central Perk was convenient, but to go to the same coffeehouse every day for ten years is kind of crazy unless it happened to have the best coffee on the planet.
Constantly Changing Artwork
Having the orange couch and adjacent chairs is a good first step. But no Central Park look-alike would be complete without new artwork on the walls every few days. It doesn't matter what the art is — Friends showed everything from self-portraits to King Kong — as long as it's never the same.
No Real Musicians
Having someone come in to sing Phoebe's greatest hits is a great idea, but it has to be by someone with as much, um, "talent" as the Friends character. We all know what happened when Central Perk hired a professional that one time. Never again.
Images: Tumblr; NBC (4)