Remember Jessica Simpson's Edible Toiletries?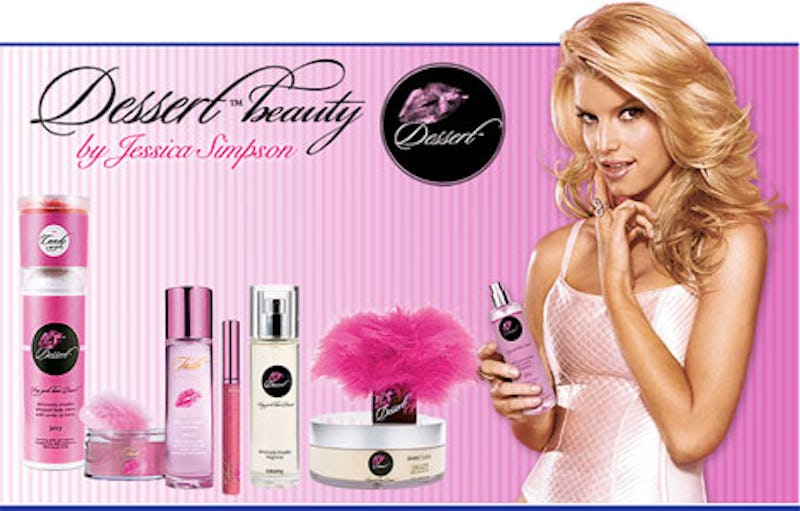 The fact that Jessica Simpson had a line of edible beauty products in the early 2000s will never fail to amuse me. The fact that those products were marketed in a hyper-sexualized manner that was bizarrely at odds with their juvenile fragrance names like "Juicy" and "Creamy" is even funnier, and the fact that people of the Internet wondered where the product line went for years after it was discontinued is the best thing ever. Oh, Jessica Simpson, you strange cultural icon.
Where do I start? Oh yes, in 2004, with the launch of Jessica Simpson Dessert Beauty. If you continually read that as "desert beauty" because your skin is chronically dry, you could probably use a good dose of Powdered Sugar Deliciously Kissable Body Shimmer. The tagline was "Sexy girls have dessert," and the product fragrances were named after exciting adjectives like Juicy, Dreamy, Creamy, and the best one ever: Taste Delicious. According to a Dessert Beauty fan page, Simpson invented that last scent herself.
The best thing about the Dessert Beauty line by far was the marketing copy. Take the Whipped Body Cream with Candy Sprinkles, for example, which urges you to "slather it on yourself or a friend to be completely smoochable and delectable. The sprinkles? Well, they're just for fun! Just decorate and dig in." The titles are out of control — which sounds grosser, the Skin Protein Shake or the Hot Body Topping? — but I think we'd all agree that the Deliciously Kissable Belly Button Love Potion Fragrance is the clear winner in terms of Most Unnecessary Product Ever. (About the Belly Button Love Potion, a 2004 customer review on Makeupalley rants, "It only stayed on me for about one minute and then faded while I got the leftover sticky mess on my wrist and neck...not to mension I was followed everywhere by bees.")
The Dessert Beauty line enjoyed modest success that year, but toward the end of 2004, the dessert hit the fan. A cosmetics company called Cosmojet sued Simpson, Dessert Beauty Inc., and Sephora, claiming the trio owed them $200,000 for products Cosmojet had already manufactured. Simpson's rep claimed that she had "no involvement in the day-to-day operation of the company's business" and had nothing to do with the money owed.
Despite the lawsuit, Simpson forged ahead in the wild world of edible beauty, releasing two new lines in 2005: Dessert Treats, pitched at younger consumers, and Sweet Kisses. Unfortunately, by early 2006, the whole creamy/juicy/dreamy thing came under fire again, this time because of those alluring titles.
Mara Fox, the former guitarist of the band Precious Metal and founder of a certain Love Potion Perfume line, was seriously unhappy by Simpson's flagrantly titled product, Dessert Beauty Deliciously Kissable Love Potion. Fox filed a lawsuit against Simpson's line for use of the "Love Potion" title, insisting that she owned the phrase. Weirdly enough, this was a counter-sue — Dessert Beauty had already sued Fox, who'd sent them a cease-and-desist letter about the use of "love potion." They argued back and forth about the phrase for a while, with Dessert Beauty correctly arguing that the term "love potion" can't be copyrighted ("The phrase "love potion" has been used as a common descriptor and a generic term, dating back over 1000 years"). Eventually, Fox lost.
(While we're on the subject of Dessert Beauty-related drama, apparently at least one person got a yeast infections from using a $4.99 tube of Buterscotch Toffee Body Wash.)
Crushed by the lawsuits and struggling against their own ephemerality — or something like that — the line was eventually discontinued, though you can still find individual products on Amazon and eBay and elsewhere around the web. Simpson moved on to bigger and better collaborations — hair products with Ken Pavés, her line of "Fancy" perfumes — but a few cloyingly sweet Dessert Beauty products remain scattered around the Internet, reminding us that once upon a new millennium, Jessica Simpson put her seal of approval on a product designed to make belly buttons smell better. And we bought it.
Images: Jessica Simpson Dessert Beauty