Petition to Remove Filner Strengthens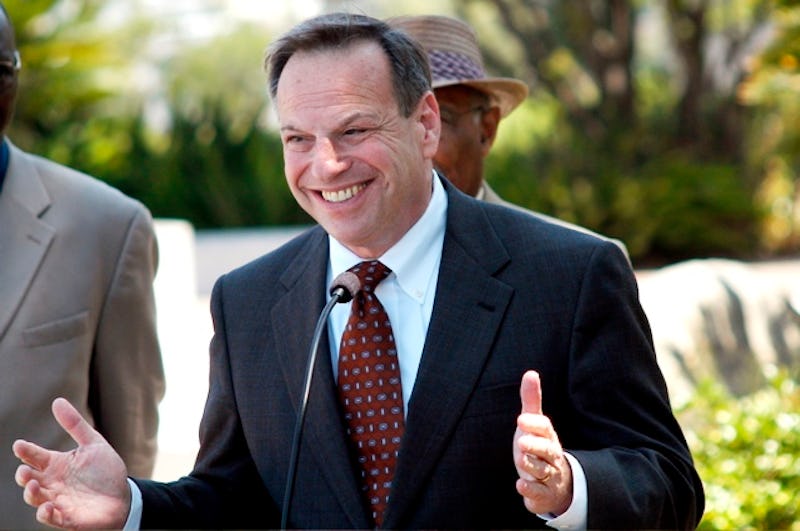 The petition to drive harassment-ridden Mayor Bob Filner out of office began at midnight Saturday, with volunteers ready to obtain the 101,000 signatures needed to force a recall election.
So far, roughly 800 people have come forward to volunteer for the campaign, and organizers have reportedly raised more than $100,000. Activists will be gathering signatures all over downtown San Diego, and the campaign includes a "Freedom from Filner" march on Sunday, led by a group of women and military sexual assault victims. It'll even have a website using real-time mapping function showing petition drive locations, just in case they'd be missed.
"San Diego deserves to have a leader with honor, integrity and respect for all people," said one of the march's organizers. "Bob Filner's appalling behavior will not be tolerated and is unacceptable for our city's leader."
The group has 39 days to gather at least 101,000 signatures in order to force a recall election — if they come up short, they'll be given an additional 30 days to get the necessary signatures. If they are successful, and those signatures are validated by the city clerk, the City Council will then be forced to schedule an election within 60 to 90 days.
"This is a tremendous grassroots undertaking — truly the people taking back their government from an abuser who has betrayed San Diegans, demeaned women and who can no longer lead our city," said Michael Pallamary, who filed the petition. "They're ready to tell Filner, 'It's over, Bob. The people are going to show you the door.'"And it looks like there's a good chance they'll succeed. A poll conducted by SurveyUSA was released on Sunday, and showed that 81 percent of the 600 people surveyed wanted a Filner resignation. Only 14 percent said no.
But of course, there's always the rebels. A group of Filner supporters (yes, you read that right) are planning a rally Monday outside City Hall, bearing the slogan "We Will Not Be Silent." They're saying the campaign against Filner is really a political campaign organized by his opponents. Filner is set to come back from his two weeks of intensive therapy on Monday, having completed the counseling one week early.
[Image: San Diego Human Dignity Foundation via Flickr
]