(Imaginary) Pictures Of Angie & Brad's Big Day!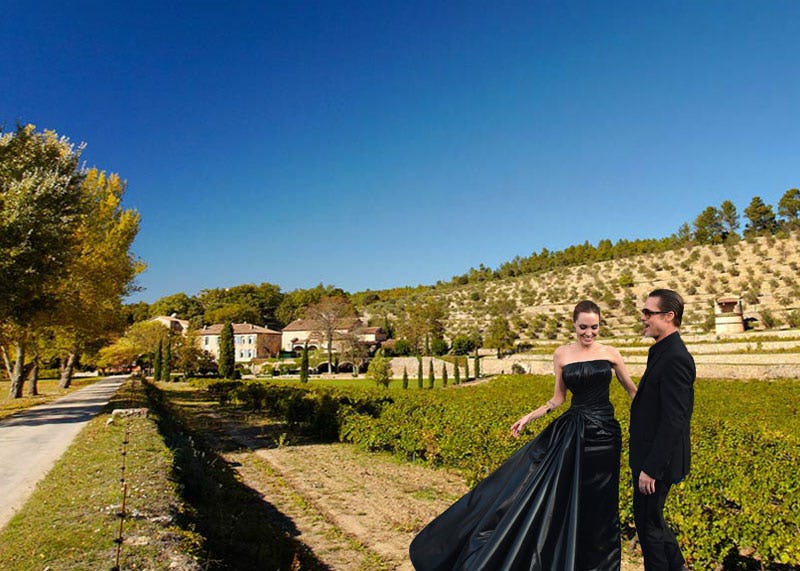 It's official, you guys! Perennial badass Angelina Jolie has secretly wed perennial teeth whitener Brad Pitt. A spokesman for the couple reported to the Associated Press that Angelina Jolie and Brad Pitt got married like most average Americans: a super secret ceremony inside of a small chapel located on the expansive grounds of the vineyard they own in the south of France. The spokesman also revealed that their ceremony at Château Miraval was of the non-denominational variety, was attended by family and friends, and featured all six of the Jolie-Pitts, Maddox, 13, Pax, 10, Zahara, 9, Shiloh, 8, and twins Vivienne and Knox, 6, accompanying their parents down the aisle.
As one of the world's most notable celebrity couples, the wedding between Jolie, 39, and Pitt, 50, has been a long time coming. Nine years, to be exact, which is practically an eternity by Hollywood standards. While they'd originally said that they didn't want to get hitched until gay marriage had been made legal, rumors of their impending nuptials have been running rampant ever since their engagement in early 2012. Jolie added fuel to the fire when she mentioned in an interview with People magazine that their kids would be planning the wedding.
We are discussing it with the children and how they imagine it might be. Which is verging on hysterical, how kids envision a wedding. They will, in a way, be the wedding planners. It's going to be Disney or paintball – one or the other!
It hasn't yet been confirmed if Angie and Brad dodged paintballs during their vows or walked down the aisle to Frozen's "Let It Go" instead of the wedding march (which actually sounds like the best wedding ever, tbh), so for now everyone will just have to rely on their imaginations of what the Jolie-Pitt wedding might have been like. Or you can just look at these exclusive pictures that are completely and totally 100 percent real. Your choice.
If anyone could pull off wearing a black wedding dress, it would be Angelina Jolie (sorry not sorry, Avril).
Pax, Shiloh, and Zahara's reaction to Brad telling them their Disney theme was nixed in favor of Maddox, Vivian and Knox's paintball idea.
Matching paintball masks for Brad and Maddox to wear during the ceremony. Adorable!
Just chillin' in the vineyard, bein' all rich and in love and stuff.
Images: Getty Images