Jon Stewart's First Film Already Looks Compelling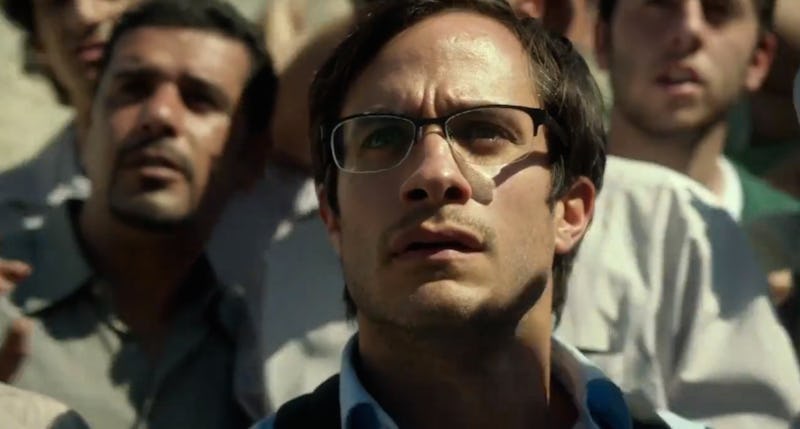 If you're not already excited for Jon Stewart's directorial debut project (which was the cause of his break from The Daily Show last summer — he was busy directing this) perhaps this will do the trick: Our first real look at the movie. The trailer for Jon Stewart's directorial debut Rosewater has finally been released, and it gives us a great glimpse of Stewart's take on the memoir of Iranian-Canadian journalist Mazair Bahari, Then They Came For Me , which detailed his 118 detainment in Iran during the 2009 elections. Stewart may make a living presenting political news in a satirical, hilarious fashion (sometimes better than real news organizations themselves), Rosewater looks to be a very serious, very dramatic project that he's handling compellingly.
Starring Gael García Bernal as Bahari, the trailer begins setting up the circumstances for Bahari's arrest: He's travelled to Iran during to cover the 2009 presidential "elections" for Newsweek. He's only meant to stay a week, and seems to be cautious in the beginning, as being a foreign journalist in the country of Iran has historically been a pretty dangerous position to be in. While he's there, protests begin to break out across the country, mostly fired up by the country's youth who oppose the strict, conservative regime that took over the country back in 1979 — and, like any journalist would, Bahari filmed the struggle. I'm sure you all remember: It was a huge story, and probably even one of the first instances where Twitter was deemed a valuable social tool in the changing scope of how news is delivered to the public.
For capturing the violence and protests raging on in the country, though, Bahari is arrested, and detained under suspicion of being a spy. Also starring Shohreh Aghdashloo, the film will detail the experiences Bahari described in his book.
Being of Iranian heritage myself, I'm always slightly weary when I see Hollywood taking on subject matters dealing with the country and it's alarming issues, mostly because they tend to demonize the entire country as opposed to just the regime and the violent extremists (who, in my opinion, actually deserve to be demonized for all the wrong-doing and corrupt politics that go on in Iran). Argo was a great movie, for instance, but it was truly guilty of this; Iran isn't a country of merely violent extremists, though they do exist there, as they do in every country — it's a country of regular people, just like you and I. Stewart's take on the story, however, seems to be balanced and focused on delivering facts, which I can appreciate right off the bat.
You can check out the trailer below. Rosewater will hit theaters on November 7.
Image: Open Road Films