A Femme Fatale's Reading List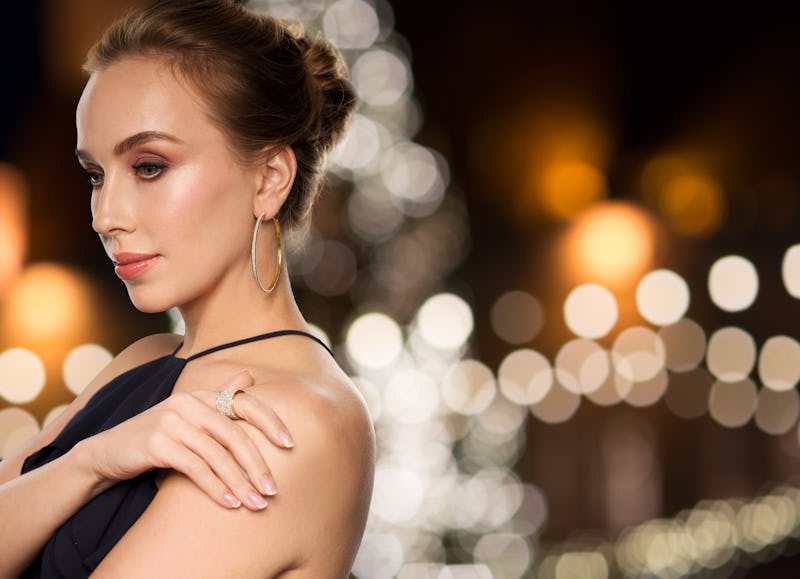 Syda Productions/Fotolia
Straighten the seams on your stockings, powder your face to perfection, and make sure your slip isn't peeking out of that bombshell dress that shows off your best assets. Being a femme fatale is tough work: using and abusing men (and women) while always anticipating the next move, be it cocktails or murder.
But reading about femme fatales can be quite inspiring. These women have total control over their worlds, and never worry about what the other women are gossiping about (a smart move, because it's usually them). As for men, they are saps, marks, putty to be shaped or tossed aside as whim, or more often method, dictates. The femme fatale always gets her way, no matter who she has to cross or double-cross to do so.
We've come a long way since the early days of the femme fatale in classic noir like the books of Raymond Chandler and James M. Cain. Of course, women noir writers also used versions of the type, and as their works have been rediscovered more contemporary women noir writers have created femmes of their own. The following list contains some old-fashioned femme fatales, some contemporary takes on the character, and a few gals that are just plain evil, in the most delightful way. Some solve crimes, some commit them, but they're all dames worth knowing — you can learn a lot from a woman with brains, beauty, and the ability to always keep her cool.
Femme fatales: Carmen Sternwood and Vivian Regan
People complain that the Big Sleep is not a very good mystery, and they're right. Crimes go unsolved, motives are unclear, and the plot is generally a muddle, especially toward the end. But there's no question that the two daughters of General Sternwood, Carmen and Vivian (also known as Mrs. Regan), whom sleuth Philip Marlowe are supposed to keep out of trouble, are about as fatale as femmes come. "[Mrs. Regan] was worth a stare. She was trouble. She was stretched out on a modernistic chaise-longue with her slippers off, so I stared at her legs in the sheerest silk stockings. They seemed to be arranged to stare at." Any woman who can get a guy that interested in her stocking feet is just going to be more appealing as his eyes move up, right?
Femme fatale: Joan Medford, the cocktail waitress
Noir master James M. Cain's posthumous novel, finally published in 2012, is written from the femme fatale's point of view. The Cocktail Waitress is narrated by the title character, who does seem to have a habit of losing husbands (not just misplacing them, either). Cain masterfully leaves enough ambiguity in the plot for the reader to believe she really just can't help it if the poor saps keep dying on her, each one leaving her a little richer than the last.
Femme fatale: Gloria Denton
How does one become a femme fatale? In Queenpin , the protagonist is plucked out of a humdrum life as a bookkeeper and taught by a master, Gloria Denton. Abbott's prose is remarkable: She builds up details about our unnamed narrator betting on the horses and collecting for the protection rackets in robust detail. Her argot is never less than spot-on: "I gave him my best walk, half class, half pay broad. If you can twist those two tightly, fellas don't know what hit 'em. They can't peg you. It gets them — the smart — ones — going. Spinning hard trying to fix you. You're like the best parts of their grammar school sweetheart and their first whore all in one sizzling package."
Femme fatale: Leda Taylor
Packer, whose real name was Maijane Meaker, had a romance with fellow noir scribe and Ripley creator Patricia Highsmith, churned out books for the pulp presses in the 1950s and 1960s. Spring Fire , published in 1952, was a groundbreaker in the genre: a lesbian romance set in a sorority house, with innocent freshman Susan "Mitch" Mitchell falling in love with her worldlier Tri Epsilon sister, Leda, in a doomed (or fatale) romance. Of course, given the scandalous nature of homosexuality at the time Packer's editor forced her to write an ending where Leda has a nervous breakdown; there could be no happy ending. Yet Packer had a long and fascinating career writing more pulps, true crime, and later, young adult novels under the name M.E. Kerr.
Femme fatale: Elizabeth Short
Ellroy chronicled his obsession with the real case of the Black Dahlia in the autobiographical My Dark Places, but his novel, written 10 years earlier, captures the essence of the Dahlia (and of men's obsession with the femme fatale) with unprecedented intensity. Elizabeth Short, found murdered, her body mutilated, in an abandoned lot in Hollywood in 1947, captured the imagination of Los Angeles and introduced them to a world of down-on-their-luck actresses and would-be models who'd do whatever to get by. Ellroy's novel channels his passion for the victim through the eyes of two cops, and makes for both a great police procedural and a noir work of art.
Femme fatale: Kate Moore
Unbeknownst to her husband, Dexter, Kate Moore used to be a CIA agent — first in the field in Mexico and Central America, then at a desk job after her two children were born. But she has her last debriefing when Dexter decides to move his computer consulting business and their family to Luxembourg. There they quickly make friends with another American couple, Julia and Bill, but Kate can't shake the feeling there's something not quite right about their new pals. Are the seductive Julia and her husband having an affair? Are Julia and Bill also agents of some kind? If so, who do they work for and why are they so obviously pursuing Dexter and Kate? Pavone's debut novel is remarkably insightful about the secrets spouses keep, and the ones they must eventually reveal.
Femme fatale: Lori Chung
Steph Cha's sleuth, Korean-American Juniper Song (everyone calls her Song) falls into a mystery involving her closest friends in Follow Her Home. At the center of it is another Korean-American woman, Lori Chung, an unwitting femme fatale who has a string of would-be suitors who end up dead and one very nasty mother. Cha's book really sings when she brings the Korean American community in L.A. to life; part sleaze and part immigrant striving, it's the perfect setting for an L.A. noir in contemporary times.
Laura by Vera Caspary
Femme fatale: Laura Hunt
With rumors of a remake of the Gene Tierney movie ripe (written by James Ellroy, no less), it's well worth revisiting the source material for both, a deeply disturbing noir written by Vera Caspary. A ghost story propels this noir in which a hotshot cop, Detective Mark McPherson, investigates the death of a high society dame, Laura Hunt. In the shadows is her frienemy, Waldo Lydecker, a newspaper columnist of the kind who makes his own news when there's nothing to report about. Caspary deftly switches points-of-view in her finely wrought novel, leaving the reader as mesmerized by the illusion of Laura as the men in her life.
Femme fatale: Heloise Lane
Better known as the author of the Tess Monaghan P.I. series, Lippman has also written some super stand alone mysteries, like this story of a former escort, Heloise Lane, with a young son and an ex on death row. Never predictable or boring, Lippman creates a believable businesswoman and suburban mom in Heloise, who just happens to run girls and turn an occasional trick in a fancy hotel on the side. Heloise is a woman of many secrets, and her complexity makes this femme fatale an engaging and extraordinary heroine.
Femme fatale: Janie Jenkins
Little's first thriller is a good one. Told in texts, TMZ reports, and snarky first-person narration, Dear Daughter is about an L.A. socialite, Janie Jenkins, who is released from jail on a technicality, Janie can't remember anything about the time of her mother's murder, an inconvenient memory lapse for both her defense and her conscience. Her post-prison adventures in deep hiding in South Dakota wearing glasses, slacks, and maternity sweaters are a far cry from her former life, lived with a fast crowd of other rich kids and Hollywood hangers-on. Rather than returning to her old nefarious ways, Janie Jenkins is determined to figure out if she killed her mother or not — and if she didn't, who did?
Femme fatale: Elsa Hazlitt
Is Elsa Hazlitt just depressed, or is something more sinister going on with her? From the opening line of Spark's novel, "If it were only true that all's well that ends well, if it were only true," the combination of Elsa's restlessness and total disregard for the feelings of others, including her husband, Paul, and their two children, makes this an unsettling read. That Elsa only seems to want to talk about her psychoanalyst — well, it is New York in the 1970s. An odd femme fatale but a highly toxic one, Elsa's story is chilling. Not the usual noir fare.
Femme fatale: Rosalind Devlin
Three children went into the woods near a Dublin housing estate one day, and only one returned. He was covered with blood and had no memory of what happened to his two friends. Many years later in those same woods, Detective Rob Ryan, that boy all grown up, investigates the death of another young girl, Katy Devlin, whose family life just isn't quite right. Her older sister, Rosalind, seems to want to help in the investigation — or does she have other motives for cozying up to the detective? The myopic Ryan never sees this femme fatale coming, though his partner, Cassie Maddox, smells something rotten in Rosalind from the start. French is never less than in perfect control of this excellent and deservedly praised mystery, the first in her Dublin Murder Squad series.
Femme fatale: Bridget Callaghan
It's a classic trope: a mob enforcer falls in love with the boss' girl. The mob here is the Irish mob in New York City; the enforcer, an immigrant from Belfast named Michael Forsythe; the boss, Darkey White; and the woman, the incomparable Bridget. Bridget and Michael are having an affair, and Michael starts to get twitchy. Does Darkey know? Is Bridget going to sell him out, or run away with him, like in his fantasies. A supercharged mystery that goes from the A train to a daring escape from a Mexican prison, McKinty's novel is exciting and pretty thrilling. And Bridget, well, she's quite a girl.
Image: CombinedHistory/Twitter