An Experiment In Feminine Dressing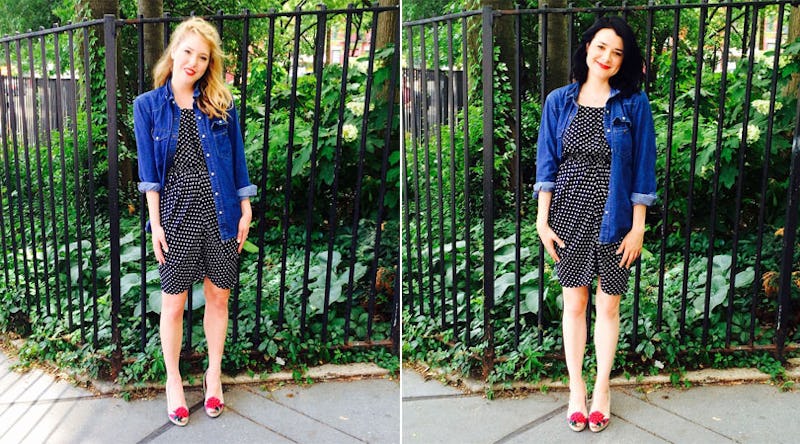 Today, "Women in Clothes," a collection of essays, interviews, and images, edited by Sheila Heti, Heidi Julavits, and Leanne Shapton hits shelves. In a line, it's a book that explores a woman's relationship to her wardrobe, but of course, it is much more than that.
About a year ago, and unbeknownst to me, I began a similar project wherein I would literally place myself in others' shoes. As a writer, I spend most of my time imagining the lives of others, but I craved something more physical and outside myself. My first piece, In Other New Yorkers' Shoes , was for The New York Observer. In it, I wore various New Yorkers' clothes, most of them strangers to me who willingly allowed me to slip into their garments. And in Proustian fashion, I gave each participant a questionnaire. I asked about religion, politics, and whether one was a buyer or a renter (being New York, I came across mostly renters). It was invigorating slipping into a pair of jeans that stretched in all the wrong places on me. I felt disembodied, and strangely embraced. The project has since grown as I continue to explore identity through one's choice of attire.
For this iteration of the project, I interviewed five of my girlfriends, and from what I can gather, they love wearing mens' clothing, '90s minimalism, and A-line dresses — all looks that won't overshadow their personalities.
Marina Blitshteyn is a poet and teaches at Fordham University
Why did you choose this particular outfit?
It's hot out, so I wanted something loose and open. It's thin cotton so it breathes, and it's still cute.
How would you describe your personal style?
I became aware of my body in high school — but I didn't really have an education for what to wear and what not to wear — I got a lot of that from TV and popular culture. I experimented with my wardrobe in high school. I like accentuating my curves — things that are form-fitting but comfortable to wear, so I like a lot of cotton. I prefer skirts over pants, heels over flats.
Define femininity:
A quote that's been resonating with me is: "Masculinity is a trait, not a gender." That quote resonates with me because I like masculinity and I like to incorporate that into my style, but I also like for my style to reflect my body. I feel in tune with my body, and I like when my style accentuates things about my body that I'm proud of. I'm proud of my breasts, I'm proud of my ass, and I feel good when they look good.
Can a woman feel feminine in masculine clothes?
Yes! I recently bought a men's shirt, and it's loose on me but the way that I wear it makes me feel feminine. I wear my hair down, and I pair that with heels and it's the best feeling. Some of my favorite fashion statements are those that play on gender. Masculinity and femininity are really just a ying and yang.
Do you think you dress in reaction to political ideologies and gender stereotypes?
I'm adamant about wearing low-cut tops because I believe there should be nothing at all shameful or slutty about having breasts. There are things about my body that I'm still insecure about. I manage that. For example my skirts are typically knee length. Yesterday I was wearing a dress that was just a touch above where I usually wear it and I was very aware of it, and self conscious about it. Which is ridiculous, but that's me responding to social pressure and conditioning, and I hate that. That conditioning makes you aware that, as a woman, you are a body first. I would love to walk out into the street wearing whatever I want, and feel like I am more than that, that I have an interiority.
If there's two things I know about Marina, it's that she prizes comfort and sexiness in equal measure. So, it was no surprise to find that her chosen outfit was entirely made up of the softest cotton designed to gently hug every curve (no buttons, no zippers, no details that could present the slightest amount of discomfort). What I loved most about Marina's outfit was its unapologetic sexiness (low-cut top, hip-hugging skirt). Indeed, Marina is nothing if not unapologetic.
Courtney Kampa is a poet and columnist for Verily magazine
Why did you choose this outfit for today?
I wanted to go with one of my staple pieces — polka dots have taken over most of my wardrobe, so I went for this navy blue, white polka dotted dress that I bought from a side-street vendor in New York City. And I picked the shoes because I'm a sucker for anything that is silly and colorful... and I wanted to see YOU walk in heels!
How would you describe your personal style?
Basically, a lot of color, a lot of statement pieces. When I look down at my shoes for example, or catch myself in the mirror, I kind of laugh and want to shake myself and ask, "Why did you wear this?" I like to make myself wonder at my own sanity.
Define femininity:
It's a softness and a strength that draws people in.
Can a woman feel feminine in masculine clothes?
Absolutely. Almost more so. The more you swim in it, the more your figure becomes a secret that nobody is allowed to see. It's this sexy modesty that's funny. The shirt I'm wearing is Will's, my boyfriend. I stole it from him today.
How much does your wardrobe define you? Or does it?
I've stopped valuing it as much. I try to buy things that will last, that I can wear repeatedly. It's about the confidence with which you put yourself together. I've learned a lot about the flea markets where I've found men's shirts for $10 instead of the $70 price they would go for at their retail price. Thrift shopping demands a vision, because you're not being told what to wear, and it can heighten your quality of life!
Courtney combined my greatest critiques of the fashion world: polka dots and floral, two prints that I believe are so garishly overdone. I see polka dots and floral so often, I feel as though I'm staring into an abyss of fabric. But the beauty of Courtney is that she has a way of taking what's precious and making it playfully perverse. Also, I never wear heels. Ever. Wearing Courtney's heels with a floral pom-pom on the toes was challenging to say the least. She had to help me cross the street because the backs kept slipping off. Then, there was the polka dotted dress, which felt like a heightened sense of femininity, also a look that I tend to steer clear of. But it all comes together to produce a kind of Alice in Wonderland gone so wittingly wrong, it's exactly right.
Nalini Abhiraman is a writer and project manager for Girls Write Now
Why did you choose this particular outfit for today?
It's a distillation of my personal style. I like wearing mini dresses. I like wearing silk rayon blends. And I've always loved stockings, and this is a particular favorite pair of mine, because they're extremely soft. The boots are my old, trusty comfortable boots.
How would you describe your personal style?
I like to call my personal style "off duty mathematician." I like the androgyny of simple lines, a bold but simple pattern, and '90s minimalism.
Define femininity:
The first word that comes to mind is "ripeness." Across the gender spectrum, the signifiers of femininity are ripeness and lushness — as in curves — but I don't necessarily think you have to have curves to be feminine. I'm also interested in the historical associations with a word like "femininity." It's a tag, not a folder. You develop these granular things, you collect them to yourself. To be female is to have collected any number of signifiers over time, ultimately deciding for oneself what feels right, and what feels less right.
Can a woman feel feminine in masculine clothes?
Totally. This question makes sense primarily in a western context. Other cultures have different ideas in terms of what's masculine and what's feminine. But a woman can definitely feel feminine in masculine clothing. In fact, I think that I feel most empowered as a women when I'm wearing masculine clothing because I feel a sense of ownership. Much of my personal style is related to ideas of work. A lot of women's clothing has historically been linked to "garments of leisure." But when I wear something masculine, I feel like I can do anything, I can work, I can be out in the world. I feel free.
Today, it's totally fine for a woman to wear pants or a dress to work, but in terms of how each garment makes a woman feel, that differs. But I'm optimistic that that will change with time. A dress ought to feel as empowering as a pant suit. This is about a woman being able to feel like a whole person without fear of judgment or ridicule.
How much does your wardrobe define you? Or does it?
I often wonder if what I'm wearing connotes what I think it projects. People's perceptions are going to be different from my own. There have been times, as a person of color who has access to mostly white universes, where I wonder if my wardrobe (a wardrobe associated with young hip things living in an urban metropolis) ends up belying the fact that I have a profound solidarity with those who do not have access to these types of things. I grew up in a small suburb of Atlanta called Stone Mountain, behind a penitentiary. My parents are highly educated, but they both came from extremely poor families. They raised me with Marxist class conscientiousness; they raised me to realize how lucky we were.
If there is one thing you should know about Nalini it's that she is an industrious thrift shopper. One summer, while in Paris with Nalini, she took me and a group of our friends on a wild goose chase looking for an antiques market in Paris that was literally embedded in what looked like a massive trinkets market — socks and battery chargers were the general items for sale. I thought: "There is no way there is anything here for us," and so I left. Sure enough, I was wrong. Nalini returned to the apartment with antique posters and beautiful antique rings, and other strange oddities that only Nalini would have the patience and eye to find. So, it was only fitting that her outfit would be equally vintage with a touch of the modern, and adventurous.
Liz Riley is Vice President and Senior Director of Publicity for W.W. Norton & Co.
Why did you choose this particular outfit for today?
I picked it because I always gravitate toward a-line dresses. I have a thing for navy and off white. I have a few Marni dresses.
How would you describe your personal style?
I wear fairly basic clothes — not a lot of patterns, nothing aggressive. I favor knee length skirts. I'm a product of the '90s, and I like things with very little color or frill. The '90s were an amazing era fashion-wise — I love the clean lines and simplicity of that decade. You can't go wrong with minimalism, so it's more about YOU than what you are wearing.
Define femininity:
I identify feminine fashion with tiny heeled shoes, frilly dresses — items I never wear. Though, I am feminine, I have two children to prove it. But when I think fashion wise, I think of ruffles, a superficial look. I think I was built not to wear tiny dresses and heels. I'd feel absurd. I don't have a doll-like look. Femininity has a doll-like appeal in the fashion world, as though one were on display.
Can a woman feel feminine in masculine clothing?
I don't see why not.
How much does your wardrobe define you?
It reflects me more than defines me. It reflects my interest in simplicity, in things that are well made. I sew enough to appreciate a simple, beautiful hem.
At this point, Iris, Liz's 6-year-old daughter, wanders in with a design book of furniture in her hands. She wants to know when we're going to play UNO with her. She chimes in, "I'm a doll."
Liz: "You're your own person."
"I'm my Mommy's person because I came from your belly."
When I was in elementary school, we had to wear navy shirts and white skirts, and now, as an adult, I'm always looking for the perfect navy skirt. My time at Montessori was lovely. I felt like my clothing did not define me — it was about me rather than what I was wearing. I was the only red-headed kid at my high school. I was automatically weird in Southern California. I think I wear uniform like clothing as a way to resist those horrible Southern California years.
Elizabeth has a way of dressing that is both understated and breathtaking. Wearing her A-line, navy blue and off-white striped Marni dress feels as though I'm wearing a proper woman's dress, a dress that requires one stand with perfect posture, but that allows for movement, with a fabric that allows for a certain amount of playfulness. It is the kind of dress I'd wear to a family function — appropriate and appropriately me.
Megan Healey is a writer and teaches English at Parsons
Why did you pick this particular outfit for today?
This dress is my favorite dress. I love it because I can wear it teaching all day, and then still feel sexy. It has a low back, and it flatters my favorite parts of my body. It's the most expensive thing I own, but I wear it so much that I've been ruining it. Luckily, the dark color hides everything!
How would you describe your personal style?
I admire a Margot Tenenbaum approach to clothing. I want to be the type of person who wears a uniform everyday, but each day is an interesting variation on the uniform. Lately, I try things on and I'll think, "I look like a baby doll in this dress," which I love, but I can't wear that look anymore, especially since I've been teaching at Columbia. There are a lot of football players in my class, so I've been trying to dress like a fun, smart professor.
I think that I resent the fact that someone else is going to think that I look like a child, or like someone they shouldn't take seriously because I'm wearing a floral or lace dress. Maybe I should just keep wearing the lace and frills and teach a bad-ass class and be that feminist professor who can wear pink and still be taken seriously. That would be great!
Define femininity:
The image I have of a feminine woman is Bridget Bardot as a mermaid — a French bob with bangs, but a little wild. I'm drawn to things that I think are stereotypically feminine, but then I'll see a woman who is fierce and in a baggier or more masculine outfit and I'll think she looks so beautiful, and I'll want to be that kind of woman too. Robin Wright has a fierce short haircut, and I'll think, "I want to look like that," but I can't because I don't have her chiseled jaw. Femininity can take on different forms depending upon each woman, and can be relative to age.
Can a woman feel feminine in masculine clothing?
Definitely. A lot of women can pull this look off. For me, I feel like I look frumpy in masculine clothing; it has a way of making me feel small, and powerless. When I was really young, I decided to cut all of my hair off, and it was boy short, and I was so afraid that people would think I was a boy, and from then on, I wore skirts because I didn't want to be mistaken for a boy. The male version of me is not beautiful. I need to be a female.
Does your wardrobe define you?
Yeah, I think so. I think about fashion a lot. I know so many women who think about fashion in smart ways, and why should women feel ashamed of their interest in fashion?
I've never not seen Megan in a dress. When I think of Megan, I think of Beckett's line, "fail better," and I mean that in the most complimentary way possible insofar as women are often made to feel disregarded in a dress. But the fact that Megan wears a dress everyday renders this stereotype powerless as she challenges it through her relentlessness.
Images: Liz Dosta