'Scandal' Season 4 Looks Intense Already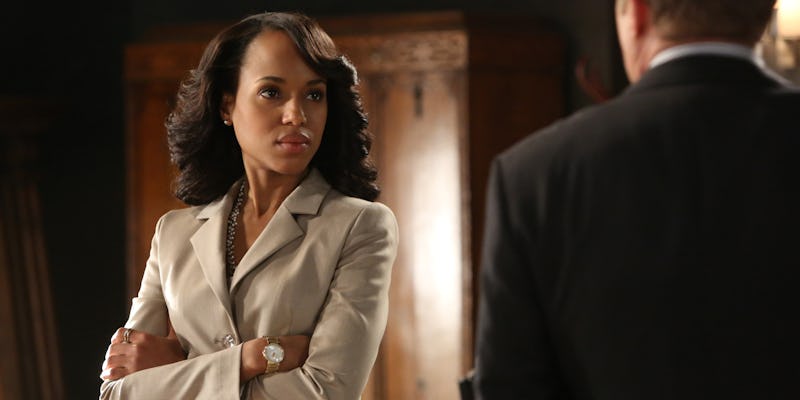 We're not too far from the premiere of a new season of Scandal, and thankfully, ABC is beginning to role out the promotional material in preparation. The most recent: A new Scandal season 4 poster, which reveals the premiere date, the show's new time, and about half of stunning star Kerry Washington's face. Sure, the poster may lack the spoilers that fans so desperately need after months of this show being off the air, but — despite some of the characters' complete lack of logical decision-making skills — Scandal has never been one to disappoint.
Also, Olivia Pope looks badass anyway, and that's enough. How does she manage to get her pores so flawless while working such a stressful job and partaking in all the...well, other activities she does? Now that is a mystery season 4 should address, promptly.
ANYWAY. This teaser poster comes in addition to a very vague teaser that was released recently, which just featured Fitz trying to reach Olivia on the phone...but getting a disconnected number. This makes sense, since at the end of last season she was seen boarding a plane and leaving town with Jake Ballard — but obviously, something is going to have to draw her back to the chaos she decided to leave. I hope she didn't donate any of those fab coats, because the girl is gonna need 'em.
You can check out the teaser poster below. Scandal season 4 will premiere on September 25 on ABC, at its new time and date of Thursdays, at 9 PM eastern, 8 PM central.
Images: ABC