15 Interesting Facts About 'Can't Hardly Wait'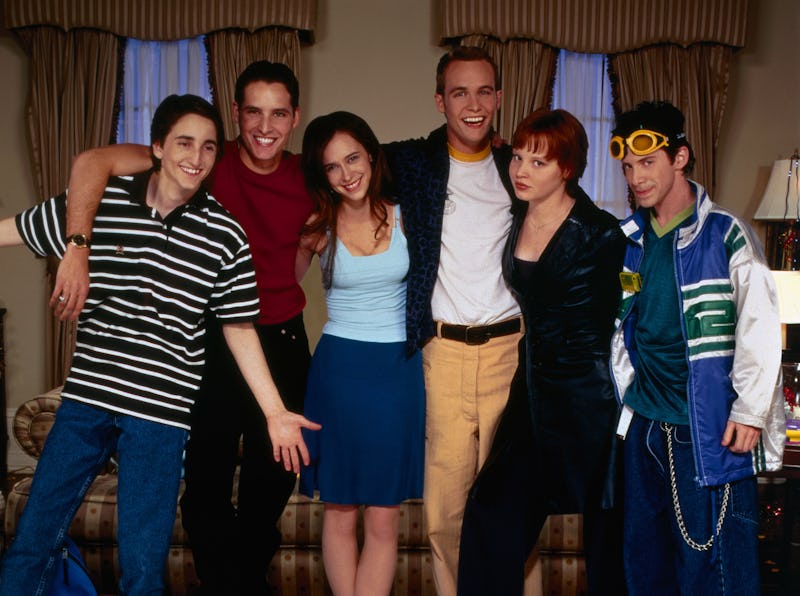 On June 12, Can't Hardly Wait turned 15. The bad news: This means you're old. The good news: This means we're just a few years away until Jennifer Love Hewitt's blue-on-blue outfit becomes fashionable again.
But there was much more to the teen favorite than the fact that it starred notable up-and-comers like Hewitt, Peter Facinelli, Seth Green, Jason Segel, and more. To celebrate the film's 15th anniversary, here are 15 fun facts about your favorite 8th grade movie.
Ethan Embry Can't Remember It
Talking with Vh1 Celebrity, the Can't Hardly Wait actor who currently stars in Once Upon a Time, said he was "altered" once upon a time on the set. "Nothing sticks out because I was so stoned the entire time," said Embry, who also couldn't recall doing backflips in the background of a scene in the film. "People say that. I heard that before too. Honestly, I wouldn't know. I was so stoned the time. I don't remember if it was me. It could be me. It's something that I would do."
But He Does Remember Being Offered the Role of William
Following his audition for the film, Embry was chosen for the role of geeky William, who was eventually played by Charlie Korsmo. He refused, telling the filmmakers he was aiming to "play the guy who gets the girl. That was sort of the driving thing." And, as it turns out, he got the role of the guy who got the girl.
Peter Facinelli Won the Role of Jock Mike Dexter By Doing Push-Ups
The future Twilight star considered it method acting. "When you're younger, you just want to walk in and be the role," he told MTV in 2008. "[The casting people] laughed, but I ended up getting the part. So I guess it was a good call."
But Not By Burping
In fact, the scene in which Mike follows the line, "It's like I always say," with a loud belch was enhanced in post-production with a sound effect. Facinelli has admitted he can't burp on cue.
Mandy Wasn't Supposed to Be Named "Mandy"
According to Can't Hardly Wait 's DVD features, Jennifer Love Hewitt's character, Mandy, was renamed so the filmmakers had an excuse to play Barry Manilow's "Mandy" during the film.
The Film Was Supposed to Be Rated R
The MPAA gave Can't Hardly Wait a restricted rating, thanks to some questionable dialogue and drug use. In fact, if you look carefully in one scene, you'll notice a red balloon that looks out of place. That's because it was digitally added to cover up a bong.
An Entire Character Was Cut
Jennifer Elise Cox, who you might remember as Jan Brady from The Brady Bunch Movie, was recruited for a role in Can't Hardly Wait named "Crying Drunk Girl." The role was bigger than its name implied — Cox, as Crying Drunk Girl, wandered the party delivering key information to characters that they missed since they were unable to understand her. (Ex. Preston's information for Amanda, the fact that Kenny and Denise were stuck in the bathroom, etc.) But, thanks to some un-PG-13 dialogue like, "I'd like to touch your penis," Cox's character was eliminated in order for the MPAA to reduce Can't Hardly Wait's R rating. Years later, the Web Therapy star got a chance to reunite with Jennifer Love Hewitt after she booked a role in The Client List.
Jason Segel's Role Was Supposed to Be Much Bigger
Though the cuts didn't sting nearly as badly as Cox's, the future How I Met Your Mother star had several scenes hit the chopping block, including one that explains the origin of Watermelon Guy's watermelon.
Kenny and Denise Had an Alternate Future
Though the final film told Kenny and Denise's future as such: "The day after the party, Denise and Kenny meet up in a diner; five minutes later, Denise dumped Kenny. Ten minutes later, they found a bathroom and got back together," an alternate version gave Denise a much different (and more accomplished) future: "Denise dumped Kenny later that day. Denise went to NYU, where she found a whole bunch of people just like her. Bored at it all, she dropped out and started shooting photo covers for Rolling Stone Magazine. She currently directed the latest music video for Wu-Tang Clan."
Blink and You'd Miss Selma Blair
The future star of Legally Blonde and Cruel Intentions scored the coveted role of Girl Mike Hits On #1.
Blink and You'd Miss Sara Rue
The future star of Less Than Perfect and Rules of Engagement scored the coveted role of Earth Girl.
Blink and You'd Miss Jaime Pressly
The future star of My Name Is Earl scored the coveted role of Girlfriend #1.
Still, the Film Might Have Had Even More Star Power
James Marsden and Alicia Witt also auditioned for Can't Hardly Wait, but couldn't manage to sneak into the cut.
The Film Features Royal Hollywood Blood
You may not recognize the name of the actor who played Foreign Guy, Alexander Martin, but you'd recognize his grandfather's name: Dean Martin.
William Is Smart in Real Life Too
Charlie Korsmo might have gained notoriety as a child star in films like Dick Tracy and Hook, but took a 7-year break from show business to focus on his studies. After making Can't Hardly Wait and graduating from MIT, he quit Hollywood altogether for Washington, D.C., where he worked for the Republican party before settling in as a law professor at Case Western Reserve University School of Law. That's one way to get closer to the beer.
Images: Sony