Are These Spring's Trendiest Colors?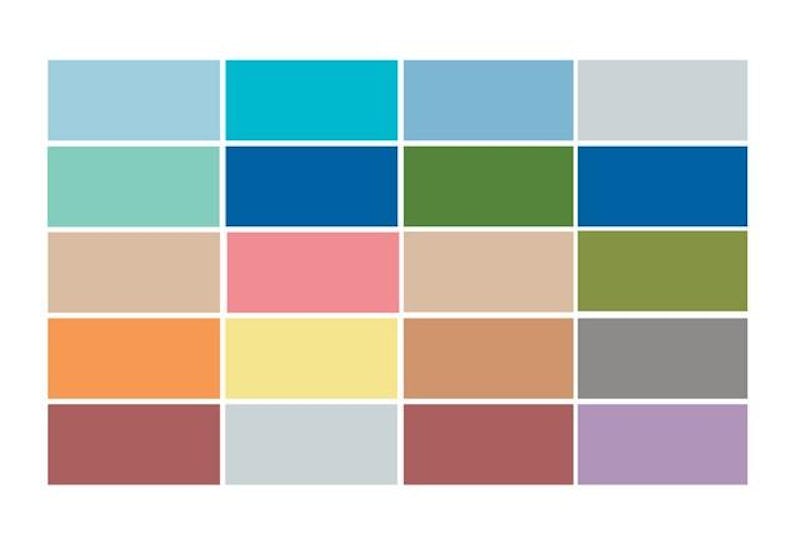 Hey, guess what? You don't have to watch every single show at NYFW to understand what Spring 2015's trendiest colors are going to be. I got you. Well, more like Pantone has got you. They just released their Spring 2015 Fashion Color Report and here's what they have to say about what you'll be wearing come March: Pantone believes there will be an emphasis on cooler, softer hues, from pale blue Aquamarine to icy Glacier Gray. It seems there will also be a strong prominence of blues and grays for Spring, which is a change from last year's popular purples and pinks.
Leatrice Eismean, the executive director of the Pantone Color Institute, describes this season's color report as the following:
"Many feel compelled to be connected around the clock because we are afraid we'll miss something important. There is a growing movement to step out and create 'quiet zones' to disconnect from technology and unwind, giving ourselves time to stop and be still. Color choices follow the same minimalistic, 'en plein air' theme, taking a cue from nature rather than being reinvented or mechanically manipulated. Soft, cool hues blend with subtle warm tones to create a soothing escape from the everyday hustle and bustle."
Think: Pastels on vacation. They won't be as bright or eye-catching and will have more of an understated, relaxed look and feel to them.
Here is a full list of the 10 colors Eisman thinks you should incorporate into your fashion and beauty palettes come March 20. Good thing there's plenty of time to stock up.
Aquamarine
"Aquamarine is an airy blue with a dreamy feel. Cool and calming, ethereal Aquamarine is a shade with a wet and watery feel. Open and expansive, this restful blue also acts as a stress reducer."
Theory Brombly ribbed stretch-linen and cotton-blend sweater, $150.75, theoutnet.com
Scuba Blue
"Even though a cool shade, the vibrancy of Scuba Blue adds a splash of excitement to the palette. Scuba Blue offers a feeling of escape as it is reminiscent of a tropical ocean. This stirring and energizing shade takes us off to an exotic paradise that is pleasant and inviting, even if only a fantasy."
Jenna Value Split Maxi Skirt, $7.96, missguidedus.com
Lucite Green
"Lucite Green is a soothing green shade whose time has really come again. Fresh and clarifying, cool and refreshing, Lucite Green has a minty glow. Light in weight and also in tone, Lucite Green seems almost transparent."
3.1 Phillip Lim Mint Satin Name Drop Backpack, $750, ssense.com
Classic Blue
"Classic Blue is a shade that is strong and reliable. Just as with the sea, because of its waterborne qualities, this Classic Blue is perceived as thoughtful and introspective."
Henry Dinky Strap 21MM, $150, marcjacobs.com
Toasted Almond
"A sun-tanned neutral, Toasted Almond offers comforting warmth and is indicative of a spontaneous spring, summer feeling. Timeless and versatile, Toasted Almond is an organic shade that speaks to authenticity and all that is natural."
Extra fine sweater, $79.90, zara.com
Strawberry Ice
"Subtle and charming, Strawberry Ice is an ideal shade for Spring/Summer 2015. Both tasty and tasteful, Strawberry Ice is a confection color that evokes a feeling of being 'in the pink,' emitting a flattering and healthy glow."
Isabel Marant 'Gabriel' Coat, $825.50, farfetch.com
Tangerine
"Versatile Tangerine is striking enough to stand on its own and adds vitality to a printed pattern. Good natured and friendly, but with a tangy edge, this fun-loving color invites a smile."
Kenzo Mixed Print Silk Scarf, $109, barneyswarehouse.com
Custard
"Sweet and sunny, Custard is a cheering tone that brings thoughts of pleasant relaxation and comfort food. Engaging with its soft and mellow warmth and full of good feelings, subtle Custard has an affable and easy disposition."
Repetto Ballet Flats, $167, yoox.com
Marsala
"Sensual and bold, delicious Marsala is a daringly inviting tone that nurtures; exuding confidence and stability while feeding the body, mind and soul. Much like the fortified wine that gives Marsala its name, this robust shade incorporates the warmth and richness of a tastefully fulfilling meal, while its grounding red-brown roots point to a sophisticated, natural earthiness."
Manoush hat, $206, yoox.com
Glacier Gray
"Glacier Gray is an unobtrusive gray that contrasts and enhances; bouncing off other shades without taking away from them as it slips into the background to allow other colors to take center stage."
adidas NEO Set Sneaker, $49.95, dsw.com
Image: Pantone/Twitter