The 10 Books You Need to Read This October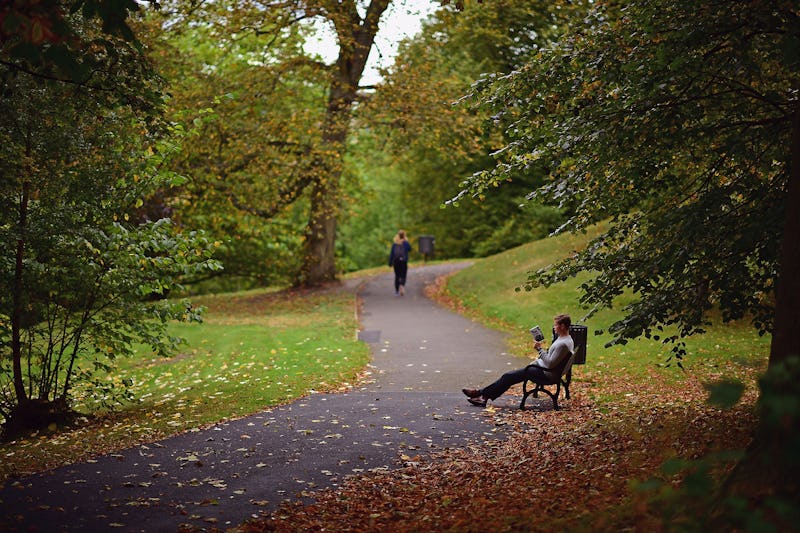 Jeff J Mitchell/Getty Images News/Getty Images
Changing leaves, warm apple pies, cardigan-appropriate temperatures, and the yelps of football fans — yep, those are the signs that fall is settling in. After recovering from an epic, sweltering summer and back to school, it's time for October. You can now jog outdoors without feeling like you're going to die of heat stroke, or fling yourself into a pile of leaves. Because no, you are never too old for that.
But really, what goes better with pumpkin spice lattes and breezy afternoons than a freshly opened book? October promises many literary knockouts to fill these blissful fall days — because before you know it, you're going to be in a parka. (Don't throw something at me for saying that. I'm sorry.) From a bizarre, yet enchanting collection of Southern Gothic–infused stories to a comic family drama that culminates at a loved one's funeral, plus a real-life illicit affair turned murder mystery set in turn-of-the-century Memphis and an ambitious historical debut that explores the puzzling life and mind of a famed mathematic genius, these works will certainly keep you company and help you make the most of fall's ephemerality.
So throw on your favorite sweater, grab a sweet, steamy coffee, and get at this stack of October releases. Trust me, this deliciously disparate list is better than a potpourri of leftover Halloween candy.
1. DAN BY JOANNA RUOCCO (DOROTHY; OCT 1)
Joanna Ruocco's Dan is a tiny novel that packs a massive punch. Ruocco is fearless and playful in her language, taking readers on a topsy-turvy carnival ride that overlooks the familiar landscape of a roman à clef. Innovative and bizarre, Dan is a testament to the unique ways in which we can mold the English language to tell strange stories.
At the center of this strange tale is Melba Zuzzo. Melba is a young woman living in the peculiar town of Dan, and she has just begun to notice that her life seems a bit off-kilter — her familiar habits now seem odd and the authoritative figures she once trusted seem questionable — and she's determined to find out why. Dan is certainly not for every reader, but for those who applaud experimentation and fearless innovation, this giddy linguistic experiment definitely deserves your attention.
2. A BRIEF HISTORY OF SEVEN KILLINGS BY MARLON JAMES (RIVERHEAD; OCT 2)
An eclectic cast of characters — CIA agents, gangsters, gunmen, offbeat musicians, corrupt politicians, and spirits — craft a prismatic, troubled portrait of 1970s Jamaica in this ambitious new work. Told through an array of colorful voices and dialects, A Brief History of Seven Killings is alluring and deftly chronicled.
At the core of this story is the 1976 attempted assassination of reggae icon Bob Marley and the many lives directly and indirectly involved. James uses his storytelling prowess to fictionalize the missing pieces and construct a gripping tale in which music, drugs, sex, and violence collide with explosive results. Throughout, James wields an impressive literary swagger, showcasing a meticulous ability to illuminate events, characters, and scenes through small, yet powerful details. Fearlessly, James launches into an exploration of race, violence, and sexism that traverses three decades and two continents, and opens up a dazzling and dark underworld.
3. LILA BY MARILYNNE ROBINSON (Farrar, Straus, and Giroux; OCT 7)
Marilynne Robinson devotees will get the chance to revisit Gilead, the setting and namesake of her 2004 Pulitzer Prize–winning novel, as the prolific author churns out another tale set in the scenic town. And for those dismayed when they said goodbye to Gilead's central characters at the end of the novel, you'll be getting a happy reunion — in the form of a prequel. This time a young Lila, the youthful bride of Reverend Ames in Gilead, takes center stage as the novel backtracks to her nomadic youth as an abandoned child rescued by a sincere drifter named Doll. Though loved, Lila lives hand-to-mouth, traversing the land — from the sweltering fields to the dark whorehouse — for steady work. Desperate for some sense of stability, Lila finally stumbles upon the tender Reverend John Ames and his Calvinist church and their romance begins. Lila chooses to hide her tumultuous past from her new community, but is forced to confront it when her ideologies begin to clash with those of the reverend. Once again, Robinson explores with mastery, grace, and stark poetry the themes of morality, love, religion, alienation, family, and unexpected love.
4. REUNION BY HANNAH PITTARD (Grand Central; OCT 7)
Family reunions, for most people, almost always mean chaos — awkward cheek kisses exchanged, old feuds reignited, personal drama dissected for everyone to see. For Kate Pulaski, the protagonist of Hannah Pittard's latest novel, this family reunion means reconnecting with her two siblings and a slew of estranged half-siblings and step-moms when they assemble to mourn, or feign mourning, the loss of their estranged father. What ensues is a weekend of mayhem and unexpected discoveries.
Though Pittard is dealing with well-tred territory, Kate's narrative voice — raw, comic, no-bullshit — is what makes this novel shine. Kate, though a bit self-absorbed, gives herself little leniency when it comes to analyzing the state of her life: her father is dead, her marriage is on the verge of collapse, she's failed in her career as a screenwriter, and she is thigh-deep in credit card debt. Yet despite the gloom, her sarcasm provides consistent comic relief and in the end, after a few hard lessons are learned, there may be an optimistic outlook in store for Kate.
5. ALICE AND FREDA FOREVER BY ALEXIS COE (PULP; OCT 7)
Bold and beautiful, this haunting star-crossed love story set in turn-of-the-century Memphis makes for a book that must be devoured. In 1892, 40 years before the word lesbian entered the general lexicon, 17-year-old Freda Ward and 19-year-old Allie Mitchell fall in love in Memphis, but when their intentions are discovered in a series of love letters, they are forcibly separated. While Freda begins to accept male suitors, Alice grows heartbroken, enraged, and desperate, and then one day, she walks up to Freda in the street and, using the sharp blade of her father's razor, slits her throat in front of a crowd of witnesses. It's a romance turned violent that captures the headlines and falls under the deep scrutiny of a society that saw such love as perverse— for some, even more perverse than murder.
With Alice and Freda Forever, Alexis Coe takes this fascinating true tale and brings it to literary life through love letters, newspaper articles, courtroom testimonies, maps, and school catalogs — all culled into one vivid narrative. With shimmering prose, careful research, and eloquent analysis, Coe weaves an absorbing tale of crime and passion, violence and discrimination, gender and femininity, lust and the all-consuming power of love — a tale that gives these teenage lovers a voice to echo above the clamor of a scandal.
6. THE WILDS BY JULIA ELLIOT (TIN HOUSE; OCT 14)
Julia Elliot is a narrative tinkerer, and her desire to bend genres and experiment with the laws of storytelling is on full display within her latest short story collection, The Wilds. Sci-fi infused with touches of Southern Gothic, and dystopia meshed with fairy tale, her unique ability to blend has explosive results: among her wild settings, a South Carolina nursing home where memories of dementia-inflicted patients can be restored through mysteries brain therapies; plus, a Caribbean island where youth is rejuvenated to the middle-aged through strange, cutting-edge, religion- and self-help-infused treatments. Elliot's dark satire ensnarls and enchants; her sharp, stunning, and occasionally grotesque language shocks and enthralls; and her vibrant, surreal worlds shimmer off the page. While consuming this collection, your imagination will certainly go delightfully wild.
7. A DIFFERENT BED EVERY TIME BY JAC JEMC (DZANC; OCT 14)
Jac Jemc's new collection is a series of short stories, each of varying lengths and some as succinct as two pages, that capture the psychological nuances of relationships and their connection to identity. She illuminates themes like the mind games and manipulation we play on ourselves and each other, the power in seduction, and our desire to be touched, loved, admired, held, and appreciated in the eyes of another. With precisely placed prose and thought-provoking obliquity, each small compilation seems meant to be consumed like a tiny, decadent afternoon dessert whose flavor, despite its familiarity, you can't quite pinpoint yet find oddly irresistible. Simultaneously bizarre and enchanting — and, at times, unsettling — Jemc's stories are literary crumbs to be savored slowly, bit by bit; delicious yet incomplete puzzles certain to leave a taste that lingers long after your eyes have devoured the final sentence.
8. THE GODDESS OF SMALL VICTORIES BY YANNICK GRANNEC (OTHER PRESS; OCT 14)
The enigmatic mind of a celebrated scientific genius — this is what Yannick Grannec's historical debut sets out to explore. And with a riveting love story, a saucy narrator, and a quirky hermetic logician, she does just that, wielding an ambitious narrative of the life of Kurt Godel. On the page of Grannec's Goddess, the logic of math and the chaos of love intermingle, while an unlikely friendship between a fiercely loyal widow and a shy Princeton student help illuminate the beautiful yet tortured life of this widely admired genius.
Anne Roth, the daughter of Princeton mathemeticians, wants nothing more than to have the late Godel's precious records shared with his scientific contemporaries, but first she must go through Adele, the fiery widow who's holding them under lock and key. On the surface Adele seems stubborn and selfish, but gradually, as Anne sways her to open up, she learns that Adele's motivations are much more complex and begins to see the famed mathematician through his lover's eyes. As depicted in Adele's chronicles, Godel is just as magical and admired, but simply seen and understood from a different angle. Godel's story — beautiful and terrifying — is affectionately relived through Adele's recounted memories, colored with historic detail — a 1920s Vienna on the brink of war, a mercurial society irrevocably altered by the fervor of McCarthyism, the birth of jazz, and the advent of nuclear weapons. Goddess is a captivating fusion of history, mathematics, romance, and friendship; fearlessly intelligent, yet powerfully accessible, it highlights the ties between brilliance and loneliness, fear and intellect, genius and alienation, and also provides some powerful answers, if only a few, to our barrage of queries on love.
9. SOME LUCK BY JANE SMILEY (PUTNAM; OCT 28)
Once again Jane Smiley captures the intimate nuances of an Iowa farm family and the turns of fate that rattle and recalibrate the course of their lives. In Some Luck, Smiley follows the Langdon family and their five children for three decades, chronicling their relationships and varied destinies as they traverse the ever-changing landscape of the 20th century.
At the heart of the novel are Smiley's deftly crafted characters, textured and complex. You walk beside them on the page and, for a time, live through them as they tend the fields and struggle through droughts, leave for college or march through the toils of war, settle for a moderate life on the farm or head to the eastern suburbs. The intensity of their emotions sting, electric on the page, reminding you of what it means to be a family, drifting closer and apart, and to have a home to which you can return right back to where it all started. Some Luck is set to be the first of a series entitled The Last Hundred Years Trilogy to conclude in 2020, so readers can expect that Smiley has many more Langdon stories up her sleeves.
10. THE SECRET HISTORY OF WONDER WOMAN BY JILL LEPORE (KNOPF; OCT 28)
You might already think of Wonder Woman as a feminist symbol (impractical red bustier notwithstanding) as she was the only female superhero in the Justice League. But did you know that when William Moulton Marston invented her in 1941, he partially styled the Amazonian princess after Margaret Sanger? And he had some pretty radical ideas for his time. Marston is definitely a figure worthy of biography. Professor, scientist, filmmaker, and inventor of the lie detector test, Marston was pretty brilliant. He also had an unconventional home life, living with the two women he loved and the children he had with both of them (a fact they didn't reveal to most people). Marston was familiar with secret identities, and Jill Lepore documents the ways in which he left clues within the comics about his personal life. For example, Wonder Woman's favorite exclamation originated with Marston's wife Sadie Elizabeth Holloway (a suffragist and feminist and scholar in her own right) "Suffering Sappho!" The other woman in the relationship was Olive Byrne, the niece of Margaret Sanger, the famous activist for birth control and women's rights. This subplot is important in The Secret History of Wonder Woman, which far from being only about comic books, intersects with the history of feminism. Interspersed with images from the comics, this book is continually surprising, smart, and a lot of fun.
Laura Creste contributed reporting to this story.