The World's Most Expensive Hot Dog Costs HOW Much?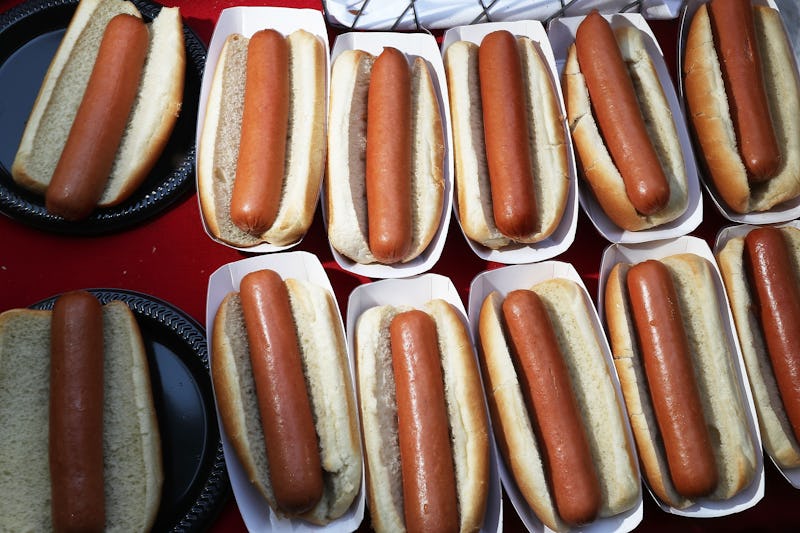 Joe Raedle/Getty Images News/Getty Images
I don't generally think of hot dogs as a refined or overly expensive food; heck, I can get a gigantic one plus a soda for two bucks at my local Costco, making it the ultimate cheap lunch. But prepare yourselves, because the most expensive hot dog in the world has just entered the building: The Juuni Ban, from Seattle's Tokyo Dog food truck. It's Guinness Book of World Records-certified, so you know this dog means business.
According to First We Feast, the Juuni Ban costs a whopping $169; it also needs to be ordered two weeks in advance. Served on a brioche bun, it apparently comes loaded with ingredients like smoked cheese bratwurst, wagyu beef, foie gras, shaved black truffle, and caviar. Not only that, but Tokyo Dog has actually sold at least one of these creations — it's one of Guinness' conditions for any food items vying for top spots in the Book of World Records. The big question I have is whether it actually tastes like it's worth $169… but alas, I'm not willing to shell out the cash to find out. Anyone out there with money to burn feel like enlightening me?
For the curious, here's what it looks like:
Because cataloging absurdly expensive food items is one of my weirder hobbies (how else do you explain my obsession with, say, this $900 cupcake or all those Starbucks drinks?), here's a look at a few other ridiculous items you can actually order — if, y'know, you're a little bit off your rocker:
1. The Golden Opulence Sundae: $1,000
Served at Serendipity 3 in New York, the Golden Opulence Sundae features three scoops of Tahitian vanilla ice cream, 23 karat edible gold leave, a whole bunch of extremely rare and expensive chocolates, a bowl of caviar, and a whole lot more. It comes in a Baccarat Harcourt goblet, and you eat it with an 18 karat gold spoon. It requires an ordering lead time of 48 hours.
In 2007, Serendipity 3 had an even more absurd dessert available — the $25,000 Frrrozen Haute Chocolate — but as it's not listed anywhere on their website, I'm not sure they still make it. Probably because it is INSANE.
2. Fleur Burger 5000: $5,000
If you go to Fleur in Las Vegas, you can order a Fleur Burger, which features wagyu beef, foie gras, and truffle on a brioche bun for $35; or, you can order the Fleur Burger 5000, which features all that, plus a bottle of 1995 Chateau Petrus Champagne, for $5,000. According to First We Feast, the Champagne is valued at $5,300 — so if you're into gourmet burgers and really expensive Champagne, I guess it's a good deal?
3. The Zillion Dollar Lobster Frittata: $1,000
Available at Norma's at New York's Le Parker Meridien hotel, this frittata might just be the most expensive omelet in the world — although possibly not for the reason you think. It's not the lobster that drives up the price; it's the 10 ounces of caviar piled on top of the thing.
4. Best of Seas Pizza: $725
You'll have to go to Canada to get this one, but the Steveston Pizzeria in Richmond, British Columbia holds the Guinness World Record for the most expensive pizza around. On top of a whole lot of amazing-sounding seafood (tiger prawns, lobster ratatouille, and smoked steelhead), it's also covered with Russian Osetra caviar and Italian white truffles. Yowza.
5. Martini on the Rock: $10,000
Hmmm. New York seems to house an awful lot of these insane edibles, doesn't it? The Algonquin Hotel, for example, will mix you up a $10,000 martini if you ask nicely (and, of course, have the means to pay for it). It's not the booze that makes it so pricey; it's the fact that it's served with a diamond sparkling at the bottom of the glass. The drink requires 72 hours' notice and a visit from the hotel's in-house jeweler.