There's Another Twist on 'Big Brother 16'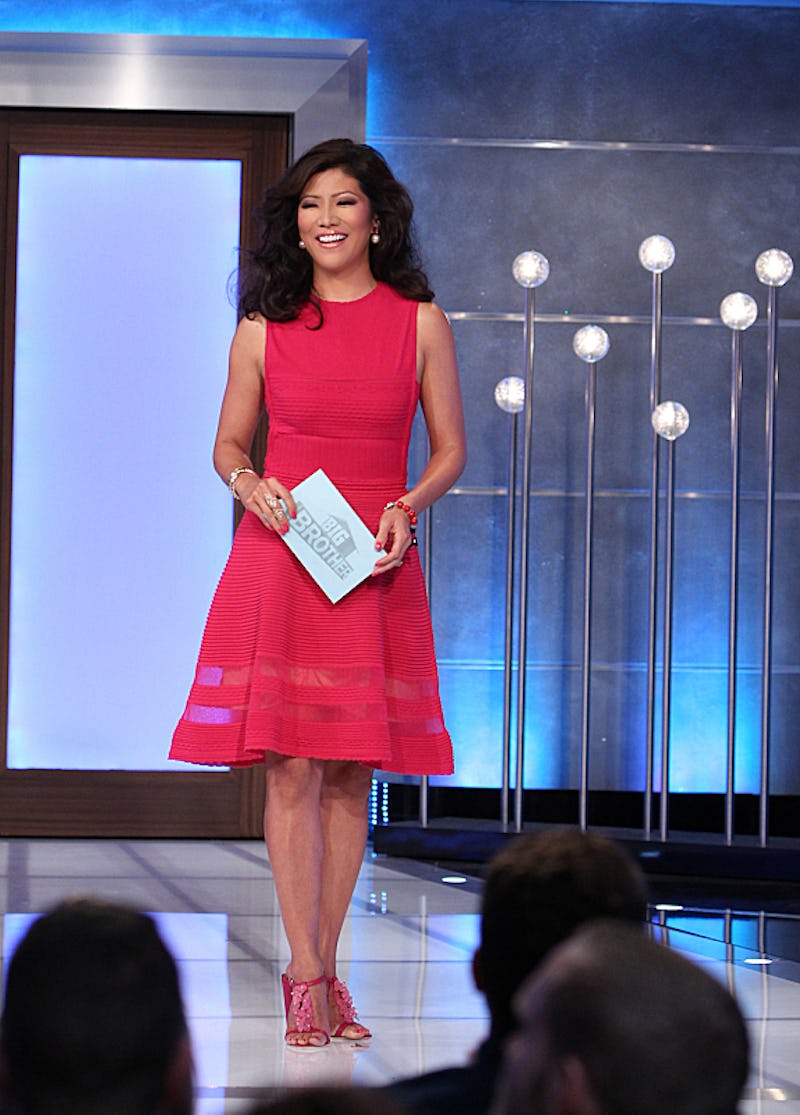 Labor Day may be over, but "the most twisted summer ever" is continuing on Big Brother . By this time in the season, the houseguests are getting sick of each other (have you seen the 'tude Frankie has been serving up to his housemates lately?), and all of America is getting sick of the houseguests. Are we there yet? But thank the Big Brother gods, i.e. host Julie Chen. In a summer saturated with twists — two HoHs, the Battle of the Block, an evicted houseguest's return to the game — the show made room for one more before we end this thing. Julie announced the rewind button twist during Thursday night's live eviction episode, and it is a doozy.
The rewind button is in fact a gold button that if pushed during the week, will cause next week's live eviction vote to stop live on the air. The nominees will then come off the block, and the entire game will rewind as if the whole week didn't happen. No one will go home and the HoH competition will proceed as usual with a new HoH in power. As Julie reminded us, that means someone can go from being on the brink of eviction to ruling the house all in a matter of seconds. But that can actually happen every week, so it's actually not that revolutionary, if you think about it.
Julie first teased the twist on Twitter with just a photo of a gold button. Two hours before a double eviction episode, and you tweet out that something even BIGGER might go down tonight? ARE YOU TRYING TO KILL ME, JULIE?!
When I first saw the photo, to me it looked like this could be some sort of Pandora's Box situation that has been done many times in the past, where the HoH of that week could choose to open a secret door in his or her room, which either resulted in a punishment for the house and a prize for the HoH or vice versa. It also reminded me of the reset button that was set off during Season 14 when Big Brother vets Britney, Dan, Janelle, and Mike "Boogie" stopped being coaches for the new players and re-entered as players competing for the top prize.
But since Julie mentioned that the twist would be new in her tweet, I knew it had to be something we hadn't seen before. And Big Brother delivered.
Depending on who is put in power as HoH and who gets nominated, the rewind button could totally change the game. Imagine if Victoria is about to go home and then wins HoH? That would be bananas. It'll be equally interesting to see how the houseguests handle this twist, since I don't think any of them are particularly loyal to anyone else in the game at this point, so it could really go either way.
I just wish this rewind button was in place the week Donny was evicted. Oh how I wish he was still in the house. Never forget the beard.
Image: Lisette M. Azar/CBS