25 Basic Wardrobe Essentials Every College Girl Needs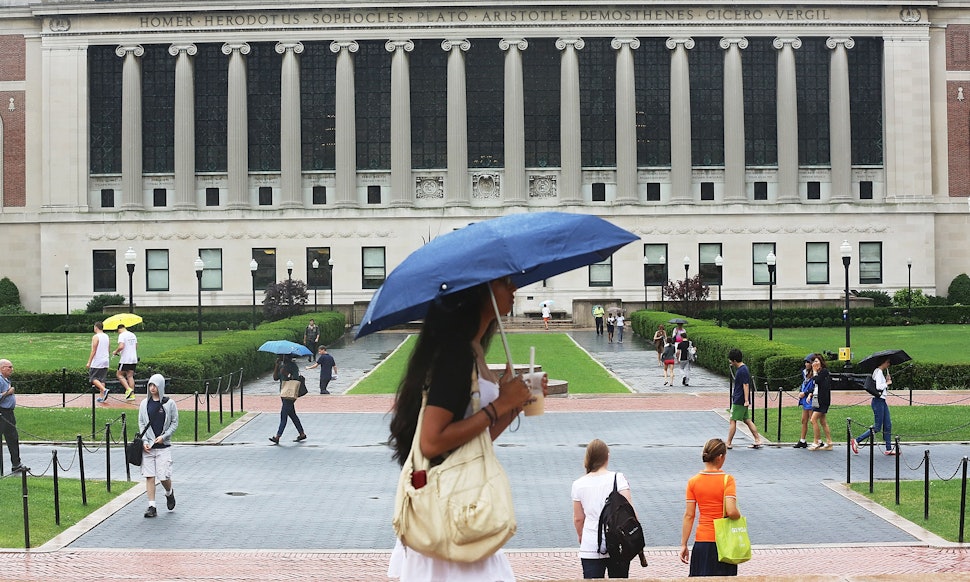 Mario Tama/Getty Images News/Getty Images
By now, most college kids are back on campus. Classes have resumed, sorority recruitment is underway, and countless cups of ramen noodles are being prepared in dorm room micro fridges.
If you're new in school, then first, let me start out with a huge congratulations. According to the National Center for Education Statistics, approximately 21 million students have enrolled in American colleges and universities this year, the majority of which (12 million) are female. That may seem like a lot, but considering that there are some 317 million people living in the US, you're in a minority if you're lucky enough to be currently attending college. So make the most of your years, no matter if you're taking a few classes at your local community college, buckling up for a four-year program at a giant university, or fall somewhere in the middle. Enjoy it while it lasts! Not to get all Old School right now, but I kind of wish I could relive my college days once in a while.
But enough nostalgia, because we have something important to discuss: your wardrobe. College kids get a bad rep for falling into sweatpants slumps as the school year wages on, and most of the talk is true. With late-night study sessions and arctic winters for kids in the Northeast, it's kind of inevitable. But don't let lounge wear become your everyday go-to. Instead, mix things up with other items that are just as easy to throw on, such as an oversized flannel shirt with jeans or a pair of printed flats with cozy leggings. You'll have enough on your plate as soon as the school year picks up, but right now, you need a few staples to make dressing for college as easy as, well, cooking a cup of ramen noodles.
For advice on the essentials, I got in touch with Elana Katz, one of College Fashionista's style gurus. She recently launched a website called Post Gradiensis where she and two of her college classmates write about fashion. Click through the slideshow to see all of Katz's recommendations for college wardrobe essentials, and where you can order them online. Because getting a package slip from the campus mail room is always an uber-thrilling experience.
A V-Neck Tee
"This is a no brainer. An easy-to-slip-into v-neck T-shirt is ideal for the entire school year."
Whether worn with a statement necklace or kept casual with leggings, a basic v-neck is a definite must-have.
A Chambray Button-Down
"Either dressed up or down, chambray should be your equivalent of a second skin from class to a night out."
I've professed my love for chambray more times than I can count, so I was happy to see that Katz added it to the list of college closet essentials. She suggests this full button-down style from Madewell. Wear it with a pair of dark-wash skinnies and riding boots.
The Perfect Chambray Shirt In Wilder Wash, $72, Madewell
An Oversized Flannel
"This might require a trip to the men's section, but an oversized flannel is key for long hours in the library and Sunday morning brunch on campus."
For that effortlessly chic (and comfortable!) look, flannel does the trick. Keep it unbuttoned with a fitted tee or tank underneath, as seen here.
Get Down Button Up, $58, Nasty Gal
A Crew Neck College Sweatshirt
"An ideal option for a cozy night with roommates, or layered with a chambray shirt for class."
Your wardrobe wouldn't be complete without an article of clothing that shows off your school spirit. A crew neck is classic, and the faded lettering looks adorably vintage. Special shout-out to Union College, mine and Katz's alma mater. Go Dutchmen!
Champion "Original" Reverse Weave Crewneck Sweatshirt, $45, Bookstore Union
A Denim Jacket
"This is pretty much a girl's best friend. Throw a denim jacket over everything, from knits to tank tops, year-round. Levi's has the best of the best."
Some trends come and go, but a good denim jacket will last you for years to come, even as your style evolves.
Classic Trucker Jacket, $58, Levi
A Navy Blazer
"With gold buttons or not, a navy blazer is an ideal investment for undergrad and post-grad life."
A well-fitted blazer is always in style, so wear one on a night out with friends or to dress up for class once and a while. Katz suggests this one from J.Crew. Pair it with jeans for a day full of classes.
Schoolboy Blazer In Navy, $168, J.Crew
A Leather Jacket
"Whether you pick up a vintage piece from a local thrift store or one fresh-cut from Club Monaco, leather jackets are perfect for breezy fall days on campus."
Leather jackets are an easy way to achieve an edgy look. And like most of the pieces on this list of essentials, they can be dressed up or down, depending on where you're headed.
Kaylan Jacket, $269, Club Monaco
A Pair Of Denim Cutoffs
"These are perfect for spring days on the quad or a night out with friends. Pair them with a muscle T-shirt or a more sophisticated peplum top."
I think denim cutoffs are the unofficial uniform of college students. You'll get a ton of mileage out of a good pair, so invest wisely.
Rag & Bone Cutoff Shorts, $160, Far Fetch
A Pair Of Dark-Wash Skinnies
"Much like a v-neck T-shirt, skinnies are comfortable and versatile for a wide variety of looks throughout every change in season."
You may be tempted to wear sweats and spandex every day of your college career, but I promise you that jeans are just as easy, and will elevate your appearance. Try to find a pair with a little stretch, so they'll wear comfortably.
BDG Twig Mid-Rise Jean In Ink, $39, Urban Outfitters
A Pair Of Opaque Black Leggings
"Leggings are for days when jeans aren't cutting it and [you] want to mix it up. Be sure to pair them with a slouchy oversized T-shirt or shirtdress."
Leggings are your best bet for days when you want to wear sweatpants but don't want to look like you just rolled out of bed. But please, for all our sakes, make sure they're opaque!
Ultra-Stretch Knit Leggings, $7, Forever 21
A Pair Of Cozy Sweats
"These are reserved for your dorm, especially late-night study sessions or a Netflix binge with friends. ASOS has a wide selection."
Katz perfectly sums up the importance of a good pair of cozy sweats. I love these ones that she's picked out, which are ultra chic yet comfortable, like sweats are supposed to be. They're the best of both worlds.
Warehouse Colourblocked Jogger, $42, ASOS
A Sundress
"Whether it's from Lilly Pulitzer or ModCloth, find a dress for formal occasions both on and off of campus in the spring."
A supply of sundresses is more important than you might suspect. From frolicking around campus to sorority formals to awards ceremonies, there's no shortage of occasions for a classic sundress.
Ember Shift Dress, $198, Lilly Pulitzer
A Circle Skirt
"This style skirt is a great alternative to jeans or leggings, especially when wanting to feel a bit more feminine."
Perfect for parties or class … and so fun to twirl in! Katz recommends this basic black style from Urban Outfitters, which'll go with practically any top you want to pair it with. Try a tank when the weather's warm, or a button-down on cooler days.
Kimchi Blue Knit Circle Skirt, $39, Urban Outfitters
An LBD With A Twist
"A classic piece that every woman should own. But for a college student, be sure to pick a conservative one for occasions such as interviews or a ceremony."
I totally agree with Katz on this one. LBDs are a closet essential, no matter how old you are, so invest in one that you'll get a lot of wear out of. Wear it with heels and a ton of jewelry on the weekend, or with stockings, heels, and a cardigan for formal affairs.
Pim + Larkin Poppy Textured Dress, $40, Piperlime
A Nice Pair Of Riding Boots
"Tall and structured is the way to go. They're the ideal boot for just about the entire school year when paired with pants and dresses."
Okay, so these boots are a little pricey, but they're definitely worth the splurge if you feel like saving up. They're polished, classic, and will last you for-ev-er.
Melissa Harness Zip, $428, The Frye Company
A Pair Of Sneakers
"Not necessarily the athletic type, but those that are trendy and make running around campus from classes to meetings much easier, without having to sacrifice style."
Athletic chic is totally on-trend right now, so no need to save comfy sneaks for just the gym. I have a pair of these Sauconys, and I gotta tell you, they're awesome. Not only do they offer great support, but they also come in great colors and are inexpensive compared to other brands. They'll really pop against a pair of black leggings.
Saucony Jazz Original, $55, Saucony
A Pair Of Ballet Flats
"A classic pair of ballet flats will make both your feet and your wardrobe happy."
Flats are a no-fuss footwear solution that won't take up a ton of storage space in your dorm room closet. Wear them around to class when the weather is warm, or slip them on for weekend brunch when your feet are tired from dancing in heels the night before. I love this leopard print pair with an elastic opening.
Leopard Print Ballet Flat, $30, AE
A Pair Of Lounging Slippers
"Much like cozy sweats, slippers are only reserved for the dorm, but are a must-have for hanging out. Ugg Australia does slippers best."
Dorm floors aren't the cleanest, so you'll be glad to have a pair of slippers to schlep around in. You'd be surprised by how many crumpled chips and cans of beer can be absorbed into a carpet.
Dakota For Women, $100, Ugg Australia
A Pair Of Wedges
"A spring staple. Wood or straw, these are a go-to for college ladies' night out in the spring."
Wedges are great because they can be dressed up or down, depending on the occasion. Bonus: They're a lot comfier to walk in compared to heels, but will still give you a little extra height.
Cabana Cruise Wedge, $28, Modcloth
A Beanie Hat
"Oversized or fitted, this is the only hat that can seamlessly carry you from the fall, into the winter months, and finally to spring."
This beanie has little strands of metallic thread, adding a little bit of glam no matter what time of year it is. If you're looking to make a statement, there are plenty of fitted ones with catchphrases like "selfie" printed across them.
Metallic Slouch Beanie, $22, Athleta
A Scarf
"Any type or style will work, but be sure to especially rock them during the colder months while on the way to class."
Scarves do more than keep you warm; they can add a ton of personality to a look. Etsy has a wide selection of hand-knitted scarves, which will add texture and a certain coziness to any outfit come fall and winter.
Yarnawayknits Knitted Infinity Scarf, $45, Etsy
A Statement Watch
"Don't run late. Rock a statement watch, like one by La Mer or Michael Kors, and you'll always be functional and trendy."
Sure, your smartphone can tell you what time it is. But a watch will add a little more life to your look.
Creme Brown Snake-Gold Odyssey Wrap Watch, $94, La Mer Collections
A Pair Of Stud Earrings
"Studs are classic and easy. Add them to any look, and you'll be glad you added some glitz into your life."
Studs are a great everyday accessory that you don't have to put much thought into. I'm all about piling on the jewelry, but an armful of bangles can be a distraction during a long class, especially if you have to take a ton of notes. These tiny jeweled ones for BaubleBar will work with practically any outfit.
Cushion Gem Studs, $26, Baublebar
A Cross-Body Bag
"A cross-body bag is an absolute necessity for ladies who need to throw the essentials into a purse for a night out or for a trip to the local Target."
In my college years, I would have been lost without my cross-body bag — especially at parties, where you don't want to be worried about misplacing a clutch or toting around a bag that's too bulky. Wear it as a cross-body to keep it securely attached to you, or simply sling it over your shoulder for a look that's a bit more polished.
Hobo 'Zara Vintage' Crossbody Bag, $86, Nordstrom
A Classic Backpack
"This goes without saying, but backpacks are crucial, especially since there are so many trendy options popping up lately."
Such as this one from Jump From Paper! I'm obsessed with the cartoonish appearance, and I guarantee this will strike up more than a few conversations.
Spaceman, $139, Jump from paper