Why You Need Apricots This Winter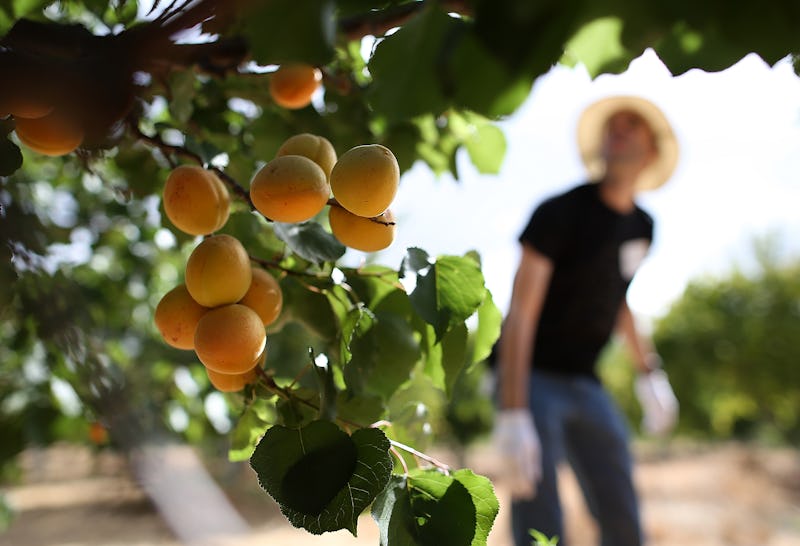 Justin Sullivan/Getty Images News/Getty Images
For me, some of the best shopping experiences have been at vitamin stores; I find the same comfort in a used bookstore as I do amongst vitamins and essential oils. I bring my notebook and sit in the middle of the aisle, scanning for things on my list. Dry skin is almost always an issue I'm looking to solve — it's important to put back the moisture that my acne fighting cleansers may have stripped without having pimples flare up again. For years, I've been too scared to aggravate my adorable hormones that easily make cystic acne flare up by adding anything extra to my extra virgin coconut oil. As someone with combination skin, I get super greasy in the summer, then dry right out come colder weather As the days quickly disappear in September, I am already starting to worry about keeping my face nice and moisturized during the winter months — and that's where apricot seed oil comes in.
On one of my lengthy visits to the vitamin store I stumbled upon apricot kernel oil in the hair and skin section. I took one whiff of the seductive scent and pulled up whatever I could find on hair and skin benefits. I didn't need to look for too long because the benefits of apricot kernel seed were everywhere. Rodale News even listed this essential oil as one of the top four oils for dry skin.
Up until this point, the only thing I knew about apricot seed oil was the high level of B17 present in the kernels, which is known to kill cancer cells and has been used as a holistic treatment in cancer patients. That well-known fact was impressive, but what really got me ready to hand over my debit card was finding out apricot seed oil has been used in ancient medicine to treat inflammatory skin disorders as well. I felt extremely confident in adding it into my moisturizing routine. This lightly fragrant oil is made from cold pressing dried seeds and is packed with fatty acids, vitamins A, C, and E, and a shit ton of antioxidants to keep your skin and hair looking young. Here, a few of my favorite ways to work apricot seed oil into my beauty routine.
Aura Cacia Natural Skin Care Oil, $10, Amazon
Some of best natural hair sealants come with a stinky price. Olive oil is incredibly moisturizing and is known to fight hair loss, but it smells like salad. If you don't wash your hair daily, you run the risk of some embarrassing build-up. The scent of apricot oil, however, is way more subtle and pleasing, plus it's light enough to use as a daily hair sealant without having to worry about weighing down your strands. Separate your hair into sections and spread apricot seed oil on your dampened locks to seal in moisture all day long.
2. Moisturizer
One of the best things to happen to my daily face moisturizer was apricot seed oil. Nature has some miraculous oils, but apricot seed is especially known for its nourishing properties for hormone-induced acne — which I need desperately in my life. Unsurprisingly, apricot seed oil has been incorporated into several OTC beauty products for its ability to repair damaged skin and cultivate healthy skin cells. You can even use apricot seed oil on its own as a natural face lotion.
For extra moisture and acne control, check out this recipe of mine from BeautyLiesTruth: two parts coconut oil, one part apricot seed oil, two drops of lemongrass, and two drops of rosemary. BONUS: You will smell so good, people will want to eat your face.
3. Foot Scrub
'Tis the season to restore and repair damaged skin on our feet. Summer is over and so is walking around barefoot and sweating in our sandals until we have blisters. To make a superb foot scrub, you really only need three important ingredients. Add a tablespoon of apricot oil to 1/3 cup of raw sugar and make an exfoliating scrub. Next, add freshly ginger for extra antioxidants. For a true spa-like experience, use a foot bath or fill a tub with enough water to cover the tops of your feet and soak in the water after you scrub.
Image: Kristin Collins Jackson