'Freaks and Geeks' Cast Photos Proves Just How Much We All Change From High School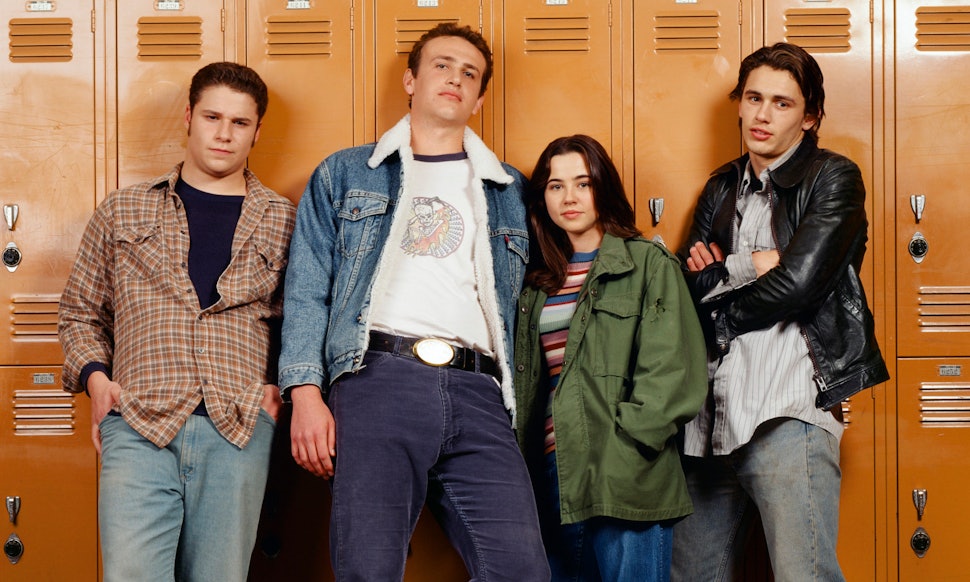 Some shows aren't meant to last forever, and unfortunately, sometimes fantastic shows don't make it to the 20 episode mark. That was the case for what may have become the greatest teen dramedy to ever grace our TV screens, Freaks and Geeks. The Judd Apatow-created series followed the lives of two siblings and their friends. We watched as Sam Weir, a freshman "geek," and Lindsay Weir, a former geek desperate to fit in with the rebellious "freaks," navigated their way through the (sometimes) suckfest of high school. If you didn't identify with Sam, Lindsay, or any of their friends, you were probably homeschooled and/or so popular that high school politics were a total non-issue. But if you were like the rest of us in high school, Sam and Lindsay were totally your people — it's a shame we didn't get to spend more time with them.
Luckily, this cast didn't go anywhere... even if they do look very different from their days playing high schoolers on the NBC series. Here are the then and now photos of the Freaks and Geeks cast that proves everything gets better after high school.
Image: Apatow Productions
Then: Samm Levine
Levine played Neal Schweiber, definitely the only student in the school who dressed up like Groucho Marx for Halloween.
Now: Samm Levine
Levine has worked consistently since Freaks and Geeks with guest starring roles on shows like Veronica Mars, Person of Interest, and Modern Family.
Then: James Franco
Franco played the hot but not-so-bright Daniel Desario who became the instant object of Linday's unrequited affections.
Now: James Franco
Then: Seth Rogen
Rogen portrayed freak Ken Miller whose relationship with his first girlfriend on the show pretty much made you fall in love with Rogen himself.
Now: Seth Rogen
Rogen is one of the most sought-after actors in comedy, and currently stars in The Interview alongside longtime pal Franco. (But you knew that already.)
Then: John Francis Daley
Daley's character Sam was just trying to get through high school without embarrassing himself in front of his crush… or getting beat up by the school bullies.
Now: John Francis Daley
Daley has a starring role on Bones as Dr. Lance Sweets but is equally as successful as a Hollywood writer — his work includes Horrible Bosses and the animated film Cloudy With a Chance of Meatballs 2.
Then: Linda Cardellini
Cardellini portrayed Lindsay, a high schooler looking to break out of her "smart girl" stereotype.
Now: Linda Cardellini
The actress has a recurring role on Mad Men (she romances Don Draper… lucky girl) and recently had an arc on New Girl as Jess' rebellious sister Abby.
Then: Busy Phillips
The tough girl from the wrong side of the tracks slowly opened up to new friend Lindsay, revealing a (slightly) softer interior.
Now: Busy Phillips
Post Freaks and Geeks Phillips joined the cast of Dawson's Creek as Joey's roommate Audrey. She currently stars on the TBS sitcom Cougar Town alongside Courteney Cox.
Then: Jason Segel
Segel played the drum (and Lindsay) obsessed Nick Andopolis.
Now: Jason Segel
Segel went on to star as Marshall in How I Met Your Mother where his character had a much easier time romancing Lily than his Freaks and Geeks one did with Lindsay. He most recently starred in Sex Tape opposite Cameron Diaz.
Then: Ben Foster
Foster portrayed mentally handicapped student Eli.
Now: Ben Foster
Foster talent translated to the big screen with films like The Messenger, Kill Your Darlings, and Lone Survivor. He is currently engaged to actress Robin Wright.
Then: Martin Starr
"Geek" Bill Haverchuck had an unfortunate amount of allergies and very large glasses, in accordance with the Television Geek Code.
Now: Martin Starr
This guy still plays a "geek" — he currently stars as a tech genius on HBO's new comedy Silicon Valley.