Lesley Murphy On The Makeup She'll Never Dump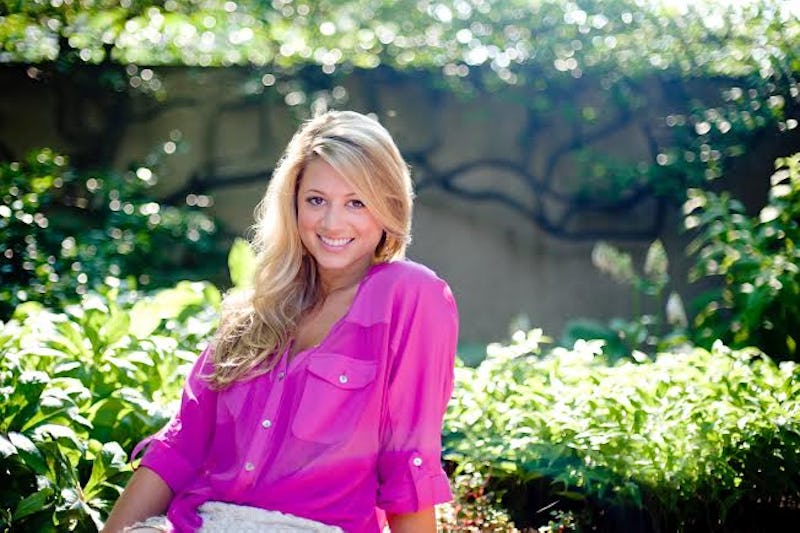 I don't use the term girl crush lightly, but I've had a serious one on Lesley Murphy after watching her on Sean's season of The Bachelor. She always looked so pulled together and gorgeous but in that completely effortless way. When I heard that Lesley recently launched a travel blog (with the cutest name ever, might I add), I knew she had to have some great beauty tips and tricks from her journeys all around the world.
"I've been living the Argentine life for a year now in the sultry city of Buenos Aires," Murphy told me. "I am long overdue for a tango lesson, so if you're any good, I'll take you up on it. I came here to manage the marketing team for a luxury hospitality company, which gave me a great deal of knowledge to start my own travel website. I'm now a full-time blogger for my site, The Road Les Traveled, which is about revealing the most luxurious adventures around the world and inspiring others to follow suit."
Luckily for Murphy, her move from the U.S. to Buenos Aires and her frequent traveling doesn't seem to have much of a negative effect on her skin. "My skin type is extremely normal. I'm very lucky as I've never had many problems with my skin. It's not too dry, not too oily — or at least that's what I've been told when I've had facials in the past!" Murphy explained.
In terms of skin care, Murphy is currently using products from Eminence Organic Skin Care. "I recently bought the Firm Skin Acai Cleanser and Moisturizer. The stuff is dangerous because it smells so delicious, so I usually get hungry after washing my face each night. I recently went on a trip to Brazil, so going through the nightly ritual of scrubbing my face brings back memories of eating the local acai in Rio de Janeiro. Mmmm. Take me back! Also, both products have a purplish-pink tone to them, just like the acai berry from Brazil."
Apparently Murphy's cleanser and moisturizer aren't the only pretty-hued products she owns — she's also a huge fan of Bobbi Brown makeup. "I wear the Skin Foundation with SPF along with her Desert Pink blush, Black Ink gel eyeliner, and various neutral shades of eye shadow with Champagne Quartz being my favorite. I can't cheat on my mascara, though. It will always be Lancôme's Hypnôse Star." You can catch Murphy stocking up on her tried-and-true beauty favorites at duty-free shops in airports, since some of the products are not always easy to find in Argentina.
Murphy's product loyalty is the main reason she doesn't try new products too often. "When I find what I like, I usually marry the stuff unless I hear rave reviews about another product from someone I trust. I've always wanted to try La Mer products, but I can't bring myself to comply with that price tag. I don't wear perfume, and I only very recently discovered dry shampoo. It's awesome stuff, but I can go days — many days — without washing my hair, so it still isn't a mind-blowing product for me."
While you may not catch Murphy picking up the newest beauty releases at Sephora every month, she definitely splurges here and there. "My guilty pleasure is getting manicures and pedicures because it's such a treat to sit down, relax, and get a pop of color! I will say this though: Living abroad and loving a good mani/pedi has expanded my Spanish vocabulary. Nails in Spanish is uñas if anybody cares."
Tweet Lesley (@lesleymurph) and myself (@thebloginista) and let us know what your beauty routine is like!
Images: Lesley Murphy (2), BobbiBrown.com